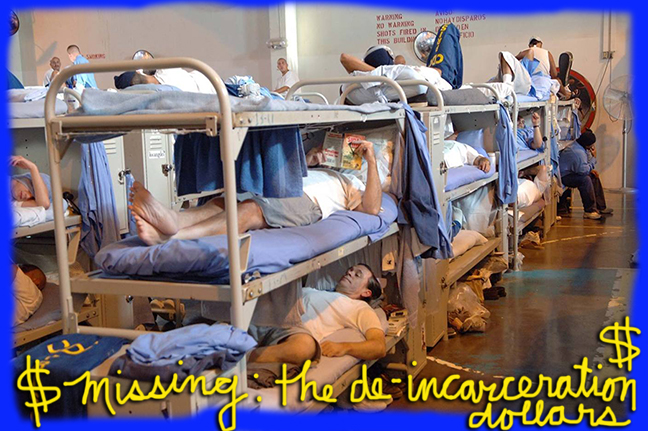 WHERE ARE THOSE PROMISED MILLIONS IN PRISON COST SAVINGS SUPPOSEDLY DESIGNATED FOR RE-ENTRY AND REHABILITATION?
One of the upsides of California's realignment strategy, and of the passage of Prop 47, was the promise that big piles of money would be shaved off of the state's massive incarceration budget—-we're talking hundreds of millions here—and that much of that money could be rerouted into rehabilitation and reentry programs designed to help people succeed when they were released from jail or prison.
Thus far, those cheery hundreds of millions in savings have yet to make an appearance.
Moreover, despite the drop in inmate numbers, prison budgets keep growing, pushing the cost per prisoner per year from $49,000 five years ago, to $64,000 today, according to a January 6, Reuter's story.
This week, the LA Times editorial board has rightly asked what is going on. Here are some clips from the Times' editorial:
Where is the de-incarceration dividend? With crime up, Californians have a right to ask why the savings from prison realignment haven't materialized and why an expected $100 million to $200 million in Proposition 47 savings has been budgeted by Gov. Jerry Brown at less than $30 million.

After all, the state's prison population has plunged, first from realignment — the 2011 shift in responsibility for many felons from the state to counties — then from inmate releases to meet court-imposed prison population caps and deadlines, and then from Proposition 47, the 2014 ballot measure to reduce drug possession and some other felonies to misdemeanors and therefore reduce the need for prison and jail space. State prisons house about 30,000 fewer people than they did just four years ago.

As inmate populations have dropped, surely so have costs. Where are those billions of dollars in savings, and where are those reentry programs that all that money was supposed to pay for — to provide mental health services, addiction treatment, job training, cognitive behavioral therapy and other interventions that are meant to reduce the chance of addicts and other offenders returning to their old ways and committing the kinds of crimes that, it seems, are now on the rise?

State officials say it's complicated. OK, but it's not that complicated.
The Times ticks off several of the dog-ate-our-savings excuses put forth by the state, noting that they don't explain why the CDCR's payroll isn't much different than it was in the bad old over-crowded days when the state's lock-ups "housed tens of thousands more people."
The governor might argue that a little more patience is in order, and that might have sufficed — until this week, when he released a budget showing just a fraction of the anti-recidivism, victim services and education money that voters demanded when they overwhelmingly adopted Proposition 47 in November 2014.
There's lots more, so read the rest.
This is an important issue. Realignment and Prop 47 will only succeed if the savings $$ are put into the programs designated by .
As the Times points out, "the de-institutionalization of prison inmates and the instruction to refer many of them to treatment and anti-recidivism programs" is not just a friendly suggestion by advocates, it's a voter mandate. And, "it is not the proper role of government to resist or delay."
---
PREDICTIVE ANALYTICS MEETS LA'S FOSTER CARE SYSTEM, AND NOT EVERYONE IS THRILLED
For more than 18 months, our friends at the nonprofit news site Chronicle of Social Change have been reporting on the intersection between predictive analytics—AKA Big Data—and California's child welfare system, with a special focus on the way in which LA's Department of Children and Family Services (DCFS) is experimenting with the idea.
Now some mainstream media outlets have picked up the Big Data/Foster Care baton and are starting to run with it.
Most recently and notably is this excellent new story by CNBC's Dina Gusovsky that looks at both the possible gains, and the potential problems of using predictive analytics to make hugely consequential decisions about kids' lives—with a special focus on what is occurring inside LA County's foster care system when it comes to Big Data.
Here's a clip:
Up to $80 billion is spent annually across the U.S. to confront child abuse and neglect, an ugly underside of American life that afflicts hundreds of thousands of children.

Los Angeles County, with the largest child protective services agency in the country, believes there has to be a better way to protect at-risk youth than the current outdated and costly approach. LA County is piloting the use of predictive analytics technology — informally known as big data — from Cary, North Carolina-based software company SAS, to do a better job of identifying children who may otherwise be left in a vulnerable position.

For professionals working in child protective services, it remains difficult and frustrating to use the frequency of calls about suspected abuse to identify which children are living at a high level of risk.

"We put a man on the moon in a 10-year period, and yet we haven't been able to identify a tool to help us in the child welfare industry," said Philip Browning, director of the Department of Children and Family Services (DCFS) in Los Angeles County.

[SNIP]

Players across the tech and consulting landscape are chasing the predictive analytics opportunity in the government sector — including IBM, SAS and Deloitte — and smaller companies, like Philadelphia-based Algorhythm and Florida-based Eckerd, are creating solutions for the child welfare services market, specifically.

To monitor at-risk children, "Typically, anywhere from six to 10 government agencies would be enough to establish a pretty accurate risk score," said Greg Henderson, director, SAS Security Intelligence, who demonstrated the company's technology exclusively for CNBC.

Instead of case agents having to pick up the phone and call various government agencies to find out more information about the child in question, SAS is streamlining the process by retrieving all the relevant statistics from various government agencies — departments of health, education and corrections, for example — and then importing that information into one database.

Data points that appear to be atypical — like a child visiting an emergency room and switching schools often — would raise red flags for the case agent. There would also be information about the child's family, since experts say that whoever is living with the child has a big, if not the greatest, influence on his or her well-being. The SAS tool provides a total risk score for each child based on numerous factors, as well as a map of that child's social network and data points related to those connections, such as criminal history.

The approach has not been universally supported. Critics say rather than protect children and save money, adoption of predictive analytics would mean lucrative contracts for tech companies but could lead to racial profiling and predatory behavior on the part of case agents.

"Kids deserve better than to be exploited by a piece of software that's providing (at least in their mind) a prediction that we think should be provided by the community itself," said Los Angeles community activist and executive director of Project Impact, Matthew Harris.

His fundamental concern about big data is its top-down approach. "The problem with big data, especially in Los Angeles County, is that the pockets of success get overlooked and buried or aggregated by the big data," Harris said. "Big data can point to the problems of race disparity … but come to my neighborhood and I'll show you what I'm doing about it and how our kids are succeeding against the odds. Replicating neighborhood success from the bottom up is where we improve the system," he added.
---
WARREN OLNEY TO END WHICH WAY LA? BUT ADDING A NEW WEEKLY NPR SEGMENT
KCRW's Warren Olney is a remarkable radio news host and interviewer who as long been one of the smartest journalists of any kind in LA–and really the state (and beyond). Moreover, he has kept up the stellar quality of his work while executive producing and hosting a daily local show AND a second daily show covering national issues—namely Which Way LA? and the nationally syndicated To the Point, both of which keep winning awards.
I've been a guest on Olney's Which Way LA? many times in the past decade, which means I've gotten to see up close how wonderfully skillful the man is. So I was wildly saddened when KCRW announced it was shutting down WWLA? at the end of this month, because Olney, who is 78-years old (even though he seems to do more than many 35-year-olds), decided he wanted a little more of a….you know….life in his daily life.
LA Observed has a story about the sunsetting of Olney's flagship program, which includes some cheering news about a new weekly Olney-created segment for NPR.
Here's clip:
KCRW just announced that after 23 years, the show born in the aftermath of the Rodney King riots is going off the air. "Which Way, LA?" will be replaced at 7 p.m. (Mondays through Thursdays) by a repeat of that day's "Press Play" with Madeleine Brand. Warren Olney, the host of WWLA since the beginning, will remain as host and executive producer of "To the Point." Olney, who is 78 years old, also will add a new interview segment to be called "Olney in LA" that will air during the NPR news shows "Morning Edition" and "All Things Considered." The final WWLA airs Jan. 28.

Here's a note from Olney:

"Which Way, LA?" is going away after 23 years, but I'm not going anywhere. I'll continue to be host and executive producer of "To the Point." I'll also be doing a weekly segment called, "Olney in LA," to air on "Morning Edition" and "All Things Considered." It will consist of interviews on local, regional and state developments. I've loved doing both daily programs, but the schedule is grueling and, when everything is a priority, nothing is a priority. I'll be keeping my hand in and getting part of my life back at the same time. I might even have time for lunch.
---
Photo courtesy of the CDCR