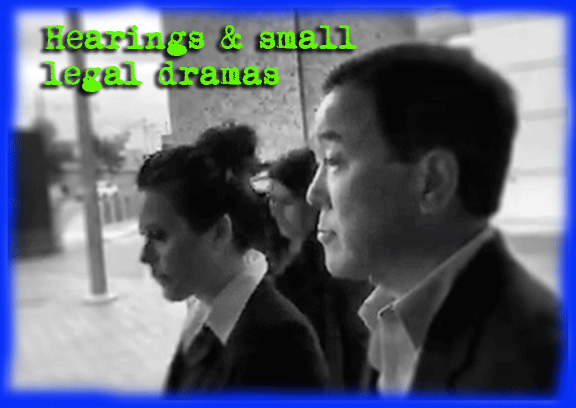 FIRST STEPS TOWARD TRIAL FOR TANAKA AND CAREY
On Friday, May 29, the first "status hearing" is scheduled in the obstruction of justice trial of Paul Tanaka, the former undersheriff of the LA County Sheriff's department, and Tom Carey, the former head of the department's internal criminal investigative bureau (ICIB).
Judge Percy Anderson will be presiding. Originally the trial was assigned to Judge S.James Otero but, as many involved had predicted, Anderson managed to snatch the high profile case from Otero and move it into his courtroom. Percy Anderson, for those who don't remember, was the judge on both of James Sexton's trials and that of the other six former LASD members convicted of obstruction of justice.
Tanaka's legal team was not thrilled with the judicial switch, likely because some on the defense teams from the last trials thought Anderson had pro prosecution leanings. As a consequence, the Tanaka team filed a motion "to Return Case to Randomly Assigned District Judge Based Upon Improper Transfer."
Anderson, however, denied the motion with vigor mere hours after it was filed. "The issues raised in Tanaka's Motion are so devoid of merit that no further briefing is required," he wrote.
And that was that.
(Anderson is not a mincer of words.)
One of the other issues that was to have been heard on Friday was a request for a "judicial inquiry" regarding possible conflicts of interest due to the fact that Carey was being represented by Thomas O'Brian and other members of the Paul Hastings law firm.
it's easy to see why Carey chose O'Brien. He held the post of U.S. Attorney just before Andre Birotte, which means he knows the workings of that office inside and out. (Andre Birotte is the U.S. Attorney who presided over most of the investigations and charges that are now playing out. Birotte has since gone on to a federal judgeship, and was replaced by Acting U.S. Attorney Stephanie Yonekura, the woman who unveiled Tanaka and Carey's charges.) The potential conflict that the government has flagged is the fact that O'Brien represented LASD deputy James Sexton, one of the seven who was previously convicted of charges similar to those recently slapped on Tanaka and Carey. Moreover the attorney is still representing Sexton for his appeal to the 9th Circuit. The prosecution also noted, in their lengthy request, that some of Carey's perjury charges had to do with questions he was asked by O'Brien when Carey was the witness stand for the defense during one or both of Sexton's two trials.
The prosecutors made a strong argument in their request for an inquiry, with plenty of case law cited. Not too long after the prosecution filed its request, O'Brien and company withdrew as counsel for Carey.
A trial date is expected to be set at the hearing on Friday.
In the meantime, in an email that went out to the members of the Professional Peace Officers Association (PPOA), the union's leadership urged department members who wished to support Carey to give to his family via a special website that had been set up by PPOA. There LASD members can also give to the families of any of the other six as well, thus getting around the prohibition, according to department rules, against any kind of contact with the six now that they had been convicted of felonies.
The message on the donations site reads in part:
SUPPORT FAMILIES OF THOSE CONVICTED FOR FOLLOWING ORDERS

Earlier this year, the Feds convicted 7 employees of the LASD for following the orders of their bosses. Regardless of their guilt or innocence, they and their families are facing difficult times financially. Many are struggling to make their mortgage payments and to put food on the table to feed their children.

"One thing we do well in law enforcement is support each other in times of need." said PPOA President Brian Moriguchi. "We realize just how difficult a job we do and the risks we face. Few can truly understand that. That is why we are like family and look out for one another. The families of these convicted employees are paying the price for what was really a pissing match between two law enforcement agencies."
Paul Tanaka's name, however, is notably absent from the donations site, presumably because he was allegedly one of the "bosses," whose orders the others were following.
---
A CALL FOR "SMART JUSTICE"
While some of California's other counties have embraced the challenge and opportunity of realignment to create programs and strategies that both help and monitor inmates when they finish their incarceration terms and begin to attempt integrate back into their individual communities, LA County has lagged behind.
On Sunday, the LA Times editorial board urged LA County to dispense with its lagging and to start practicing "smart justice."
Here's a clip from the story::
Counties are working to find the best ways to provide housing, healthcare and employment, to serve not only nonviolent offenders but their victims, their families and their neighborhoods. There have been many successes and many lessons to learn.

If only Los Angeles County would learn them. The state's (by far) largest county ought to be a leader in smart and effective justice, but as other counties have spent their state realignment dollars on programs intended to reduce recidivism, L.A. County has only dabbled in such initiatives and instead spends most of its realignment money on old-school law enforcement, monitoring and punishment.
---
"BE GUARDIANS NOT WARRIORS" SAYS HEAD OF JOHN JAY'S POLICE STUDIES PROGRAM TO HIS WOULD-BE LAW ENFORCEMENT OFFICERS
NPR'S Robert Siegel visited John Jay College of Criminal Justice on the west side of Manhattan, and observed veteran police officer Professor John DeCarlo, who coordinates the highly respected police studies program at John Jay, as DeCarlo encouraged his next-generation law enforcement students to become "guardians" more than "warriors."
Here's a clip from the transcript:
SIEGEL: John DeCarlo spent 34 years as a police officer and later a police chief in Connecticut. Then he got his PhD and made the switch to teaching at John Jay. In light of this year's stories about policing, I asked him if he talks with his students about how they as future law enforcement officers should manage their encounters with civilians, including the fear that they might feel at such moments.

DECARLO: We have not only talked about the fear that one feels at that point and the reaction that an officer might have, but we also talked about how certain people will be predisposed to different reactions, and it is incumbent upon police leaders to really increase the efficacy of police selection processes so that we do not put people on the job who would be bullies.

SIEGEL: And do you feel those people can be identified before they become police officers or early on in their police careers? How do you do that?

DECARLO: I do. You know, right now, when police officers come on, you know, we send them to an academy that is very militaristic. We are looking, very often, for big people. Women are underrepresented wildly, and we know that women are much better at talking their way out of bad situations than big guys. Right now we give cops a test called the MMPI-2, the Minnesota Multiphasic Personality Inventory. So we pretty much determine that they're not psychopaths. I think that's a low bar.

SIEGEL: In his senior seminar, DeCarlo comes off as a born teacher.

DECARLO: Good morning. We are going to talk a little bit about – Tyric (ph), how are you? – where police have gone and where we want them to go.

SIEGEL: He is dynamic, commanding attention, knowing his students, working the seminar room rather than standing at the front. The seminar draws on ideas from, among other sources, Plato's "Republic," in which the police are the guardians and the principles of Sir Robert Peel, the founder of London's police and namesake of London's of bobbies, and President Obama's 21st-Century Task Force on Policing. John DeCarlo is a strong supporter of community policing. He leads his students through a Socratic dialogue inspired by an article about the shift in our view of police from guardians to warriors….
---
THE HEARTBREAKING DEATH OF OMAHA POLICE OFFICER KERRIE OROZCO
It is always heartbreak-producing when a law enforcement officer is killed. But the fatal shooting of 29-year-old Omaha officer Kerrie Orozco in an exchange of gunfire with a fugitive is elliciting an unusual amount of grief in the city she was devoted to protecting and serving.
Here's a clip from a very personal Fox News story about Orozco and the response to her death.
As the family of Kerrie Orozco grieved for the 29-year-old, seven-year veteran following her death Wednesday in a shootout with a fugitive, the city's flags flew at half-staff, the police department rallied behing the simple phrase "Kerrie On," and donations poured in for Olivia Ruth, the baby Orozco had just given birth to prematurely. Orozco was working her last shift before going on maternity leave to be with her baby when a criminal's bullet struck her just above the bulletproof vest that might have saved her life.

"She was so excited to be a mother," her aunt Laurie McNeil told FoxNews.com Friday.

Olivia was born premature Feb. 17. Orozco was set to bring her home from the hospital Thursday and go on maternity leave. Wednesday's tragic events changed all that.

"She had the bassinet all set up by the side of the bed," McNeil said. "She just wanted to be ready."

Orozco was part of a fugitive task force searching for convicted felon Marcus Wheeler. He was being sought for an earlier Omaha shooting. As they closed in on the suspect Wednesday afternoon, Wheeler, 26, opened fire.

Police said one of his bullets struck Orozco in the chest and exited her back. An inch lower and it would have struck her in her bullet-proof vest.

McNeil told FoxNews.com she had a bad feeling when she looked at her phone Wednesday and saw a breaking news flash reporting an Omaha police officer had been shot.

"I immediately turned on the Internet and started watching," the aunt said, choking back tears. "I was hoping to see her walk across the screen."

As her deepest fears grew, McNeil sent Orozco a text asking, "Are you Ok?" She tried calling. She didn't get an answer.
Read the rest. It's worth it.