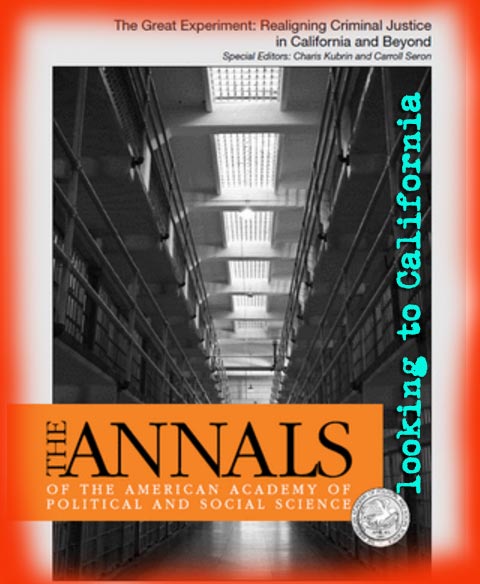 SHOULD OTHER STATES FOLLOW CALIFORNIA'S LEAD ON DECARCERATION?
The March 2016 issue of the journal Annals of the American Academy of Political & Social Science is devoted entirely to California's criminal justice reform—namely prison realignment—and why the state is "the epicenter" of a national movement away from over-incarceration.
(If you need a refresher, in 2011, prison realignment (AB 109) shifted the incarceration burden for certain low-level offenders away from the California's state prison system—the largest in the nation until recently—to the states' 58 counties.)
The study's focus is what Stanford criminal justice expert Joan Petersilia calls "the biggest criminal justice experiment ever conducted in America." The articles, each written by different authors, give a background on how California's prisons got so overstuffed, and the origins of realignment, then dig into the big questions about the effects: How are the individual counties using their AB 109 funding? What effect has realignment had on recidivism and crime rates (answer: not much, if any)? Are there unintended consequences? Is realignment just "shuffling the problem from one strapped and ineffectual level of government to another"? Can realignment be copied and implemented effectively in other states?
Much of a study is behind a paywall, but you can read a preface by Joan Petersilia and an introduction by UC Irvine criminology professors Charis Kubrin and Carroll Seron, along with the abstracts for each article.
KPCC's Rina Palta has more on the report. Here's a clip:
"Is California more dangerous as a result of realignment? The answer is 'no,' " she said.

The study was done in conjunction with the Public Policy Institute of California and UC-Berkeley, among others, and comes amid an uptick in crime in Los Angeles, Long Beach and some other California cities. Long Beach reported double digit increases in violent crimes and property crimes in 2015 over the year before.

Law enforcement leaders have in part blamed the crime increase on California's tide toward less harsh punishments, including prison realignment and Proposition 47, which made most low-level drug crimes misdemeanors.

"If they get arrested, they get out of jail and are back on the streets before the officer has completed the report," Long Beach Police Deputy Police Chief Rich Rocchi told KPCC earlier this month.

Kubrin said realignment, at least, should not be blamed.

"There are so many factors in crime increases: poverty, gun availability, demographic shifts, drug markets, gang activity, I can go on and on," she said.

Controlling for all of those factors, the Public Policy Institute of California's Magnus Lofstrum and UC-Berkeley's Steven Rafael found "very little evidence that the large reduction in California incarceration had an effect on violent crime, and modest evidence of effects on property crime, auto theft in particular," according to their paper, which is included in the journal issue.

Researchers from the PPIC also found little impact on offender recidivism, though they did notice a difference between counties that invested in rehabilitation services and those who primarily invested in law enforcement. Offenders released to San Bernardino County, for instance, had a 3.7 percent higher rate of being rearrested than those released to Alameda County.
---
LA COUNTY PROBATION'S HIGH-COST, LOW-RETURN JUVENILE INCARCERATION SYSTEM
Last month, we wrote about an alarming LA County Probation fiscal audit, which found many examples of careless spending and the hoarding of $161 million in unspent funds meant for rehabilitative and community-based services.
Los Angeles County spends $233,600 per year on each kid it locks up—a number considerably higher than other large counties. San Diego spends $127,750, Chicago spends $204,400, and Houston spends $84,680 on a year of incarceration.
But for all those dollars spent, the return rate is grim: a recent study found that in California counties, more than a third of juveniles held in halls or camps were rearrested within a year of their release. Formerly locked-up kids are also less likely to finish high school, and are more likely to be incarcerated as adults.
The LA Times' Garrett Therolf has more on the issue. Here's a clip:
Supervisor Hilda Solis said she supports an approach that focuses on results. "We need to invest in these kids. But we need to invest smartly, to make sure that public investments lead to the outcomes that we all want to see, which is to restore these children to productive and peaceful citizenship."

Supervisor Sheila Kuehl said she had been unaware of the high costs and wouldn't object to spending so much more taxpayer money on the camps and halls than other jurisdictions do if it helped to turn around troubled young people.

Noting the high cost of chronic poverty and incarceration, she said $233,000 a year could "be money well spent."

Few juvenile justice researchers, however, would argue that the system — regardless of the amount spent on incarceration — does a great job of rehabilitating young people.

A recent study led by Cal State Los Angeles professor Denise Herz found that more than a third of the youth in county lockups were rearrested for new crimes and violations within a year of their release. Beyond that, a growing body of research indicates that someone who is incarcerated as a juvenile is at greater risk for future trouble than someone convicted of similar crimes but not locked up.

A study by economists Anna Aizer and Joseph Doyle Jr., for example, found that those incarcerated were 13% less likely to finish high school and 22% more likely to end up in prison as adults.

Nor is there evidence to suggest that the money L.A. spends on juvenile incarceration is used to keep up with capital improvements.

A 2014 report from the Los Angeles County civil grand jury documented leaking pipes, dry rot in support beams, decaying facades and peeling paint at the Eastlake Juvenile Hall.
---
ALLEGED EXCESSIVE FORCE AND OTHER PROBLEMS PLAGUING SANTA CLARA JAILS
A report on conditions within Santa Clara County jails found numerous allegations of excessive force and other major systemic problems. The report was commissioned by a blue ribbon panel formed after three guards were charged with the murder of a mentally ill inmate, Michael Tyree.
Researchers interviewed 944 jail inmates—27% of the total population—who said officers used excessive force against the inmates, even when there is no threat and are generally not held accountable for their misdeeds. The young inmates told the researchers that they have to physically hand complaint slips to officers, and that sometimes the officers refuse to file the grievance. Inmates say they fear retaliation, and jail personnel misconduct often goes unpunished.
Researchers also interviewed 8 family members of inmates and 33 jail staff members. The jail workers accused the higher-ups of playing favorites when doling out discipline.
Inmates also reported delayed medical and mental health care, not enough clothing, and a too few supplies to keep themselves and their cells clean.
KQED's Julie Small has more on the report. Here's a clip:
The report found widespread complaints that correctional officers use excessive force "in routine jail movements and lockdowns. Interviewees emphasized that officers' use of force does not always stop when an emergency ends; physical violence and pepper spray often continue even after an inmate is fully restrained and no longer a threat to anyone's safety."

Some inmates told interviewers that "some officers use physical force against inmates who 'talk back' … and that a few officers use force disproportionately with vulnerable inmates, such as those who are mentally ill, elderly, or without family, because these inmates are less able to speak up for themselves."

Inmates complained that officers often aren't held accountable for abusing inmates. On the other hand, jail staff told interviewers that the jail's administration often exercises favoritism in meting out discipline and "sometimes rushes to hold officers accountable before culpability has been established."

"The perceived combination of 'sweep it under the rug' culture with 'throw officers under the bus' reactions from administration results in staff morale that is reported to be exceedingly low," the report said.

Jodie Smith, the attorney who presented the report's findings Saturday, said both inmates and correctional staff view the jail's system for filing and acting on grievances as broken.

The system requires inmates to hand grievance slips directly to correctional officers, the report says, adding that many prisoners report that officers simply refuse to take the slips or tear them up.