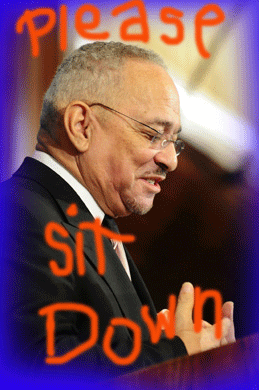 UPDATE 2: Barack Obama held a press conference this morning and came out forcefully and appropriately on the Wright issue. Link to coverage and video is here and NPR has the entire press conference here. It's long and it's very, very interesting.

This is such a strange and sad drama that it almost defies political analysis and frankly begs for a literary interpretation.
**********************************************************************************************************************

Unlike others, I haven't been all that bothered by Reverend Jeremiah Wright's more inflammatory remarks that have been played repeatedly" frameborder="0" allowfullscreen> on YouTube.
And then came the 48-hour Jeremiah Wright-a-thon

His Moyers appearance and his NAACP speech were fine.

But in some kind of horrifyingly cringe-making reverse Oedipal thing, Wright was so entirely full of himself and so creepily competitive with Obama yesterday when he spoke to the National Press Club, it was hard to understand what he was thinking.
Yes, of course he has the right to defend himself against out-of-context clips and scurrilous attacks, but timing is everything, buddy. If Barack's the guy Wright wants in the White House, this was the moment to shut up and take one for the team.
But he didn't. Instead we got the smirky narcissism-on-parade he displayed at the press club.

On the other hand, why the press had to do All Wright All the Time last night—complete with the worst kind of talking-head screamers—is another issue altogether. (See yesterday's post.)

All this and the Supremes decide that voter ID requirements are just fine and dandy.

Feh.
UPDATED: Commenter Woody provided this link to an interesting story by New York Daily News columnist Errol Louis who suggests that maybe there was more to Reverend Wright's sad and destructive appearance at the National Press Club than meets the eye.

BLOGFATHER Marc Cooper also has a good post on the subject.