WHAT ABOUT THE DEPUTIES?
The torture death of 8-year-old Gabriel Fernandez in May of 2013, continues to haunt Los Angeles County and the two agencies whose personnel arguably could have saved the little boy from the horrific slow-motion murder at the hands of his mother and her boyfriend.
Gabriel's mother, Pearl Fernandez, and her boyfriend have been charged with murder.
And in early April of this year, in a controversial but entirely necessary move, the LA district attorney's office also charged social workers who reportedly investigated multiple alerts, complaints and other red flags that Gabriel was being abused.
"We believe these social workers were criminally negligent and performed their legal duties with willful disregard for Gabriel's well-being," District Attorney Jackie Lacey said at the time of the charges.
Reportedly none of the series of Los Angeles County Sheriff's deputies called in at various critical moments to investigate reports of abuse did anything at all to intervene, nor it seems did any of the deputies write up official reports. Yet, it appears that none of these same deputies have received serious sanctions by the LASD, much less been slapped with criminal charges.
Los Angeles Times reporters Richard Winton and Cindy Chang, and others, have reviewed grand jury testimony, child welfare records, and recently filed court documents, which show that as many as nine Los Angeles County Sheriff's deputies visited Gabriel's home at different times in the eight-month period during which, according to prosecutors, he "was being tortured and beaten," to an almost unimaginable degree.
Out of all the visits, the deputies "found no signs of abuse," nor did they file any relevant paperwork that "would have led specially trained detectives to do more investigating."
---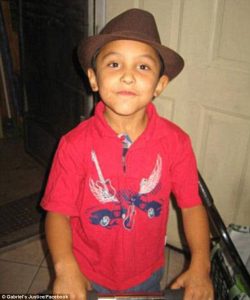 HELL BEGINS
According to court documents, Gabriel had lived with his mother's parents since he was one month old, after his mother, Pearl Fernandez, who struggled with drug addiction, signed over custody of the boy after declaring that she didn't love or want him.
Then, in October 2012, when he was seven, Pearl decided she wanted him back under her roof after all.
The two grandparents, Robert and Sandra Fernandez, worried about sending the boy to live with Pearl who had a history of abusing and neglecting her other three children, one of whom had already been removed from her care. But Pearl went to LA's Department of Children and Family Services to help her get Gabriel back, and DCFS workers—allegedly without ever interviewing any of the children, or examining the notarized documents in the grandparents' possession—sided with Gabriel's mother.
The trouble began almost immediately after Gabriel moved in with Pearl, her boyfriend, and two school-aged older brothers in Palmdale. Shortly after the move, Gabriel's school teacher at Summerwind Elementary School, Jennifer Garcia, began noticing troubling signs of abuse in her new student. For example, the day before Halloween of 2012, Gabriel told the teacher that his mother had hit him with the metal part of a belt until she drew blood.
According to the LA Times, sheriff's deputy Imelda Rizo was dispatched to Gabriel's house, and wrote an entry in her computer log that she had observed no injuries on Gabriel and saw no indications of child abuse.
More than 800 pages of grand jury testimony drew a picture of ongoing and severe abuse over an eight-month period that caused Garcia and others to report their concerns to DCFS on repeated occasions, such as when Garcia noted the child had a bloody lip, black eyes and bruises on his face.
On another occasion, a school counselor called DCFS because Gabriel had written a suicide note.
On still another instance on January 29, 2013, Garcia called authorities after Gabriel came to school after a week away and told his teacher that his mom shot him in his face with a BB gun. Garcia noted his eye was swollen and there were tiny bruises all over his face.
And there were more incidents.
Then when, less than a week before Gabriel's death, he failed to show up at school for several days, Jason Lee Lasley, a sheriff's deputy at Summerwind Elementary, was sent to investigate on May 16, 2013.
Lasley told the grand jury that he could not find Gabriel's home as he was given the wrong address, but called Pearl Fernandez who told him the boy had gone to live in Texas.
Lasley did not visit Gabriel's home to check, nor did he follow-up in any other way or file a report, according to James Wilkerson who wrote an extensive report for the Daily Mail.
Six days later, on May 22, 2013, Pearl called 911 and said that her son was not breathing. When paramedics arrived at the Palmdale apartment the found Gabriel with a fractured skull, three broken ribs, two teeth knocked out, from what turned out to be blows with a baseball bat, burns to his skin, and BB pellets embedded in his lung and groin.
Isauro Aguirre later admitted to punching Gabriel as many as 10 times that day and scrubbing the boy's face and neck with such force that it ripped his skin.
Two days later still, Gabriel died at Children's Hospital of his injuries, which included a deviated septum and a lacerated liver.
---
DEPUTIES FAIL TO CONDUCT SIMPLE INVESTIGATIONS OR WRITE OFFICIAL REPORTS
In the months prior to his death, deputies were reportedly dispatched to Gabriel's home after multiple crucial incidents.
For example, after Gabriel's suicide note Deputy Federico Gonzalez visited the Palmdale apartment at 2 a.m. and was told by Aguirre that the boy was fine. Gonzalez neither saw or interviewed Gabriel, but nevertheless concluded that Gabriel did not have a specific suicide plan, so the matter was dropped.
Later in 2013, a sheriff's detective, Vanessa Reddy, investigated a report that Gabriel had been sexually abused by an uncle. In this case, Reddy interviewed Gabriel, but she did not interview the uncle. Most importantly, she did not filed the report necessary to further the investigation.
On April 26, in a particularly alarming and perplexing incident, a security guard at the county employment office called 911 and reported seeing Gabriel with burns on his face and head.
LA County sheriff's deputy Robin Soukup reportedly "screamed" at the guard that a burned child was "not an emergency" according to a deputy district attorney.
Deputy Jonathon Livingston then interviewed Gabriel and Pearl Fernandez' boyfriend, Aguirre, at their home, but logged only that the boy had fallen off a bicycle and there was no evidence of abuse.
Again, no police report was filed, so no further probe by more expert investigators took place.
"It is unclear why a child being burned all over his body is not an emergency," Deputy District Attorney Jonathan Hatami wrote later.
In May 2013, Gabriel was photographed for a Mother's Day project. Those photos, shown to the grand jury, show him with a bloodshot black eye; the skin peeling from his forehead; and what appeared to be bruises on his neck. These may or may not have been the injuries that caused the security guard to call 911. But, in any case, again no action was taken.
And then there was the critical non-visit six days before Gabriel Fernandez' death.
Retired LASD sergeant Dan Scott who is a veteran child abuse investigator, told the LA Times that Gabriel's case highlights a wider problem in the way patrol officers approach child abuse allegations.
Patrol cops often treat child abuse calls as a low priority, especially when social workers are already involved with the family, he told Winton and Chang.
"'Law enforcement treats these crimes like second-class crimes,' Scott said. 'Cops believe it is a social worker's job. They are looking for a reason to clear the case, and as a police officer, you have got to treat child abuse like any other crime.'"
All of the nine deputies who were called out for Gabriel's case still work for the Sheriff's Department, although some received some kind of departmental discipline. None were criminally charged. Due to state law, the LASD was unable to be more specific about who received what discipline.
---
WHAT IS TO COME
On January 17, four DCFS workers, Stefanie Rodriguez, Patricia Clement, Kevin Bom and Gregory Merritt will face a preliminary hearing on one count each of felony child abuse and falsifying public records.
The trial of Pearl Fernandez and Isauro Aguirre will begin in March of this year. Both are charged with capital murder and a special circumstance of torture.