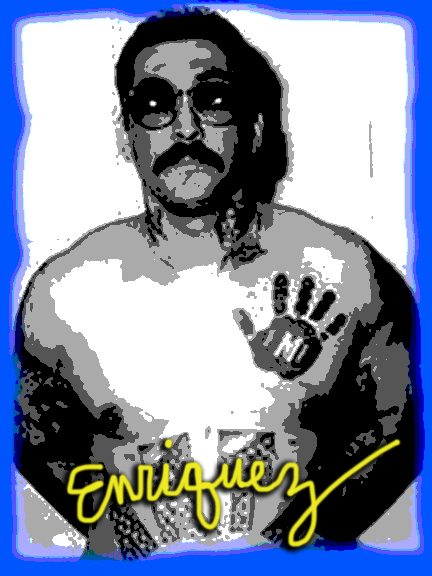 On Friday, Rene "Boxer" Enriquez, who by his own account is a former shot-caller and hitman for the Mexican Mafia, was granted parole by a two-person panel of California's parole commissioners.
In 1993, Enriquez was convicted of killing two people, and sentenced to 20-to-life. He has admitted to killing or attempting to kill others, one of whom he attacked when both were in jail awaiting trial, stabbing the man 26 times.
Earlier during that same period, when he was out on parole in December 1989, Enriquez ordered the killing of a 28-year-old mother of two. The woman, Cynthia Gavaldon, it seems was allegedly selling drugs for the gangsters and Enriquez thought she might not be turning over her full earnings. So he ordered her death.
A few weeks later still, he personally pumped five bullets into another member of the Mexican Mafia, after first giving the man what was intended as a heroin overdose. The victim, Enriquez told an earlier probation board, was someone he was ordered to kill by higher-ups in the EME after the guy supposedly ran away from a fight.
Governor Jerry Brown has the power to veto the panel's Friday decision. If he chooses not to do so, Enriquez will be a free man within five months, despite the pleas of the grown children of the woman he ordered killed more than two decades ago.
In 2014, another panel also decided that it was time for Enriquez to be released.
At the time, Brown had affirmed around 82 percent of the parole commission's decisions, according to the Associated Press. Yet, the governor declined to go along with the decision to let Enriquez out.
Instead, Jerry explained in a carefully composed three-page letter why he did not feel "Boxer" was a suitable candidate for release.
"Mr. Enriquez presents a rather shallow understanding of how he came to perpetuate so many extremely violent crimes," the governor wrote. "These explanations suggest that Mr. Enriquez has not yet deeply examined or forthrightly explained why he pursued for decades a life of violence."
So why has Rene "Boxer" Enriquez been marked eligible for parole—not once, but twice, in two years—while men and women convicted of murder for one terrible act of lethal violence committed when they were young and troubled, get turned down repeatedly? Never mind that many of those same lesser known inmates have decades of blemish-free behavior in prison, have worked to make positive use of their time inside, and who have also worked to face the grievous harm that they did to others in their youth.
Yet, a man who admits to being part of the gang rape of an 18-year-old girl, in his own teenage years, who didn't just kill people in anger, or because he was drunk or drugged up, or as part of a fight, but coldly, for business—he's the guy whom two parole panels want to cheerfully wave out the door.
What's the deal?
The primary reason that Enriquez gets a yes vote, while others a no, appears to be the fact that, in 2002, Enriquez became disenchanted with his relationship with the Mexican Mafia, wondering if he too might soon be marked for execution, and agreed to become a source for law enforcement officers eager for an inside look into the infamous, dangerous California prison gang, La EME. Enriquez, with his extravagant personality, and his former position of prominence in the organization, could provide genuine information—and has now done so for years.
In so doing he became, not just an informant, he became a star—and a useful star at that. Enriquez has been credited with providing information that was critical to a 2013 FBI round up of alleged Mexican Mafia members, along with providing other pieces of information that led to arrests.
All of this is, of course, a very good thing.
And, as a consequence, prior to his most recent hearing, Enriquez received more than 60 letters from law enforcement agencies supporting his parole.
It didn't hurt that Enriquez has his own authorized biography,The Black Hand: The Story of Rene "Boxer" Enriquez and His Life in the Mexican Mafia, written by Peabody-winning journalist, Chris Blatchford, in 2009, with Enriquez' enthusiastic cooperation.
Enriquez' reached out to Blatchford through his mother after the journalist did a several reports on "Boxer" and other Mexican Mafia members as part of a week-long series produced during the height of the LA gang crisis in the 1990's. While a bit overly sensational in its tone, the report also gives a sobering look at the crimes to which Enriquez has since admitted.
So should Jerry Brown say yes? Should Rene "Boxer" Enriquez be paroled?
We at WitnessLA don't think so. At least not this time around.
We sincerely applaud the fact that Enriquez is using his life inside productively. (Although to be truthful, Enriquez is rarely ever inside prison these days. Instead, he seems to be semi-incarcerated at best. But that's another discussion.)
But, let's just say, we hope that the governor—and the parole board—will start looking first at the lives and records of other lifer inmates who have not repeatedly, and coldly, wreaked the kind of lethal havoc to which Enriquez has admitted.
Even if those other inmates aren't quite as glamorous as the would-be parolee in question.
As mentioned earlier, Brown has five months to make up his mind.
In that time, we'll be presenting a couple of profiles of some of the other people who have been locked up for decades, whom we happen to know, whose cases the governor might want to examine first before he decides whether or not it's time to let Mr. Enriquez out.
EDITOR'S NOTE: The LA Times' Kate Mather, with Victory Kim, has written several informative stories on Enriquez and the issue of parole that you might want to check out here and here.