Los Angeles County Inspector General Max Huntsman has quietly sent out 35 letters to 35 different LA County Sheriff's deputies.

The letters, which are dated Friday, May 12, direct each of the deputy recipients to schedule an interview with the IG's office within the next fourteen days. The interview will pertain to one or the other of the LASD's two most notorious deputy gangs, namely the Executioners and the Banditos.

In the letter, which WitnessLA obtained Tuesday morning, the deputies are each told to bring with them a photograph of any tattoos on their left or right leg "from the area of the ankle to the knee."

The point of the photos is to see if any of the selected 35 department members have deputy gang-related tattoos, which are generally inked on the outside of one's lower leg, a bit above the ankle, as in the Executioners' tattoo in the photo below.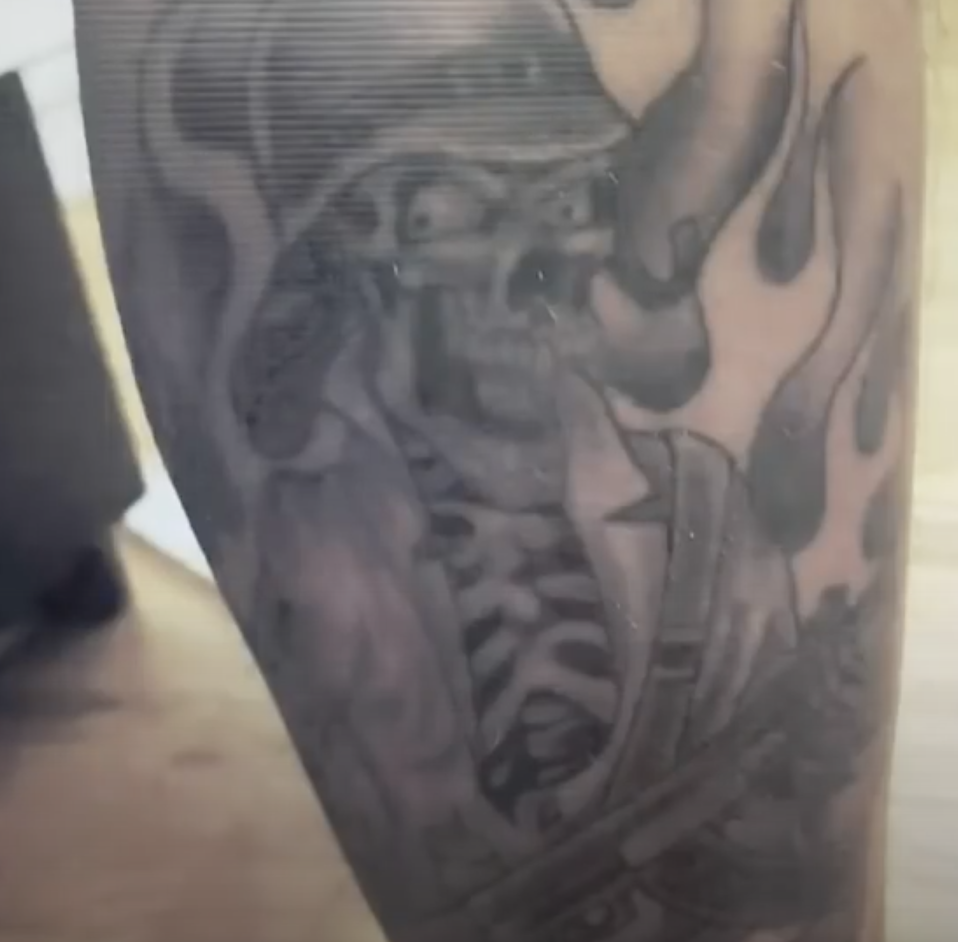 The primary purpose of the interviews, according to the Office of the Inspector General (OIG), is to jump start the compilation of an accurate list of the LASD deputies who are members of deputy gangs, in particular some of the best known of the deputy cliques, such as the Banditos and the Executioners, which operate out of the East LA Station, and the Compton station, respectively.

At their interviews, the deputies will also be asked a list of other questions such as:
Who else have you seen the tattoo on?
Who else has told you they are/were in the group?
Have you ever been told about other deputies who might be in or have been in the group? If so, which deputies? Who told you this?•
Do you have any reason to think any other deputies might be or have been in the group? Which deputies and why?
Have you seen any tattoos with symbols or images like those in Exhibit 1 If so, describe the tattoo and circumstances in which you saw it.
Is there anyone who you have heard said to be a member of the Banditos or Executioners who you have reason to think does not have a tattoo depicted in Exhibit 1? If so, please explain.
And there are more questions of that nature.

So why now?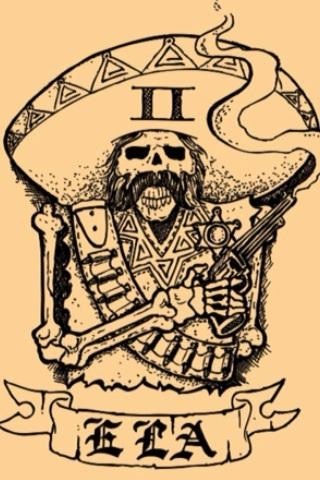 The reason that Huntsman and his office have launched this new initiative now, not earlier, is reportedly due to the fact that, until fairly recently they have not had a clear authority to engage in this kind of investigation.

But on January 1, 2022, things changed because on that date two bills that had passed through the state legislature in 2021, went live.

The bills—SB 2 and AB 958—state that sheriff's deputies who are found to be part of a law enforcement gang can have their peace officer certification revoked, and they can also be disqualified from future employment as a peace officer.

In addition, law enforcement agencies are required by the new laws to create and maintain a policy that prohibits law enforcement gangs, and which also makes participation in such a deputy gang grounds for termination.
Furthermore, if deputies are terminated on such grounds, in the hope of preventing those deputies from quietly moving on to another police agency, based on the new statutes, an officer or deputy's original agency is required to disclose the termination of any peace officer for participating in a law enforcement gang to any other agency that is conducting a pre-employment background check of that officer or deputy.

In the past, under various other sheriffs, the LASD did little or nothing to identify which members of the LA County Sheriff's Department were inked deputy gang members.

The new deputy gang laws, however, has given California's various inspectors general enhanced authority to collect evidence on such issues.

Now, the LA County OIG is "using that authority to complete the investigations by directing deputies to show their tattoos and tell us who else has them," said Huntsman in a written statement texted this morning to WitnessLA.

According to Huntsman, the deputies summoned will be permitted to assert their fifth amendment rights if they believe the requested information will incriminate them. When and if deputies do take the fifth, however, the Inspector General will, said Huntsman, "consult with the DA and sheriff before compelling any statements."

But it is our understanding that, if necessary, the IG may very well be able to compel statements.

And, just in case those receiving the letters are unclear on the laws pertaining to the matters at hand, the letter lays things out:

Pursuant to Penal Code section 13670(b), each law enforcement agency in California must prohibit membership in law enforcement gangs.

Pursuant to Penal Code section 13510.8(b)(7), participation in a law enforcement gang is grounds for decertification of a peace officer.

Pursuant to Penal Code section 13670(b), a law enforcement agency must cooperate in an inspector general's investigation into law enforcement gang participation.

Pursuant to PenalCode section 13510.8(b)(8), failure to cooperate in an investigation into police misconduct is grounds for decertification of a peace officer.

The Office of Inspector General is investigating law enforcement gang participation and police misconduct at the Sheriff's Department pursuant to Penal Code section 13670(b). Your cooperation is being sought because we believe you may have information regarding one of two groups that may be law enforcement gangs, commonly referred to as the Banditos and the Executioners….

The explanation goes on from there.

Executioners, Banditos, and County Council lawyers

Interestingly, the jump start of the IG's new initiative to gather a "complete and accurate list" of the LASD's deputy gang members comes as several of the whistleblower/retaliation lawsuits that involve deputy gangs are moving toward trial.

First up is a lawsuit brought by Lt. Larry Waldie who, for much of 2018 and 2019, was the acting captain of the Compton Station, which is the home base for the Executioners.

At trial, which began jury selection on Tuesday morning, Waldie and his attorney will tell the jury that, when Waldie was acting captain, he declined to let the Executioners run the LASD's Compton station, which the group was allegedly attempting to do. In response, the deputy clique's main shot caller reportedly retaliated by instituting a work slowdown, and other forms of manipulation.

When Waldie continued to resist and eventually became a whistleblower, his lawsuit alleges he was subsequently retaliated against by former Sheriff Alex Villanueva, and Villanueva's then undersheriff Tim Murakami.

(Waldie was also one of those who testified at the LASD Civilian Oversight Commission's live hearings on deputy gangs. This, according to his lawsuit, also produced retaliation.)

At the same time, two other well-known civil rights cases, both pertaining to the deputy gang known as the Banditos, are moving toward either settlements or court trials.
The largest of the two lawsuits was filed in 2019 on behalf of eight department members and describes a reign of terror by members of the Banditos, the now-infamous deputy clique based out of the department's East Los Angeles Station.
According to the lawsuit, the retaliation that resulted for those who ran afoul of the Banditos consisted of escalating harassment, ranging from verbal taunts or keying someone's car, and the like, to putting deputies in physical danger by failing to provide support on potentially perilous work call outs, several instances of which the complaint details.
One of the worst of these episodes reportedly occurred on September 19, 2018, and resulted in two deputies from the East LA station being shot while on duty (albeit, fortunately, not fatally), "because of the intentional failure of the Banditos to provide back up," states the complaint.
The lawsuit also describes incidents of physical assault, most dramatically the assaults that occurred in wee hours on September 28, 2018, when a violent brawl broke out at Kennedy Hall, a rentable event venue, where those who worked at the East LA station, were holding an "end-of-training" after-hours party.
(WLA readers are already familiar with many of the lawsuit's allegations since we broke the story about the Kennedy Hall assaults, and have written additionally about the expanding allegations as the lawsuit was developing.)
Most recently, according to civil rights attorney Vincent Miller, the retaliation continues, but now it is coming from the attorneys hired by Los Angeles County Counsel who, he says, have been intimidating and threatening witnesses. and also making false statements about the plaintiffs as part of a recent attempt to persuade the judge who will preside over the jury trials to drop both cases.
(It didn't work. The judge declined to drop the cases.)

Part of the problem, said Loyola Law professor Sean Kennedy, who is also the chair of the COC, "is that in these kinds of cases having to do with misconduct by the LASD, the county hires attorneys who are pugilistic and aggressive."
From their perspective they're representing their clients, Kennedy told WLA, "but It's a scorched earth strategy. It doesn't seem to matter who's harmed. It's a strategy of accusing everyone of having corrupt motives."
It was one thing when Sheriff Alex Villanueva was in office, added Kennedy. "But now that we have Sheriff Luna these actions are hard to explain. This is a different sheriff who has stated that he understands the harm done by deputy gangs, and wants to root them out."
Attorney Vincent Miller put it another way.
"As long as the county keeps handling the litigation in this dishonest manner, they will keep giving ammunition to inked deputies, and their defenders at LASD, who claim there are only allegations about the deputy gangs, and no evidence."
All the above brings us back to IG Huntsman's 35 letters.
Race, gender, and a Brady list
One of the elements covered in the new laws—and in the 35 deputy letters—is the fact the deputy gangs generally exclude Black department members and female department members. And since being a member of a deputy gang is, by definition, related to one's job, discrimination against other department members because of their race or gender, is yet one more way that being a member of a deputy gang is against the law.
Furthermore, if one lands on the Inspector General's list of deputy gang members, that same list will reportedly be available as Brady information, and thereby discoverable by prosecutors and defense attorneys.
So, if the Inspector General and his office is able to create a truly comprehensive list of the department's deputy gang members, is it possible that this 50-year-old tradition of deputy gangs will begin to seem a less-than-desirable tradition to continue to uphold?
We are told that is the hope.