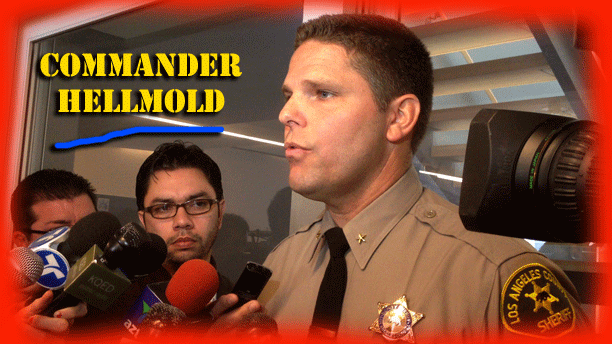 According to a statement that went out to Los Angeles Sheriff's Department personnel late Thursday afternoon, Commander James Hellmold will be promoted to the rank of Assistant Sheriff, overseeing three LASD field operations regions, plus both the Detective and Homeland Security divisions. Hellmold, a commander, was leapfrogged over a list of higher ranked department chiefs to land in the A/S spot. His promotion becomes effective on Sunday, December 30.
There was a need for speed since Hellmold will replace Assistant Sheriff Marvin Cavanaugh who announced his January 1 retirement earlier this month.
Cavanaugh was one of those on the LASD command staff who was criticized in testimony before the Citizens Commission on Jail Violence for failing to take action when confronted with the growing crisis of deputy on inmate abuse in the LA County jails. As a consequence, it has been rumored that his retirement was less than voluntary, and that the sheriff was holding him responsible for much of the jails mess.
Of course, the main LASD command staff member singled out by the Jails Commission for sanction is Undersheriff Paul Tanaka. Yet, so far, the undersheriff appears to have escaped any sort of blame by the sheriff for his reported part in the scandal.
Commander Hellmold, who will be replacing Cavanaugh, is a member of the Sheriff's specially selected Commander Management Task Force, which was sent into the jails to help precipitate reform after the scandal began to heat up.
---
EDITOR'S NOTE: I realize that all this may seem like so much inside baseball to those who are not obsessive LASD watchers, however Hellmold's promotion has triggered lots of speculation in and around the department as to what the move may signify in terms of power shifts at the LASD's highest levels. Thus it is worth noting.