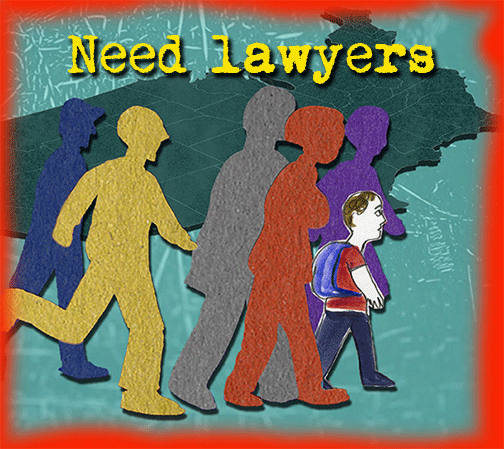 SAN FRANCISCO IS FIRST CA CITY TO PROVIDE LAWYERS FOR UNDOCUMENTED CHILDREN & FAMILIES
On Wednesday, San Francisco officials announced a new program that will help fund legal assistance for undocumented children, families, and others facing deportation.
Of the approximately 4000 kids awaiting immigration proceedings in San Francisco, around 2,200 don't have lawyers—a fact that has been shown to dramatically affect how their cases will play out.
According to a University of Syracuse study, between 2005 and 2014, 50 percent of the children who had an attorney present at their hearings were allowed by a judge to stay in the U.S. When a kid went to immigration court without an attorney during that same period, however, one in ten kids was permitted to stay. The other nine were deported.
The San Francisco Chronicle's Marisa Lagos has been covering the issue. Here are some clips from her story announcing the new program:
The program, created by Supervisor David Chiu, makes San Francisco the first California city to offer such legal help. It is an expansion of an existing Right to Civil Counsel program created in 2012 that has so far focused on tenants facing evictions.

The city will give $100,000 this year to the nonprofit Lawyers' Committee for Civil Rights, which will use the funds to provide pro bono legal representation to San Francisco residents facing deportation, including children and families.

[BIG SNIP]

San Francisco Immigration Judge Dana Leigh Marks, speaking as head of the National Association of Immigration Judges, called the city's program "fabulous."

Courts, she said, are overwhelmed – there are about 375,000 immigration cases pending in the country and only 227 immigration judges. She is presiding over more than 2,400 cases.

"There's an extreme value in having lawyers represent people in terms of the outcomes in their own cases and in terms of the effectiveness of the immigration courts," she said. "It helps us move through the process. It helps advise people of their rights, it reduces the number of errors when they are filing applications … and it reduces delays."

Mexican immigrant Osvaldo Diaz, 36, said access to a pro bono attorney through the Lawyers' Committee may have saved his life. Diaz, who is gay, fled to San Jose from Mexico after facing threats because of his sexual orientation and a domestic violence situation. He was granted political asylum in 2012 and this year was awarded legal residency. He recently moved to Miami and is looking for a job.

"I didn't even know political asylum exists," he said, adding that even with a lawyer, the court process was frightening.
Although SF is the first CA city to launch such a program, recently Gov. Jerry Brown announced that the state will cough up $3 million for immigration lawyers. New York also has a similar program.
---
---
"PEACE IN THE HOOD" AUTHOR, AQUIL BASHEER, HOSTS PANEL THIS SUNDAY TO DISCUSS VIOLENCE PREVENTION, PUBLIC SAFETY, & COMMUNITY UPSET OVER RECENT OFFICER INVOLVED SHOOTINGS
"Communities are desperately seeking answers," said Aquil Basheer, executive director of A Better LA and a nationally known pioneer in the field of violence intervention, in relation to the recent intense controversies over officer-involved shootings, and neighborhood violence in general.
Due to the fact that Basheer's well-regarded and fascinating new book Peace In the Hood: Working with Gang Members to End the Violence, co-authored with veteran journalist Christina Hoag, has coincided with these most recent public storms, he has organized a panel scheduled for Sunday, featuring law enforcement and others for what promises to be a dynamic discussion.
This is the second in a series of "solution-seeking" community discussions led by Basheer, with the idea of empowering residents in Southern California's most crime-plagued areas to reduce the levels of "violence, aggression and interpersonal hostilities" that do harm to their neighborhoods.
In addition to Basheer, the panel will include LAPD Lead Gang Unit Officer Sgt. Curtis Woodle, and LAPD Gang Liaison Officer, Sgt. Stinson Brown, forensic psychologist and consultant to the LAPD and Department of Homeland Security, Dr. Debra Warner, USC Professor of Social Work and gang expert, Robert Hernandez, LA County Fire Department Captain Brent Burton, 'Peace In the Hood' co-author Hoag.
The panel will be held on Sunday, August 31, from 2 PM to 5 PM at the
African American Firefighter Museum, 1401 S. Central Avenue, Los Angeles
---
SOUTH LA'S FRAGILE GOODWILL IS TESTED
LAPD Assistant Chief Earl Paysinger, second in command to Chief Charlie Beck, was once the popular Deputy Chief who ran the department's South Bureau where he notably and painstakingly worked to repair the badly damaged relations between the Los Angeles Police Department and the South LA communities it polices.
But how the fragile reservoir of goodwill really is was evident in the tone of the meetings over the shooting death of Ezell Ford, that Paysinger attended.
The LA Times' Kate Mather and Richard Winton have the story. Here's a clip:
As Angeles police Assistant Chief Earl Paysinger sat with increasing unease at a church in South Los Angeles as residents rose one at a time to berate his department.

The meeting had been called to reassure locals about the way the LAPD and other agencies were investigating the recent fatal shooting of a mentally ill man in the neighborhood. But the event quickly boiled over into a critique of the LAPD, with residents accusing the department of racial profiling, excessive force and dishonesty.

Paysinger, the LAPD's highest-ranking black officer and a 40-year department veteran, was disturbed by the level of anger. So the morning after last week's community meeting, he drove to the LAPD's Newton Division, where the fatal shooting occurred, and demanded an action plan.

"Where do we go from here?" Paysinger told the station captain. "I'm not interested in, 'I don't know, we've done everything

Whether police officers acted properly when they fatally shot Ezell Ford Jr. earlier this month remains under investigation. But the case has exposed lingering tensions as well as what some consider an erosion of the credibility and goodwill the LAPD has worked so hard for so long to build in South L.A.

"You think you're in a good place," Paysinger said. "But then you find yourself at that meeting.… It was patently clear to me that we need to get busy."

Building trust in the African American community has been a top priority of the LAPD since the L.A. riots 22 years ago, which were sparked in part by the acquittal of four police officers caught on tape beating black motorist Rodney King. Even the LAPD's harshest critics admit the department has made significant strides.

Those efforts also have been helped in no small part by a dramatic drop in crime across South L.A.

But John Mack, the former longtime L.A. police commissioner and the retired president of the L.A. Urban League, said he worried that the reaction to Ford's death showed a backslide in the relationship.
---
DARE NOT THRILLED WITH MARIJUANA DECRIMINALIZATION IN LA SCHOOLS
Last week, the chief of Los Angeles School Police announced that the LASP was decriminalizing a list of less serious student behaviors that previously lead to citations or arrest. Now students would be referred to school officials for these infractions, not law enforcement.
The newly classified behaviors include most ordinary fights between students, trespassing on school property, tobacco possession, alcohol possession, and possession of small amounts of marijuana.
When LA Weekly reporter Amanda Lewis spoke to California DARE Coordinator Steve Abercrombie, she found that he was not in favor of this new policy at all.
Here's a clip from Lewis' story:
California DARE Coordinator Steve Abercrombie was not pleased to learn the news that the Los Angeles Unified School District had decriminalized small amounts of marijuana at its schools.

"Wow," [Abercrombie told the Weekly]. "It seems we keep giving in more and more to different crimes and criminal activity. When does it stop? When do you finally say that you need to follow the rules?"

The district announced more lenient policies in which school police will no longer report students — or issue them tickets — if they're involved in petty theft, most fights, or possession of alcohol, tobacco or marijuana.

The rule changes resulted from two years of talks between lawyers, judges, school police and civil rights groups who aimed to end LAUSD's zero-tolerance policies.

One goal is to reduce the influence of campus police, softening the rules so that kids who typically get into trouble don't drop out.

At issue, in part, is that black students make up about one-third of school police arrests, yet they make up less than 10 percent of the student population.

This, of course, is not exactly in line with the philosophy of the long-running Drug Abuse Resistance Education program.

Abercrombie says it makes more sense to train school police to stop targeting black students than it does to decriminalize weed in schools….
---