Dear WitnessLA readers,
Happy (nearly) New Year!
You have until midnight, December 31, 2022 — New Year's Eve — to triple any (tax-deductible) donation you make to help WitnessLA, so we've got our fingers crossed that you will do so!
[Note: All donations go through our fiscal sponsor, Community Partners. So, when donating, be sure to select WitnessLA as your intended recipient from the drop-down menu you'll see when you hit the link above.]

To help inspire you, below you'll find seven examples of the investigations, soon-to-launch series, and other essential community-based reporting that you'll be supporting if you donate before we all ring in the new year Saturday night.

1. Reimagining LA County Child Welfare: Last year, Taylor Walker won an LA Press Club award (and was a finalist for another important award) for her five-part series Pregnant Behind Bars, which looked at how LA County's unique Maternal Health Diversion Program disrupts the incarceration cycle by moving pregnant people out of jail cells and into permanent supportive housing.

Starting in January, WLA will begin publishing Walker's 2023 series, which will shine a light into the dark corners of Los Angeles County's Department of Children and Family Services (DCFS), in order to illuminate the necessity of reimagining the nation's largest regional child welfare system, a topic that LA's mainstream media is simply not covering.

2. Conditions of Confinement: Also in January, WitnessLA will launch a brand new column on the state of affairs inside LA County's Jail System, written by a talented reporter/expert whose insider's perspective you won't want to miss.

3. #NoSafePlace: Last year, WitnessLA won another first place LA Press Club Award for our investigation into how, when LA County Probation officials got reports that a staff member sexually assaulted a teenager, they repeatedly failed to protect her.

From January 2023, onward, we'll bring you related stories that no one else is telling, in which parents, juvenile attorneys, youth advocates, and LA County Probation insiders describe the ways in which the county's youth jails are not safe for anyone, not staff members, and certainly not the kids in the county's care.

4. Ambition v. Justice: While Los Angeles District Attorney George Gascón is deeply committed to justice reform, there remains a toxic culture inside the LA County DA's Office where winning big — whatever the facts of a case — is valued over seeking justice. We'll open this coverage with a multi-part, deeply investigated narrative that shows how one man and his family paid the price for a prosecutor's ambition.

5. Homicide in Men's Central Jail: In addition to the work of our new jail-expert columnist, in 2023, we'll bring you an investigative narrative that tells the inside story of a brutal death of a talented young man in Men's Central Jail, the loss of whom continues to devastate members of multiple Los Angeles communities. This necessary story delves into the circumstances that led to the young man's death, the people he affected during his lifetime, plus the troubling issues his story points beyond itself to illuminate.

6. CA Justice: WitnessLA, as its name suggests, primarily covers issues of justice and injustice in LA County. But in 2023, we will broaden our reporting to include investigations into policing, community safety, and related issues in Central and Northern California's rural communities, whose crucial stories too often remain ignored by large regional news outlets. Even better, this reporting will often be in partnership with some excellent hyper-local news sites, as we mutually support each other's work.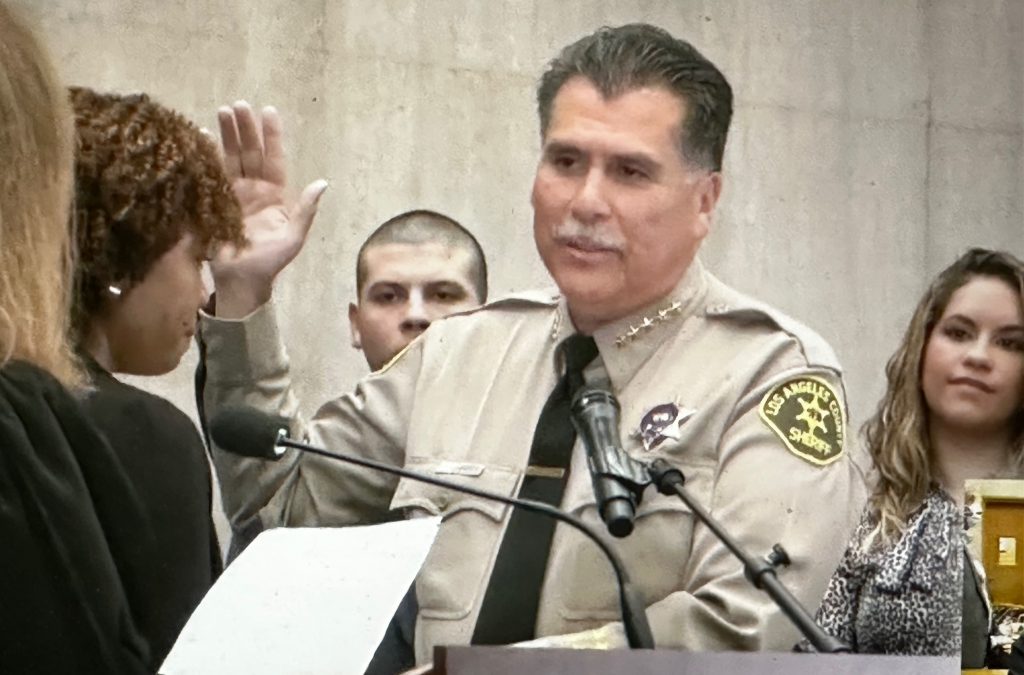 7. Yes, we've got a new sheriff: As WLA's readers know, at noon on Monday, December 5, 2022, former Long Beach Chief of Police Robert Luna officially became the sheriff of Los Angeles County, which right now is arguably the most challenging job in all of American law enforcement.

Certainly, coverage of the new sheriff won't be in short supply from other LA news outlets.

Yet, WitnessLA's reporting of the Los Angeles Sheriff's Department in 2023 will continue to be indispensable due our deep well of courageous insider sources, our unique history of covering the LASD, plus our commitment to probing the deeper side of certain stories — as we did with this story published late last month about why the death of K-9 Spike matters.

But we can only do this kind of absolutely necessary reporting with you as our partners.

AND here's some GREAT news on that topic! From this minute until midnight on New Year's Eve, December 31, everything you give, up to $1,000 will be TRIPLED!

In other words, every $20 you give us to support WitnessLA's award-winning, independent investigative journalism turns into $60.
Like magic.
This bonus was made possible by NewsMatch, with support from Knight Foundation and the Heising-Simons Foundation, which selected WLA for this help due to our commitment to serving communities of color in Los Angeles County.

So, please, TRIPLE YOUR IMPACT with a tax-deductible donation to WitnessLA.

(Repeating IMPORTANT NOTE: All donations go through our fiscal sponsor, Community Partners. So, when donating, be sure to select WitnessLA as your intended recipient from the drop-down menu.)

And thanks, as always, for reading WitnessLA. 

We are honored to be in your company as we all head into 2023!
****
Celeste Fremon
Founder / Editor
Taylor Walker
Assistant Editor