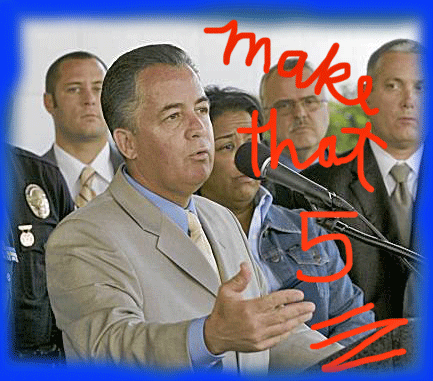 Up until today, there were four names tossed around by nearly everyone as most likely to be on the short list to follow Bill Bratton as LAPD Chief: The four are Assistant Chief Jim McDonnell, Assistant Chief Earl Paysinger, Assistant Chief Sharon Papa and Deputy Chief Charlie Beck.
There are dark horse candidates too—like Deputy Chief Michael Moore and Deputy Chief Sandy Jo MacArthur, plus some others.
But the four have been the candidates on whom the public and private handicapping has focused with the most vigor.
It has also been widely agreed that no one of the four is the odds on front runner.
There is however, one more person whose name has also often come up as another possible candidate—but only in private, because it was it was always assumed he wouldn't try for the position.
And that is Deputy Chief Sergio Diaz.
Diaz, as you may remember, is the well-respected Deputy Chief in charge of the department's Central Bureau. He was the guy tapped by Bratton to take over and fix things at Central—and also, to be honest, to help smooth matters with LA's Hispanic community— after the May 1, 2007 debacle at MacArthur Park suggested that great deal needed fixing and smoothing on both those fronts. (I wrote about his appointment here for the LA Times, and here for WLA.)
Yet people simply assumed that Diaz would stay out of the race when Bratton left, primarily for one very large reason. Sergio has been best friends since childhood with George Gascon. And everyone knew that Gascon definitely wanted to be chief. Of the two friends, Gascon had long had first dibs on the position, so to speak. And Sergio showed no overt sides of wanting it.
Up until this summer, in fact, Gascon was the one most thought actually had the best shot at succeeding Bratton. He'd been the Assistant Chief right under Bratton and, more recently, had served as Chief of Police for Mesa, Arizona—thereby theoretically positioning him even better for the jump to LA's chief, in that he'd now run a department of his own.
Then, this past June, George accepted the job as San Francisco's Chief of Police, clearly assuming that Bratton would serve out his term. But when Bratton made his surprise announcement last month, Gascon had no alternative but to declare himself out of the running.
The unexpected collateral consequence of Gascon opting out was that, all at once, in the eyes of many there seemed no good reason for his extremely capable friend Sergio not to throw his hat into the ring.
On Friday, Diaz flew to San Francisco for George Gascon's swearing in ceremony, and it is assumed that the two men talked the matter over.
Monday, Sergio Diaz spoke to Chief Bratton and made it official.
And so it came to be that, as of this morning, there are—not four—but arguably five possible favorites for the position of Chief of the Los Angeles Police Department.
It should be quite an intriguing race.
So stay tuned. There is lots more coverage—and handicapping—to come.