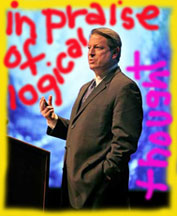 Al Gore's new book, "The Assault on Reason," will be released next Tuesday. But Time Magazine printed an excerpt earlier this week.
I can't speak to the book as a whole, but the excerpt doesn't frame the issue as an artifact of the right or left. It does, however, put into words something that many of us have been feeling with greater urgency—and sometimes despair, frankly—and that is the realization that logic, facts and rational thinking have drifted farther and farther away from the public discourse—even more so from the realms of public policy.
Yet, as I said, instead of shooting at one political party or another, Gore goes to a deeper level and talks about, among other things, the way we take in and process information. Marshall McLuhan Redux.
Here are a few excerpts:


Not long before our nation launched the invasion of Iraq, our longest-serving Senator, Robert Byrd of West Virginia, stood on the Senate floor and said: "This chamber is, for the most part, silent—ominously, dreadfully silent. There is no debate, no discussion, no attempt to lay out for the nation the pros and cons of this particular war. There is nothing. We stand passively mute in the United States Senate."

Why was the Senate silent?

In describing the empty chamber the way he did, Byrd invited a specific version of the same general question millions of us have been asking: "Why do reason, logic and truth seem to play a sharply diminished role in the way America now makes important decisions?" The persistent and sustained reliance on falsehoods as the basis of policy, even in the face of massive and well-understood evidence to the contrary, seems to many Americans to have reached levels that were previously unimaginable.

A large and growing number of Americans are asking out loud: "What has happened to our country?" People are trying to figure out what has gone wrong in our democracy, and how we can fix it.

To take another example, for the first time in American history, the Executive Branch of our government has not only condoned but actively promoted the treatment of captives in wartime that clearly involves torture, thus overturning a prohibition established by General George Washington during the Revolutionary War.

It is too easy—and too partisan—to simply place the blame on the policies of President George W. Bush. We are all responsible for the decisions our country makes. We have a Congress. We have an independent judiciary. We have checks and balances. We are a nation of laws. We have free speech. We have a free press. Have they all failed us? Why has America's public discourse become less focused and clear, less reasoned? Faith in the power of reason—the belief that free citizens can govern themselves wisely and fairly by resorting to logical debate on the basis of the best evidence available, instead of raw power—remains the central premise of American democracy. This premise is now under assault.

American democracy is now in danger—not from any one set of ideas, but from unprecedented changes in the environment within which ideas either live and spread, or wither and die. I do not mean the physical environment; I mean what is called the public sphere, or the marketplace of ideas.

It is simply no longer possible to ignore the strangeness of our public discourse….
[snip]
As a young lawyer giving his first significant public speech at the age of 28, Abraham Lincoln warned that a persistent period of dysfunction and unresponsiveness by government could alienate the American people and that "the strongest bulwark of any government, and particularly of those constituted like ours, may effectively be broken down and destroyed—I mean the attachment of the people." Many Americans now feel that our government is unresponsive and that no one in power listens to or cares what they think. They feel disconnected from democracy. They feel that one vote makes no difference, and that they, as individuals, have no practical means of participating in America's self-government. Unfortunately, they are not entirely wrong. Voters are often viewed mainly as targets for easy manipulation by those seeking their "consent" to exercise power.
[snip]
…..So the remedy for what ails our democracy is not simply better education (as important as that is) or civic education (as important as that can be), but the re-establishment of a genuine democratic discourse in which individuals can participate in a meaningful way—a conversation of democracy in which meritorious ideas and opinions from individuals do, in fact, evoke a meaningful response.

Fortunately, the Internet has the potential to revitalize the role played by the people in our constitutional framework…..

I don't know that the Web is going to save us. But the democratization of information combined with a form that asks more of us than merely passive reception….can't be a bad thing.
Anyway, read the whole excerpt.
Write on, Al!
P.S….I've been hoping that Gore would jump into the presidential race. But now I'm beginning to be persuaded that he's right when he says he can have more of an effect from the so-called outside then by entering the moral and ethical mosh pit that is American politics.