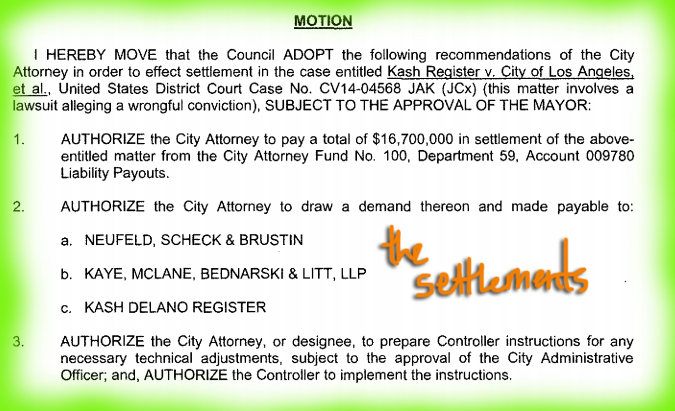 TAKING A CLOSER LOOK AT THE CITY OF LA'S $24 MILLION FALSE CONVICTION SETTLEMENTS
On Tuesday, the LA City Council approved $24.3 million in settlements to two men, Kash Delano Register and Bruce Lisker, who were wrongfully convicted of murder and spent decades in prison.
On Wednesday's episode of KCRW's Which Way LA?, the LA Times' Matt Lait and LA Police Commission Vice President Steve Soboroff talked with host Warren Olney about the city's decision to agree to a big-bucks settlement based on the likelihood that going to court would cost more than the $24 million.
Prosecutors dropped charges against Register, who was convicted of killing a man at age 18 in 1979, after his lawyers accused the prosecution of withholding exculpatory evidence from the defense, and using false testimony. Lisker's conviction for his mother's 1983 murder was overturned after a judge found that the prosecution had presented false testimony.
Lait pointed out that Register's lawyers were originally demanding $40 million to settle, and Lisker's lawyers were demanding around $22 million. Through federal mediators, those sums were brought down to approximately $16.7 and $7.6 million respectively.
When asked if he thought the City Council made the correct call by settling, Soboroff said, "I believe [the City Council] did the right thing. They were travesties. They happened 37 and 33 years ago. It was a different world then in Los Angeles policing than it is now."
Soboroff asserted that today's law enforcement officers are not making such egregious errors in policing as in Register and Lisker's cases. "This is not going to happen again," Soboroff said. "This is not like the Netflix "Making a Murderer" that's been going on recently. That is not what our police department is about."
The commission president said that while officers make mistakes, the LAPD had established a number of protections since Register and Lisker's convictions. "We have a system which has national recognition as having safeguards, having citizen oversight, having independent inspector generals, having all kinds of intra- and inter-department safeties…"
The Times' Lait was not so convinced. "You see time and again throughout the country, DNA evidence exonerating people… Even though there's no DNA evidence in this case, Mr. Register's case dealt with eyewitness identifications. And those can be faulty. So there's always the risk."
---
LA COUNTY TURNING TO CRISIS CENTERS FOR MENTAL HEALTH EMERGENCIES
The LA Times' Abby Sewell takes a look inside Los Angeles' crisis centers, as the county shifts toward a reliance on LA's five centers, rather than jails or hospitals, for taking care of a person in the middle of a mental health emergency.
These centers, the newest of which opened in Culver City last month, serve as places law enforcement officers can bring people in crisis. Often, police officers have to choose between waiting 6-8 hours to drop someone in crisis off at hospital emergency room, or booking the person on a minor charge and getting back to work within an hour.
Here's a clip from Sewell's story:
Until recently, Los Angeles police were reluctant to take patients directly to the urgent care centers because, unlike hospital emergency rooms, the centers don't take people with serious medical issues or who are extremely drunk or aggressive.

But after meeting with Exodus staff over the summer to clarify the guidelines, police have begun taking more patients to the centers rather than emergency rooms. In December 2014, law enforcement officers took 209 patients to L.A. County-USC Medical Center and 107 to the Exodus center across the street. In August, officers took 196 patients to the hospital and 268 to the urgent care center. LAPD officers who had been frustrated at the time they spent waiting to hand off patients to medical staff at the overcrowded county emergency rooms said the turnaround time is much quicker at the urgent care centers.

"The times I've been there, it's been 15 minutes as opposed to two hours at the ER," said Lt. Brian Bixler of the Los Angeles Police Department's specialized mental health team.

The turn to urgent care centers has also helped to alleviate overcrowding at the county hospitals' psychiatric emergency departments and in the regular emergency rooms. The average morning patient count for the three county psychiatric emergency rooms was about 40 in November, down from 60 a year earlier.

Mark Ghaly, director of community programs for the county's Department of Health Services, which runs the hospitals, said a "significant amount" of the reduction in crowding can be attributed to the increased use of urgent care centers…

But it can be a challenge to find a bed in a psychiatric facility that provides long-term care. One patient waited a week at an urgent care center — in violation of rules — before an inpatient bed was found.

Ghaly said the expansion of urgent care centers will be a boon to hospitals, but needs to come with "a commensurate increase" in inpatient beds and community-based resources so patients have somewhere to go upon release.
---
DEFINING CALIFORNIA JUVENILE OFFENDERS' SECOND CHANCE AT PAROLE
On Wednesday, a California appeals court ruled that, for inmates who were sentenced to life-without-parole for juvenile crimes, judges must take into consideration evidence of prisoners' rehabilitation when deciding parole eligibility.
In 2014, the CA Supreme Court ruled that judges must take a second look at juvenile life-without-parole sentences, but the ruling did not specify what kind of evidence, if any, a prisoner could present for the second chance at parole.
The Second District Court of Appeal in Los Angeles overturned a judge's decision to disregard evidence that Elizabeth Lozano, who killed another teenager when she was 16-years-old, had turned her life around in prison.
The San Francisco Chronicle's Bob Egelko has more on appeals court's decision. Here's a clip:
In the state's first appellate ruling on the issue, the court said the U.S. and California Supreme Court decisions had emphasized that juveniles were different from adults in maturity and responsibility, and that judges must consider all evidence relating to the "distinctive attributes of youth" before imposing harsh sentences.

"All relevant evidence, in our view, includes what Lozano asserts is 15 years of rehabilitation in prison," Justice Sandy Kriegler said last Thursday in a 3-0 ruling ordering a new hearing.

Lozano, a 16-year-old member of a Los Angeles street gang, fatally shot Tayde Vasquez and took her jewelry in January 1992 after hearing that the girl had accused her of plotting with members of a rival gang. She was tried and sentenced as an adult in 1996, violated prison rules repeatedly for four years, and was convicted of a drug crime. But she has been discipline-free since then and has apparently turned her life around, the court said.

Lozano earned a high school diploma and a two-year college degree in prison, was elected to an inmate council that works with prison administrators, took part in an outreach program to help juveniles stay crime-free, and has won praise from a former prison warden and numerous staff members, the court said.

When she tried to present that information to the judge who was ordered to reconsider her sentence, prosecutors objected. They argued that evidence of good behavior in prison can be presented only at a separate hearing, authorized by a recent state law, that juveniles sentenced to life without parole can request after 15 years in prison.
---
CA PRISON OFFICIALS ANSWER CALLS FOR ACCOUNTABILITY ON BILLIONS IN ABSENT REALIGNMENT SAVINGS
Last week, WLA pointed to an LA Times editorial taking a closer look at why, despite a promised pile of savings from California's realignment strategy and Proposition 47, the state's prison budget has only risen over the last four years.
In response to calls for accountability from CA lawmakers, on Wednesday, prison officials released a long-term corrections plan that says the state would have had to spend $1.3 billion more, if not for the inmate population reductions from realignment and Prop. 47. Corrections officials also say that the current spending is necessary to keep the inmate population below a level ordered by a panel of federal judges, and that money is being spent on private prisons, while dilapidated and costly prisons have not been replaced.
The Associated Press' Don Thompson has more on the issue. Here's a clip:
Federal judges required the state to reduce the headcount in the state's 34 main adult prisons more than officials wished, according to the revised long-term plan Brown's administration released Wednesday at the insistence of state lawmakers.

That led to more expensive private prison beds in California and other states and ended plans to close a dilapidated state lockup as the state scrambled to maintain enough beds, according to the new plan.

But the Department of Corrections and Rehabilitation now houses about 35,000 fewer inmates than it did at its peak in 2006, leading liberal and conservative advocacy groups and a state lawmaker to question why the savings never materialized.

"The money's going up, and the population's going down," said Sen. Loni Hancock, D-Berkeley, who heads the Senate Public Safety Committee and the budget committee that oversees corrections spending. "When do you start seeing the long-term savings?"

The department says its budget would have been $1.3 billion higher this year without the changes the state has made in the last four years.

The revised plan says the current level of spending is needed to hold the inmate headcount below the level set by federal judges. Brown's budget includes more than $120 million in stop-gap population control measures, including fixing up the rundown California Rehabilitation Center at Norco and keeping 4,900 inmates in private lockups past this year's legislative deadline. The revised corrections plan also relies in part on space for nearly 2,400 inmates in three new cell houses built at existing prisons.