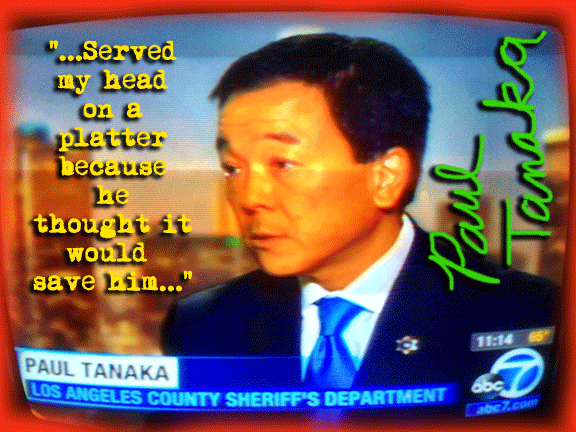 LASD Undersheriff Paul Tanaka was featured in a special KABC 7 News segment Monday night in which the once-powerful second-in-command to Sheriff Lee Baca painted his former boss as a disengaged, incompetent leader who frequently gave orders that ranged from impractical to illegal, including an instance of possible obstruction of justice when he allegedly ordered staffers to hide and secretly debrief a federal informant.
It is the second such slash-and-burn interview from Tanaka who, for years, was rarely seen on camera, despite his influential position.
Then, last month, he unexpectedly sat down with the LA Times' Robert Faturechi and blasted the sheriff to a degree that shocked most LASD watchers.
Tanaka launched a similar attack through the medium of KABC's David Ono in a lengthy and reportedly quote-rich video interview taped earlier, that had producers working until the last moment choosing the best clips for the not-quite-five minute segment that aired Monday night.
While there were no game-changing revelations among the snippets featured, there were things that could conceivably cause Baca trouble when he faces reelection in 2014.
(Tanaka told both the LA Times and KABC's Ono that he is considering running for sheriff against Baca, and has reportedly opened an "exploratory committee" for purposes of fundraising.)
---
MANAGING THE SHERIFF
In much of Monday's interview, Tanaka painted the sheriff as someone who constantly had to be managed by his underlings.
"We used to have this saying amongst the top executives that our greatest job is to manage the sheriff and make sure that he doesn't do anything that we can't clean up," Tanaka said.
Tanaka also described a sheriff who was unhealthily concerned with politics and "desperate to be reelected."
"That's all he talks about."
When not hyper-focused on reelection, according to Tanaka, Baca is "obsessed" by whimsical fixations like "living to be 100," and subjects the department's upper management to lengthy discourses on this and similar topics.
"We sit in command staff meetings, you have very high-paid people, 15-20 of us, and these are the lectures we get for two or three hours…."
Tanaka also admitted that when, in early March of this year, he unexpectedly announced his retirement, in fact, he was forced out when the sheriff became fearful of growing department scandals and "…served my head on a platter to detractors because he thought that would save him."
---
BACA DISMISSES TANAKA THROUGH SPOKESMAN
While Baca declined to answer Tanaka's accusations in person, he sent a message via LASD spokesman Steve Whitmore, who told KABC that "the sheriff is just not going to get into a bickering discussion, if you will, with a soon-to-be, seems-to-be-angry, ex-employee making allegations that seem to be fueled by rumor and innuendo, trying to exact some form of revenge for imagined slights."
---
OUTTAKES
One interview tidbit that did not make it into Monday's broadcast had to do with Tanaka's past in the deputy clique known as a Vikings. KABC's Ono asked him about the Viking tattoo that comes along with membership and the undersheriff said he regretted getting the thing.
One wonders, then, why the soon-to-be ex-undersheriff doesn't simply have the controversial Vikings ink lasered off. (We're just sayin')