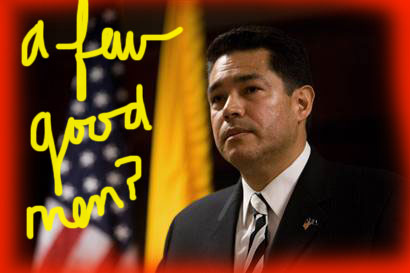 Former US Attorney David Iglesias-–the most high profile of the US Attorneys infamously fired by the Bush administration—has been tapped for the military war court. On Monday it was announced that Iglesias was part of the team for hearings "on whether U.S. forces tortured confessions out of a Canadian teenager accused of killing an American soldier in Afghanistan…" writes the Miami Herold.
Iglesias was part of a Pentagon prosecution team that flew on Monday to Guantánamo for hearings on the issue of whether the confessions of a Canadian teenager can be used in court when he goes to trial this summer.
You remember the case of Omar Khadr.
Khadr, 23, was captured in a July 2002 firefight near Khost, Afghanistan, in which Delta Forces Sgt. 1st Class Christopher Speer, 28, of Albuquerque, N.M., was fatally wounded by a grenade. Khadr was 15.

Pentagon prosecutors say the Toronto-born teen threw the grenade that killed Speer as a war crime. He faces charges as an al Qaeda foot soldier and murderer; prosecutors seek life in prison, not the maximum penalty of death, in consideration of his age.

Khadr is the youngest "enemy combatant" at Guantánamo Bay today, where the Defense Department this week was holding about 183 detainees…
(Weirdly, earlier in his military law career Iglesias worked on a hazing case that became a basis for the film, A Few Good Men, starring Tom Cruise and Jack Nicholson. ("I want the truth!" "You" frameborder="0" allowfullscreen> can't handle the truth!)
About his Bush years, Inglesias has said, "`There was a sense that pretty much there were no rules regarding prosecution of alleged terrorists."