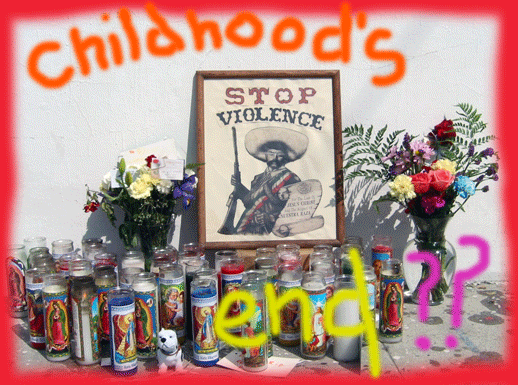 WitnessLA commenter, Poplock, said something interesting and unsettling in an earlier thread about Santee high school. He described the murders he'd seen as a child. "The first killing in front of my eyes was at age 8," he wrote, "second one – around 12, and third at 15, the forth by 17 and so on and so on….Imagine that, I wasn't even a gang banger…"
It was a reminder to me of something of which those of us who work in the inner city have long been aware, but that public policy has been disastrously content to ignore, and that is the fact that a great many kids living in urban neighborhoods—in Los Angeles and elsewhere—are suffering, to a greater or lesser degree, from Post Traumatic Stress Disorder.

By sheer luck, Sunday's San Francisco Chronicle has an excellent and extremely well-written group of articles by staff writer, Jill Tucker, on just that subject—and what she has documented must not be ignored.

Here's how the main story begins:
Tierra Turner's older brother was shot and killed on a busy Bayview street last summer.

By the time Tierra, 11, arrived at the scene with her mother, a yellow tarp covered 18-year-old Anthony Brooks' body. Nearby, a second tarp covered his friend, Monte Frierson.

Standing outside the police tape, Tierra broke down, her small body heaving with sobs.
Two weeks later, Tierra started the sixth grade.

Along with a Tinker Bell backpack and pink Princess cell phone, she carried the deaths with her to Visitacion Valley Middle School each day, absentmindedly writing "RIP Ant and Monte" on the cover of her notebooks and in sidewalk chalk on the playground. As the months passed, her grades slipped and her temper often flared.

At her school, the principal and staff see the signs and symptoms of trauma-related stress in many of their students – the hostile outbursts, the sliding grades, the poor test scores or the inability to pay attention
But here's the money 'graph:
"As many as one-third of children living in our country's violent urban neighborhoods have PTSD," according to recent research and the country's top child trauma experts – nearly twice the rate reported for troops returning from war zones in Iraq.
In a related article, Tucker talks to a PTSD researcher at Stanford who has looked at the damage trauma can do to brain development.
What Dr. Victor Carrion found was startling: Children with PTSD and exposure to severe trauma had smaller brains.

The study, released earlier this year, was just a first step toward understanding the physical effects of trauma and why some children have a greater ability to ward off physical and mental reactions.

Although she's an SF writer, Tucker gets into LAUSD's Post Traumatic Stress problem. It seems that, a few years back, some LAUSD psychologists wondered if LA's urban kids suffered from PTSD at the same rate that the national experts were claiming. Here's what they found:
In 2000, [LAUSD] joined UCLA researchers in screening students from 20 schools in violence-prone parts of the city.
Of the 1,000 students randomly selected, 90 percent were a victim of or a witness to community violence, and 27 to 34 percent had PTSD, said Marleen Wong, director of the district's Crisis Counseling and Intervention Services.
Read the rest of this important, informative series.. The issue of PTSD in America's children and adolescents is a essential piece of the educational and public health puzzle that we leave out at our own peril.
NOTE: More Voices from the Road in a day or two. For the moment, I'm perched one place—namely the ever-glorious West Glacier, MT—but as it's a vacation destination, as they say, the road is coming to me, so I'm still actively gathering voices.