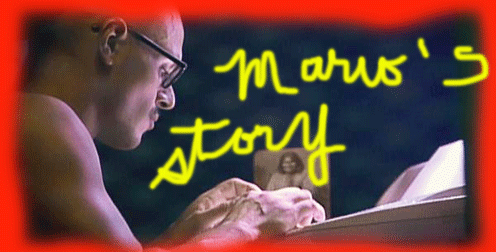 EDITOR'S NOTE: While we keep an eye on the safety and well being of our family and friends on the east coast who are wrestling with Sandy, here are a few criminal justice stories from this end of the world.
---
AFTER A DECADE IN PRISON FOR MURDER, MARIO ROCHA CELEBRATES 4TH YEAR OF FREEDOM
As of Monday, Oct. 29, it has been four years that 33-year-old Mario Rocha finally knew he was really and truly, no kidding —- free. His double life sentence was overturned in March of 2005 after Mario had spent 10 1/2 years in prison for murder and attempted murder. But although he was out of lock-up, it wasn't clear for how long. While Rocha had been released, he had not been cleared. The judge had merely determined that the young man had received unconscionably lousy legal representation by his asleep-the-wheel lawyer. This meant the DA's office had the option of refiling charges. And while the hot shot lawyers who had taken on his case pro bono believed he was factually innocent, the prosecutor didn't. Or, said he didn't, at the very least. It is worth noting that the LA DA's office has been notoriously loath to admit it may have screwed up on a case, and put away an innocent person.)
The legal battle that ended four years ago, had its genesis on the night of February 16, 1996, when Rocha was sixteen-years-old and attended a keg party in Highland Park where a bunch of high school kids were celebrating a win for Cathedral High School's basketball team.
Here's a clip from WLA's coverage at the time:
There was drinking at the party, and eventually a fist fight broke out. An extremely well-liked 17-year-old honors student named Martin Aceves, tried to break up the fight, but matters escalated fast. Two kids had guns. Aceves was shot and killed. Another kid was shot in the hand.

A week later, police burst into Mario's bedroom, guns drawn, yelling: "Don't move! Hands up! Get down!"

Mario Rochas was tried as an adult and, although the case against him rested on the word of one eyewitness, he was defended by an attorney who spent little time on his case, and failed to call other witnesses who had exculpatory evidence. By the trial's end, although Mario had no previous record or gang affiliation, he was convicted of murder and attempted murder, together with two other party goers—gang members who had been seen to flash weapons in the crowd.

Unlike most young men in such a position, Mario turned out to be lucky. When he was in Eastlake Juvenile Hall awaiting trial, he participated in a new writing program called "Inside Out," that had been set up by juvenal hall chaplain, Sister Janet Harris. Although Mario had not been an underachiever during his time in high school, he was clearly very bright, with an intellectual bent and a real talent for writing—all of which the writing class at juvie seemed to bring out in him.
After reading some of his writing, Sister Janet became interested in Mario's personal story. Although she meets kids on a regular basis who swear they are innocent, the more she looked into Mario's case, the more convinced she became that Mario was the real deal. She couldn't imagine he would be convicted. When he was, she said she was too stunned to cry.

"With Mario it was so egregious," she told ABC News much later, "so horrible that I said to myself whether I win or lose, I am going to fight for justice," Sister Harris said. "His life was stolen by a system that's flawed. A system where we need to look out and say: Have we lost our moral compass?"

A slender woman in her 70′s with enough nervous energy to light several medium-sized cities, Sister Janet began working on Mario's case on her own. She reviewed thousands of pages of trial transcript, and tracked down new witnesses. Armed with what she'd found, Sister Janet managed to interest others in Mario's case, including the high-powered LA legal firm of Latham & Watkins, whose lawyers agreed to take the case pro bono after Mario passed a polygraph, and a review of case documents, plus Janet's personal discoveries, indicated that his original attorney did not pursue evidence that indicated Mario was innocent….
Here, also, is a link to Jack Leonard's 2008 story for the LA Times about the DA's decision not to retry Mario for the crime.
Mario Rocha's ordeal was portrayed in an award-winning and deeply affecting documentary, that you can check out here.
Right now Mario Rocha is a social justice activist living in Washington D.C. while he gets his degree in organization science from George Washington University. He will graduate in 2013.
---
ONE WEED ARREST EVERY 42 SECONDS
On Monday, marijuana activist organizations like L.E.A.P. (Law Enforcement Against Prohibition) latest FBI stats show that there were 1.2 million reported drug arrests in the U.S. in 2011.
Of those arrests, according to the FBI, 81.8% were for possession only. And of those possession arrests, by far the largest portion (just under half, or 49.5% to be exact) were for marijuana.
Seriously.
Does this seem smart?
This is from LEAP's Monday announcement:
"Even excluding the costs involved for later trying and then imprisoning these people, taxpayers are spending between one and a half to three billion dollars a year just on the police and court time involved in making these arrests," said Neill Franklin, a retired Baltimore narcotics cop who now heads the group Law Enforcement Against Prohibition (LEAP). "That's a lot of money to spend for a practice that four decades of unsuccessful policies have proved does nothing to reduce the consumption of drugs. Three states have measures on the ballot that would take the first step in ending this failed war by legalizing, regulating and taxing marijuana. I hope they take this opportunity to guide the nation to a more sensible approach to drug use."
A-a-a-aaannnd we wonder why we have overcrowded jails and prisons.
---
FACTS R GOOD: STANFORD GETS MAJOR GRANTS TO FUND ITS RESEARCH ON THE EFFECTS OF CALIFORNIA'S PRISON REALIGNMENT
So, beyond all the political rhetoric on CA's prison realignment and the often lousy reporting on same (with some bright spot exceptions like Rob Greene on the LA Times Editorial Board and Michael Montgomery for KQED), it is refreshing that the Department of Justice and a list of other folks have forked over some bucks to Stanford's stellar Criminal Justice Center in order for them to assess, measure, and analyze how this whole realignment thingy is really working, county by county. In other words, the SCJC folks are gathering the facts of the matter.
Whatta concept.
Here're are some clips from the announcement from SCJC:
Realignment puts the onus back on counties to make decisions about how they wish to punish their local convicted offenders," said Joan Petersilia, Adelbert H. Sweet Professor of Law and faculty co-director of the Stanford Criminal Justice Center. "Counties can decide to expand jail capacity. They can expand drug treatment programs or mental health courts. They can hire new staff. They can expand the ranks of probation officers or sheriff's deputies. We want to know what approaches are working best in California counties and why."

[SNIP]

"California has the largest prison system in the country," said Robert Weisberg, Edwin E. Huddleson, Jr. Professor of Law and faculty co-director of the Stanford Criminal Justice Center. "And California Realignment represents the biggest change in sentencing and corrections in the last six decades. Through our research, we want the data to tell us exactly what the effects are of shifting responsibility and discretion from the state to the county— how that impacts rates of incarceration versus probation supervision versus community programs, and so on. We want our research to help California get Realignment right."

…..
Well, yeah.
$650,000 is not a lot for this kind of painstaking work. And the SCJC team is absolutely the best in the business, beginning with the amazing Dr. Joan Petersilia, who is the Center's co-director.
It is essential, when the state (or the county or the city) makes a big policy change like the prison realignment program that the new systems be evaluated by competent outsiders (who know what they're doing and can be trusted to keep politics out of it).
Fortunately, thanks to these grants and some others like them, that's precisely what the SCJC is doing.
---