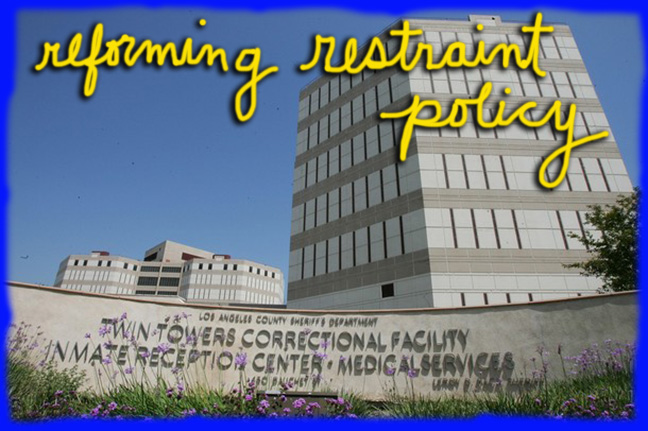 A few days ago, Los Angeles County Inspector General Max Huntsman released a report that reveals recent changes in the LA County Sheriff's Department's policies relating to the use of restraints on inmates in the county's jail system. The new policies, the OIG writes, are designed to ensure that that the use of "tethering" and other restraints on inmates does not result in "a substantial risk of mental and/or physical harm," is not used as a "punishment," and does not break any state laws.
The new report focuses on four incidents in which prisoners were tied to a fixed object for a prolonged period of time though the use of a "restraint device"—waist chains, handcuffs, and/or a foot hobble—and the inmates were, in fact, harmed as a result.
In one January 2015 incident, a restrained inmate died when, according to the report, jail deputies who were supposed to have made regular welfare checks failed to notice evidence of distress that was later found to be visible on video.
---
A PUBLIC SEARCH
The first incident the report outlines occurred on August 26, 2014, in the Twin Towers Correctional Facility (TTCF), and involved an inmate who refused to be strip searched, then began physically resisting in general. In response to his recalcitrance, deputies "placed a hobble" on the inmate's feet and "tethered the hobble to a handcuff ring on the counter of a visiting cubicle."
The deputies then stripped the prisoner naked and conducted a search in his restrained position. The problem arose when they did so in an area that was visible "to the public." According to the report, after the search, the inmate remained naked and restrained and visible to anyone walking by for 90 minutes or more.
(There is evidently video footage of all this, so the length of time that the naked, tethered inmate was on public view is not in dispute.)
This stripping of someone in front of other people who are not officially involved in the action appears also to be disallowed by the California penal code, section 4030, which states:
All strip, visual and physical body cavity searches shall be conducted in an area of privacy so that the search cannot be observed by persons not participating in the search.
In addition, the inmate's 90-minute restraint—which was, according to the video, far, far longer than anyone needed to perform the necessary search—also ran contrary to the custody division's general policy on search procedures:
"Searches are not to be used to inflict physical stress or punishment on prisoners. Prisoners shall not be required to remain in any search position for more time than is reasonable and necessary to complete a search."
---
CHAINED AND INJURED
On September 2014, a week after the incident at TTCF, a prisoner who was detained in the North County Correctional Facility (NCCF) was suspected of concealing contraband in his rectum and was placed on what was called "contraband watch"—known informally as "potty watch," which basically means that the inmate is isolated in a restricted area while deputies wait for him (or her) to use the toilet, at which point, if there is contraband, the deputies can retrieve it.
This inmate, however, was handcuffed and waist-chained for extended hours in only underpants and boxer shorts, resulting in injuries to his midsection and wrists.
The inmate mentioned in the report was reportedly one of several dozen who were similarly restrained at NCCF, according to a 2015 story by the LA Times Cindy Chang. The now-prohibited restraints-tied-to-a-fixed-object strategy during potty watch was, at the time part, of a reportedly vaguely worded policy at NCCF—a policy that was not generally used at the other jail facilities.
According to WitnessLA's own sources, potty watch was reportedly over-used at NCCF in particular, well before 2014, to the point that inmates complained to us about being sent there after a court appearance, because they felt they might be subjected to prolonged periods of being isolated and naked, or nearly naked, even when they believed there was no indication that they were hiding contraband. Interestingly, they did not report this alleged over-use of the strategy in the county's other jails.
---
DEATH IN RESTRAINTS
The third incident detailed in Huntsman's report occurred in the High Observation Intake Housing (HOH) section of the Twin Towers Correctional Facility. This is the case in which a prisoner died while he was restrained. As with the other incidents, the inmate was attached via his handcuffs to a fixed object— his cell door—for a "prolonged period of time."
The situation began when an inmate came back from court and began behaving strangely at the Inmate Reception Center (IRC). After having his vitals taken and seeing a psychiatrist after hours of delay, at 9:37 a.m. on January 13, 2015, the prisoner was brought into HOH where he was asked to remove his "undergarment" and put on a "safety garment." He refused. So he was put in a cell, and tethered with his left wrist handcuffed to a waist chain that traveled through the cell door's tray slot and then was secured to the door handle on the outside of the cell door."
According to the report, the prisoner was kept in this restrictive position for approximately 10 hours and 25 minutes.
Much of the point of HOH, according to the OIG's report, is to allow for an inmate to be closely monitored on a temporary basis. But, although deputies reportedly checked on this tethered prisoner on multiple occasions, no one noticed that the man was becoming more and more physically distressed. The video account of his time in the cell showed that the inmate stopped moving altogether at 7:30 p.m. but, according to the OIG (who reviewed the video), during a supposed 7:45 welfare check, "the deputy appeared not to look into the prisoner's cell…" and reported no destress,
At 10:16 p.m. deputies finally actually entered the cell, and found the inmate "unresponsive."
Rescue efforts were initiated, but it was too late. The inmate was pronounced dead "shortly thereafter." The autopsy revealed that the prisoner died of methamphetamine toxicity.
---
THE 32-HOUR, NO-FOOD, NO-TOILET, TIE-DOWN
The last incident depicted in Inspector General Huntsman's report may be the best known:
It began on June 19, 2015, when an inmate who was booked on an arson charge, was restrained after he "ripped up his t-shirt," threatened to hurt himself, then head-butted a female deputy, injuring her.
As a result, for 32 hours he placed in a chair with his hands both cuffed behind his back and attached to waist chains, which were—in turn—attached to a bench. He remained in this restrained position for approximately thirty-two hours, during which time he received no meals, only one cup of water, and no access to a toilet.
We reported about the incident here.
In the aftermath, no one seemed to have a level-headed explanation as to why this treatment was deemed reasonable or appropriate.
---
CORRECTIVE ACTION
Much of the report is devoted to detailing the changes in policy that are being put into place as a result of each of the incidents, and in response to the incidents collectively. While different, the report notes, [the incidents] all share a "common link," namely that in all four instances the inmate "was left tethered to a fixed object" for an extensive period of time "without proper care and supervision."
These changes announced in the report have been a long time in coming, according to Peter Eliasberg, the legal director of the ACLU of Southern California, which brought the massive class action suit against the department—Rosas v. Baca—the settlement of which has measurably influenced the new policies, according to the OIG's report.
"The fact that these incidents occurred is evidence of lousy use of force policy that did not make clear how restraints should be appropriately used," Eliasberg told us. "And bad policy often leads to bad incidents."
On the positive side, he said, "what the OIG is reporting is that the department has had to overhaul its use of force policies" and come up with much better ones.
In addition to having to be approved by the department, and by the Rosas monitors, the policies also have to be approved by the Department of Justice, according to their settlement agreement with the department regarding correcting abuse in the county's jail system.
"But having good policies is just one leg of the stool," Eliasberg continued. "You have to train to those policies, and then when incidents happen, you have to hold people to the policies that are in place.
But designing good policies for a complex agency the size of the LA County Sheriff's Department takes time, as both Eliasberg and the report make clear.
"Change is often slow," Eliasberg said. "But you don't just want to get it done. You want to get it right."