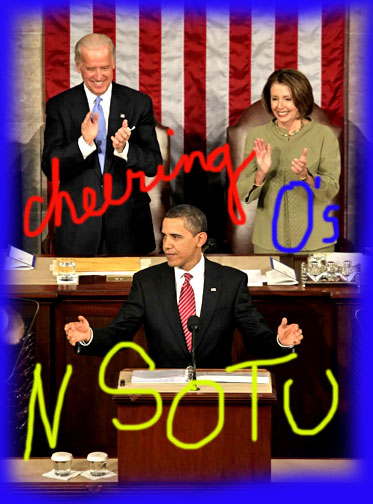 At least that was the title of the main twitter thread during Barack Obama's speech tonight: #NSOTU
Here are are a few of my moment to moment thoughts—or demi-thoughts:
Among my favorite lines:
"…..dropping out of high school is no longer an option. It's not just quitting on yourself, it's quitting on your country – and this country needs and values the talents of every American."
(What're yours?)
PS: At the LA Times, Doyle McManus has a nice piece on Obama's oratory.
**************************************************************************************************************
Forget the pre-speech nattering. Important issue? Michelle's GREAT navy blue sleeveless, above the knee dress. (Priorities, people!)
Repubs are twittering about Capt. Sully being there. Okay. Reasonable. For me it's the dress, for them it's the hero. We can cheer both.
Not to be mean, but it's a relief not to see Cheney behind the president with his snarl/grimace/smile.
"We will rebuild, we will recover, and the United States of America will emerge stronger than before. ….The weight of this crisis will not determine the destiny of this nation. The answers to our problems don't lie beyond our reach."
Okay Obama's listened. He has to be positive so we don't all shoot ourselves. Or stay in bed. Sad, but psychologically true.
"In other words, we have lived through an era where too often, short-term gains were prized over long-term prosperity; where we failed to look beyond the next payment, the next quarter, or the next election."
TRANSLATION: Dear America: Read Emotional Intelligence, damnit.
"Now is the time to act boldly and wisely – to not only revive this economy, but to build a new foundation for lasting prosperity."
TRANSLATION: We aren't going to die, as long as you get with the program, people. (Whew!)
"Nobody messes with Joe. " Good reframing of Biden's personality. If you can't fix it, feature it. Okay, that works.
John Boehner looks like he's reading a novel while Obama's talking. Ayn Rand? No, maybe it's that program that was handed out. I hope it's the program.
Note to Joe Lieberman. Spit out the gum BEFORE the speech next time.
"This is not about helping banks, it's about helping people." (Line of the night, thus far.)
Energy….Health care…Education. E! H! E! Hey! E! H! E! Hey! Go Barack
I can actually see people twittering. More Repubs than Dems. Then the tweets turn up on my Twitter feed. Weird. The U.S. Congress has just turned at 13.
Okay, everyone stood up and applauded for education—as freaking well they should with a freaking 50 percent dropout rate.
They're actually cheering about not passing along the debts. But they don't cheer bringing the def. down? Fascinating.
Do you think this is like the party where everyone's noisier when they've had a couple of drinks? (And what drinks are they serving?)
Somebody on Twitter said that Pelosi was dressed in Soylent Green. That's harsh.
We love the bank president giving away the bonus. And we love the girl who wrote Obama. "We are not quitters." Brilliant.
If Obama speaks to the better angels of all in the congress, will you answer from your better angels, dearest Republicans? We need to know.
After I wrote that, @Johnculberson…twittered back: "We all need to do our best to work together wherever we can for the good of the nation." Okay, Culberson, I'm holding you to it, "whenever we can" notwithstanding.
Jindal's on: Dear Bobby, during Katrina the gov't was run by greedy, mendacious weasels. There's a difference.
Props to NOLA for their charter schools. No argument there. Credit where credit is due.
Yeah, yeah, Bobby Jindal is a winning enough guy. And this was a thankless job. But he had nothing to say. Nothing. Zero. Except to say, NO, to Obama. And simply being a contra isn't good enough in this desperate fiscal/political climate.
David Gergen reminded the viewers that that nasty ol' unneeded Fed Gov't gave $175 billion for Katrina recovery (and counting). Reality check, Bob, hon.
The line that still rings is this one: "It's time for America to lead again." Is that exceptionalist in some deep, dark way? No. Leading is a good thing…. if one moves toward the light. Hell, somebody's got to.
Over all, a stunning, strong-minded, inspiring speech. Thank you, Barack.
*************************************************************************************************************
PS: It is important to note that as we cheered Capt. Chesley "Sully" Sullenberger, we also just learned that his salary has been cut 40 percent, and that his pension has been terminated. Meanwhile, in 2005 when US Airways filed for bankruptcy, the company wanted to keep its exec bonuses. Fortunately the judge said NO. Heck of a job, private enterprise.
(Photo by Evan Vucci / AP)