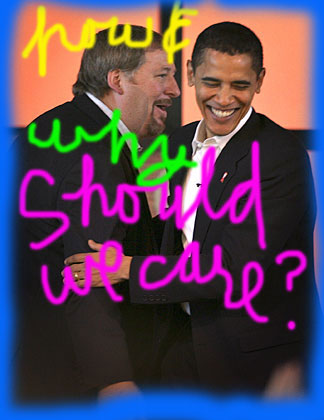 Does Rick Warren's homophobia mean Barack Obama should not have tapped him to give the invocation at the inauguration?
During the day, yesterday, the announcement about Warren drew comment from every direction, including" frameborder="0" allowfullscreen> from Obama himself.
The LA Times has an editorial on the topic, which was, I'm sorry to say, not one of its best, and mostly missed the point.
The Atlantic's Andrew Sullivan went through his own narrative arc during thie course of the afternoon. Here's Sullivan, several posts into the day, after the announcement was made.
Civil rights are not about left and right; they are about right and wrong. And the hurt that this choice has caused is not a function of an alienated base, it seems to me, so much as salt on the wound of Proposition 8. I understand why Obama did this. I just wonder if he understands how deeply hurtful it is to be asked to pray with someone who has compared my marriage with the sexual abuse of children, incest and polygamy. Yes, I am, in Warren's eyes, the equivalent of a pedophile, as is my husband. This comparison is what Warren calls his commitment to "model civility. Some civility.
Several hours later, he wrote this:
My own view at the end of this deeply upsetting day is that we should all take a deep breath. That doesn't mean forgetting this; or denying the untruths and prejudices of Rick Warren. It means focusing on getting Obama to support the substantive work of equality; and making the case ourselves.
Personally, I'm very ardently in favor of the reach-across-the-barriers concept—at least in the abstract. It is time we start healing the terrible and scarring divides in this country that the last administration used for political gain. And if Rick Warren thinks that my immortal soul is damned to hell for all eternity, what of it? He does a great deal of good, as well.
But he is also for restricting the rights of my friends and fellow citizens if they happen to be gay. And he said so in odious terms when he actively stumped for Prop 8.
So what to do?
For some further clarification, I turned to my very smart friend and former student, blogger Zach Sire, to see what he had to say.
Here's a clip from his post (but the rest is worth reading, including his clip from—and reply to—Wonkette):
Your Barry inviting "Dr. Rick" is not a slap in the face to gays as much as it is a disingenuous olive branch to evangelicals. And they're falling for it! You see, Obama is all about trying to please everyone with gestures and concessions. Until he actually starts enacting policies and putting forth his specific agenda, none of us should be freaking out. So, chill.

And remember, the other religious person on the bill on inauguration day (who is in fact overseeing the benediction) is Rev. Joe Lowery. Lowery founded the SCLC with Martin Luther King and, hold on to your hats, is a supporter of same sex marriage. You don't see the religious right freaking out about this, do you? (Maybe you do, but I haven't seen anything about it as of yet.)

So yeah. Relax. Warren is, as everyone knows, a tool. We should be proud of Obama for using him as well as he is. If this endears another couple hundred thousand evangelicals to Obama, and thus helps him out in 2012, then that's fine by me.
Frankly, this whole issue would be a lot easier if Prop 8 had been defeated, and Californians could go back marrying the people they love, and Rick Warren could invoke to his heart's content.
But that isn't how it is.