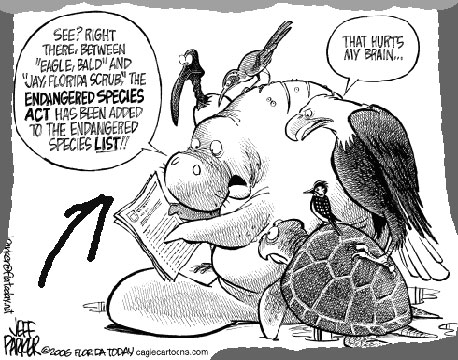 A secretary of the interior who actually likes nature….? What a novel idea! We hope that's who we're about to get.
With his choice of Colorado Senator Ken Salazar as interior secretary, Barack Obama has named a moderate. Yet, conservationists think—or at least many of them hope—that, with Obama's environmental leanings shaping the agenda, Salazar will oversee a big shift n the Department of the Interior.
Salazar, as the New York Times puts it, will inherit a department "riddled with incompetence and corruption, captive to industries it is supposed to regulate and far more interested in exploiting public resources than conserving them. "
(I wrote about Bush's outgoing interior secretary, Dirk Kempthorne, and his antipathy toward the Endanged Species Act here and here.)
Here're are some clips from this morning's NY Times editorial on the mess made by Kempthorne and his predecessors that Salazar will soon have to clean up.
No cabinet post is as critical to the integrity of the nation's parks, its open spaces and its animal species. Mr. Obama, and his environmental adviser in chief, Carol Browner, must be prepared to offer Mr. Salazar full support, especially in fending off the ranchers and the oil, gas, mining and other special interests who have always found the Interior Department to be a soft target, never more so than in the Bush administration.

Mr. Salazar's most urgent task will be to remove the influence of politics and ideology from decisions that are best left to science.

Just as Mr. Salazar's name was surfacing for the job, Earl Devaney, currently the department's inspector general, reported to Congress that on 15 separate occasions the department's political appointees had weakened protections for endangered species against the advice of the agency's scientists, whose work they either ignored or distorted.

This sort of meddling has become standard operating procedure. Julie MacDonald, a former deputy assistant secretary for fish and wildlife and parks, resigned last year after an earlier report found that she had run roughshod over agency scientists and violated federal rules by giving internal documents to industry lobbyists.
It will be a nice for a change that those charged with protecting our precious natural resources will not be the ones actively assaulting them.