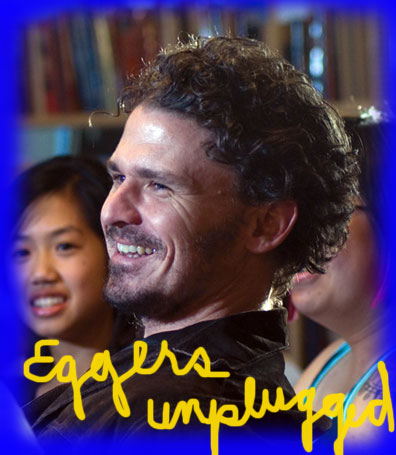 DAVE EGGERS' PRIZES AND QUIRKS ON LAT BOOK PRIZE NIGHT
As most of you know, the LA Times Book Awards were this past Friday night, and the Los Angeles Times Festival of Books took place on Saturday and Sunday at UCLA. 125,000 people were expected at the LATFOB and judging from the crowds I saw both days, it is likely that the book fest hit its mark or more.
But first the awards: the full list of the winners may be found here. (For those of you looking for a good reading list, the lists of winners and finalists are a great place to start. I've already downloaded on to my iPod the audible version of the First Fiction winner, Phillipp Meyer's American Rust)
I was a judge for the category of Current Interest—along with my wonderful and wise colleagues Henry Weinstein and Bill Boyarsky, The three of us read a preposterous number of books, many of which were very deserving. (A few, not so much.)
We finally narrowed it down to the five below, all of which featured excellent writing and reporting and dealt topics of consequence.
"Columbine" by Dave Cullen
"Zeitoun" by Dave Eggers
"Strength in What Remains" by Tracy Kidder
"Half the Sky: Turning Oppression into Opportunity for Women Worldwide" by Nicholas D. Kristof and Sharon WuDunn
"The Healing of America: The Global Quest for Better, Cheaper, and Fairer Healthcare" by T.R. Reid
The winner was Dave Eggers' Zeitoun––my personal favorite and a book I can recommend unhesitatingly to any of you. It's a great story, meticulously reported, and possessed of the grace and velocity of a good novel.
Eggers also got a newly created Innovator's Award–which "recognizes the people and institutions that are doing cutting edge work to bring books, publishing and storytelling into the future, whether in terms of new business models, new technologies or new applications of narrative art."
(For the details go here.)
However, while assuredly very deserving of the latter honor, Eggers turned out not be be your average techno nerd/writer. In the course of accepting the two awards, Eggers blurted that the only way he got any reading done was to completely unplug the Internet at his house. "I only go online twice a day," he said. Even then, in order to get a WiFi signal, he takes his laptop and drives to the parking lot of a local carpet store, and steals their WiFi.
When he and I spoke later on in the evening, we talked about the unplugging issue and I mentioned in passing that, unplugging aside, I thought that the iPhone app for his magazine "McSweeney's was particularly good.
Eggers winced. "I've never seen it," (said Mr. Innovation).

Me: "What?! You're kidding."

Eggers: (apologetically) I saw the drawing. I mean, I thought the drawing was good.

Me: No really, that's bad.

Eggers: Probably.
Yet as a writer, a publisher, and as an innovative promoter of the written word-–from basic literacy to literature— Eggers is very, very good. As LA Times Book Review editor David Ulin said to me after he interviewed Dave Eggers on Saturday at the Book Festival—he's the real deal.