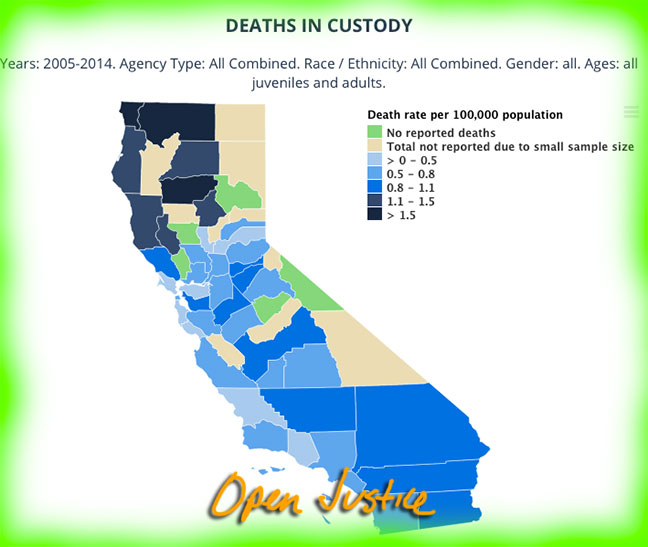 GOV. BROWN SIGNS IMPORTANT CRIMINAL JUSTICE BILLS: OPENJUSTCE AND EDUCATION FOR LOCKED-UP KIDS
On Wednesday, California Governor Jerry Brown signed a bill that will change criminal justice summary reports published annually by the state Attorney General's Office into incident-based digital data sets that will be published on CA Attorney General Kamala Harris' OpenJustice website, which the AG says will "bring criminal justice data reporting into the 21st Century."
AB 2524 introduced by Harris and Assembly Member Jacqui Irwin (D-Thousand Oaks), also requires the DOJ to work toward implementing a smoother, all-electronic collection of criminal justice data that would be updated on the OpenJustice site at least every quarter, rather than on an annual basis.
"…Only approximately 40% of local law enforcement agencies currently submit required data sets through electronic means, impeding the ability of the state to implement a uniform reporting structure through which information is made available to the public more frequently and more effectively," the bill reads.
Last September, AG Harris launched the OpenJustice site to bring transparency to the state's justice system by publishing crime and policing statistics. The website shows city, county, and state crime and arrest rates, deaths during arrest, deaths in custody, and the number of law enforcement officers killed or assaulted. Users can view data on interactive maps and graphs, and sort data groups by race, gender, and age.
The Attorney General's Office also announced a new online tool that all California law enforcement agencies will use to report serious use-of-force incidents between civilians and officers. (Demo the software, URSUS: here.) The AG's office is making the source code for the software free and available to any law enforcement agencies nationwide that want to use it.
California Highway Patrol Commissioner Joe Farrow praised Harris' new tool, saying "I am confident the introduction of URSUS and the collection of this data and information will improve the relationship between law enforcement and the communities that we serve."
Gov. Brown also signed a bill that aims to help more justice-system involved California kids graduate high school on time.
The bill, AB 2306, would exempt kids locked up in county juvenile detention facilities from having to complete locally required coursework (like health and language courses) beyond what the state requires for graduation. Other high-needs student groups—homeless and foster youth—are already exempt from having to complete additional coursework.
In April, a report by the Youth Law Center found that juvenile court schools, which provide public education to kids in CA's county probation camps fail to provide locked-up students with a quality education as required by state and federal law.
The report found that some court schools struggled to get incarcerated kids into class and keep them there, leading to alarmingly high truancy and suspension rates during the 2013-2014 school year.
Another serious problem plaguing court schools is that the kids, who must learn from worksheets rather than stimulating class discussions and lectures, often don't improve their math and reading skills. In fact, some kids' proficiency levels were even found to have declined under this system.
---
FUNDING FOR GROUPS THAT HIRE AT-RISK YOUNG PEOPLE FOR PLANTING AND CONSERVATION WORK
Earlier this week, the LA County Board of Supervisors unanimously approved a motion to earmark $1 million for a program that employs teens and young adults from underserved communities to plant trees along roads and in parks in and near East Los Angeles.
City News Service has more on the decision. Here's a clip:
Supervisor Hilda Solis proposed allocating the money to the San Gabriel Valley Conservation Corps.

"Our goal is to create healthier neighborhoods, especially for those most vulnerable in our communities. Trees provide cooler areas by up to 10 percent, help conserve energy and reduce the carbon footprint," Solis said.

The youth-led, community-centered conservation group, which focuses on education and training of at-risk youth and young adults, will offer stipends to 90 participants.

One member said he hoped the planting program would spark interest in invasive species and green spaces, but highlighted a bigger goal.
The board approved a similar motion to use up to $2 million annually for each of the Los Angeles, California, San Gabriel, and Long Beach Conservation Corps for landscaping, water conservation projects, habitat restoration, trail work, and other services that provide job training and education to at-risk young people.
---
NEW DATA ON CALIFORNIA FOSTER STUDENT EDUCATION SHOWS HOW FAR WE ARE FROM CLOSING THE ACHIEVEMENT GAP FOR FOSTER KIDS
Late last week, the California Department of Education released the first batch of information on the educational outcomes of foster children in public schools in an effort to better serve high-needs students. Not surprisingly, foster students scored well below their peers not involved in the child welfare system on Common Core tests.
Soon, the department will expand public data to include suspensions and expulsions of foster youth from schools, graduation rates, and more.
This new data gathering is part of California's relatively new education budget system, the Local Control Funding Formula, which is a weighted funding approach that allows districts (rather than the state) to decide how a portion of their funding is spent. The formula aims to level the playing field for high-needs students, including foster kids, who are severely underserved by school districts by allocating more money (and help) for those high needs kids.
Writing for EdSource, the National Center for Youth Law's Michelle Traiman says the data collection is an important step toward addressing inequalities in the education system, but more must be done to improve educational outcomes for California's foster youth. Here are some clips:
As an organization deeply committed to helping foster youth receive the education they deserve, we are all too familiar with the reasons foster youth struggle in school. We observe how untreated trauma is addressed not with school-based mental health services, but with suspensions and expulsions.

We meet countless elementary students who have already faced multiple school changes after disruptions in their foster home placements. We hear from high school youth who have endured multiple mid-semester school changes, failed to receive credit for their hard work in previous schools and are woefully behind their classmates — through no fault of their own. We hear, several times over, the degree to which adults hold heartbreakingly low expectations for their futures.

[SNIP]

There must be a new focus and commitment that reaches vertically throughout all levels of the education system, and horizontally across the multiple systems that serve foster youth:

School districts, through their Local Control and Accountability Plans, can embrace their mandate to engage the community in an effort to learn about the needs of their foster youth, then increase and improve services to those students.

County offices of education have a unique role to play in identifying opportunities to coordinate services to foster youth and supporting school districts' efforts to serve foster youth.

The California Department of Education and California Collaborative for Educational Excellence have an opportunity to provide school districts and County Offices of Education with targeted technical assistance focused on students in foster care.

Child welfare agencies, behavioral health agencies and the courts must all recognize the importance of educational achievement in the lives of foster youth and take a coordinated approach to removing systemic barriers to educational success.