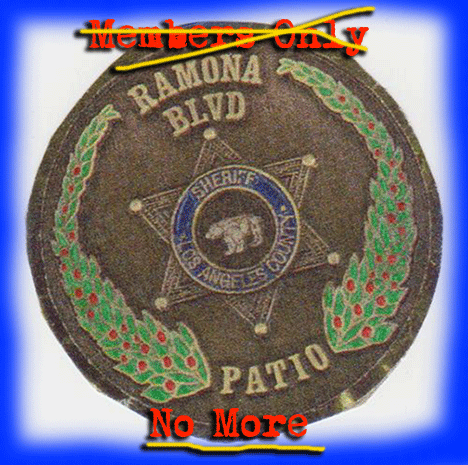 On Wednesday afternoon, an executive aide to LA County's brand new sheriff John Scott sent out an intriguing and symbolically-weighted memo to all the department's supervisors.
The memo concerned the infamous cigar smoking patio that, up until last summer, served as a de facto private club for former undersheriff Paul Tanaka, into which only his special list of loyalists were allowed to enter. This exalted boys and girls club, known to the chosen 100 or so, as the Ramona Blvd. Patio, is a tented and climate-controlled interior courtyard that features a refrigerator, sink, barbecue island, and a special cigar-smoking section.
WitnessLA first broke the news of the patio and the smoking club's existance in a 2011 story by Matt Fleischer.
We told how, in order to enter the patio, one had to possess a "challenge coin," a specially designed sequentially numbered coin that was given to each member by Paul Tanaka personally. Never mind that this exclusive recreational enclave, located inside the sheriff's headquarters building in Monterey Park, was constructed in 2008 at a cost to LA County taxpayers of $22,726.31 in building materials alone, and was maintained by LASD's Facilities Services Bureau.
When Matt and I initially heard stories about the patio for the chosen few only we found the whole notion hard to believe. Quasi-secret club houses that one could only enter if one was gifted by the club master with specially-minted charmed coins? Seriously? It sounded like 4th grade on steroids.
Ever after we'd verified and re-verified the information, we agreed we wouldn't go with the story until we'd seen one of the damned challenge coins—or, better yet, had acquired photo of one of the things that we could publish. (Which we did, as pictured once again above.) Otherwise, how could we ask readers to believe this crazy tale we barely believed ourselves?
These days, of course, the patio's existence and its once highly-exclusive purpose is widely known among LASD watchers—including to our new sheriff.
Which brings us back to Wednesday's memo and its announcement that, at the order of Sheriff Scott, the former Ramona Blvd. Patio will, forthwith, be transformed into an "all-access" barbecue area "designated for all Department employees."
"Additionally," continues the memo with a droll touch, "per California Government Code 7597(a), smoking is not permitted in the new barbeque area."
Brilliant.
And, just to make sure no one misses the point that this in-crowd/out-crowd, in-the-car/got-nothing-coming nonsense ain't playin' with the new regime, the memo finishes with this request:
Sheriff Scott would also like the barbeque area to have a new, meaningful name. He is requesting that all interested personnel, assigned to Sheriff's Headquarters, participate in a naming contest. The person who submits the name which is eventually selected will be allowed to park in the Sheriff's parking space for one month.
Symbols matter, a concept that is clearly not lost on the new guy in town.
Well done, Sheriff Scott!
Just shy of a full week in office and the man has already made several strong moves (like the suspension of the controversial field deputy program)—some of them not yet public—that show much promise.
May the trend continue.
---
Post Script: We understand there is a second private patio that many of the cigar-smoking coin holders use. This one must be entered from the COPS Bureau (Community Oriented Policing) at 4850 Civic Center Way, in East Los Angeles. Perhaps a look into that little matter might also be in order?
---
Here's the full text of the memo:
From:Sheriff's Headquarters Bureau Info shbinfo@lasd.org>
Date: February 5, 2014 at 4:54:49 PM PST
Subject: Headquarters Building BBQ Patio Area

Please distribute this to all personnel in your respective units:

At the direction of Sheriff Scott, the former cigar smoking patio will be transformed into an all-access barbeque area designated for all Department employees. Currently, plans are being drafted to construct a pathway that will allow access from the main patio area to new barbeque area. Additionally, per California Government Code 7597(a), smoking is not permitted in the new barbeque area.

Sheriff Scott would also like the barbeque area to have a new, meaningful name. He is requesting that all interested personnel, assigned to Sheriff's Headquarters, participate in a naming contest. The person who submits the name which is eventually selected will be allowed to park in the Sheriff's parking space for one month.

Please have all interested personnel submit their selections via email to me at amcastel@lasd.org by 5:00 PM on Wednesday, February 19, 2014.

Thank you,

Allen

Lieutenant Allen Castellano
Executive Aide
Office of the Sheriff
4700 Ramona Boulevard
Monterey Park, CA 91754-2169