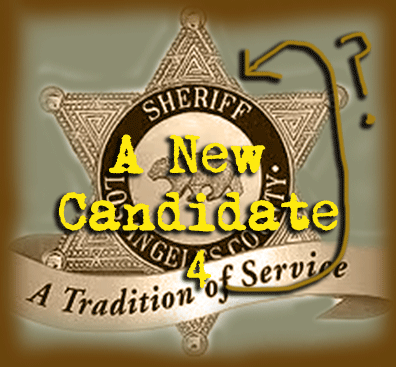 A new candidate is expected to be announcing his or her candidacy for the office of LA County Sheriff in approximately two to three weeks, according to sources.
This prospective challenger intending to try to unseat Sheriff Lee Baca, (who will be running for a 5th term in 2014) has reportedly already met with veteran political consultants and others experienced in high profile So Cal political campaigns. At least one veteran consultant is said to have formally signed on to the soon-to-launch bid.
Experts have estimated that it could take approximately $5 million in campaign dollars to be competative against a well-known and well-funded incumbent, like Baca, who was first sworn in to the office of sheriff in December of 1998, and who, despite the ongoing criminal investigations by the FBI into wrongdoing in the department under his watch, is still expected to be a formidable candidate.
Former LASD undersheriff Paul Tanaka is also expected to enter the race, an expectation that was further fueled over the weekend by an LA Times story suggesting that Hollywood studio exec Ryan Kavanaugh was the object of a criminal investigation by the sheriff's department in retaliation for the Kavanaugh's reported support for Tanaka's as-yet-unannounced bid for sheriff.
Retired LASD lieutenant, Patrick Gomez entered the race against Sheriff Baca in mid May. Gomez, who has unsuccessfully challenged Baca before, in 1998 and in 2002, campaigned previously on—among other issues—problems with the treatment of the mentally ill in the LA County Jails, an issue that has heated up of late, due to discussions over new jail construction, and the still ongoing federal probes into deputy on inmate abuse. Little known LAPD Detective Lou Vince has also declared his candidacy.
Earlier in the year, there was word that Long Beach Chief of Police Jim McDonnell (who was also formerly 2nd in command at the LAPD under Bill Bratton) was planning to challenge Baca for sheriff. When he decided against his possible candidacy in June, both the LA Times and other editorial boards expressed dismay that McDonnell was bowing out, considering him a potentially formidable challenger.
The advent of another serious candidate on the horizon is expected to spark much interest among LASD watchers, many of whom contend that Baca is vulnerable if a strong challenger can amass the war chest necessary for a competative campaign.
Meanwhile, on NBC's Sunday interview show, the So Cal ACLU's head attorney, Mark Rosenbaum called in harsh terms for Sheriff Baca to be removed for his part in the jail brutality scandal.
While on ABC 7's Newsmakers, U.S. Attorney Andre Birotte was on talking about the wild card in the whole matter—namely the spectre of criminal indictments. He offered no hints as to when such indictments might come, how many there will be, and high up they will go. But, without saying so directly, Briotte strongly implied that there would indeed be criminal indictments.