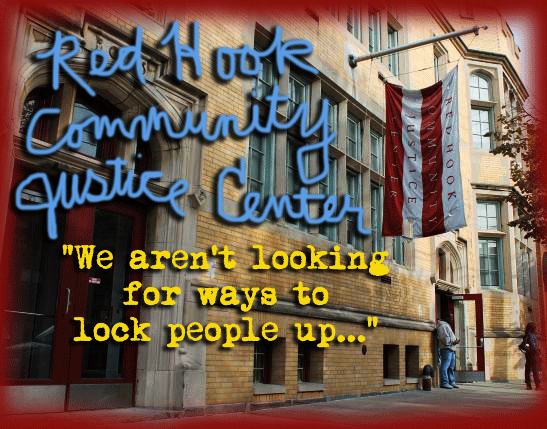 A HUMANE, COMMUNITY-ORIENTED APPROACH TO JUVIE & ADULT CRIME IS WORKING IN RED HOOK, SAYS NEW REPORT
In April 2000, a new courthouse called the Red Hook Community Justice Center opened its doors in a vacant schoolhouse in the Red Hook neighborhood of Brooklyn, NY. Over the previous few decades, Red Hook had declined from a vibrant, working-class waterfront community into crime and drug-ridden place that residents fled when they could.
The Justice Center hoped to change all that by "halting the revolving door" of the traditional criminal justice system. Justice Center planners believed that "community courts foster stronger relationships between courts and communities and restore public confidence in the justice system."
It was a bravely optimistic concept.
Yet, according to a fascinating report released last Tuesday by the National Center for State Courts, evaluating the program's outcomes, the approach that launched 13 years ago, is working impressively well.
The report found, among other things, that juvenile defendants were 20 percent less likely to re-offend when their cases had been heard at the Justice Center—instead of at the Kings County Family Court, where cases would have normally been heard.
After reading the report, the New York Daily News described the Center as "a success for defendants and taxpayers."
(The Center hears adult cases as well. For adults, thus far recidivism has dropped by 10 percent.)
Roxanna Asgarian of the Juvenile Justice Information Exchange has more on the Justice Center-–and the report. Here're some clips:
On a recent afternoon in a Red Hook courtroom, a disheveled young woman in a baggy blue sweatshirt was being sentenced for a drug-related offense. The judge had seen her in court before, always for arrests related to her heroin addiction.

Judge Alex Calabrese, a paternal-looking middle-aged man, asked her to approach the bench.

"Are you ready?" he asked her, looking into her eyes. "Yes," she responded.

He reached out and took her hand.

"Are you gonna get on the bus? Are you gonna stay on the bus?" he asked, and she nodded. "Yes."

Calabrese signed the paperwork for her to enter a mandatory detox and rehabilitation center, and she was to leave on a bus from the courtroom to the rehab facility in ten minutes.

"She got picked up last night at 6:30 p.m., and she'll be on a bus to rehab at 3:30 today," Calabrese said. "That's good work."

[SNIP]

Where in traditional courts, the defendant may meet with their public attorney just minutes before their trial, at the Justice Center, onsite social workers can meet with the defendant and come up with alternatives to incarceration, like mandated community service or treatment, before the offender meets with a judge.

For young residents of Red Hook, where 70 percent of the neighborhood lives in public housing, the chance to keep their record clean, or clear it, can make a world of difference in the opportunities they'll have for their future.

"It's not that complicated an idea," said Julian Adler, the Justice Center's director. "It's just something that you don't typically see in the criminal justice system."
---
THE LA TIMES ASKS IF COUNTY TAXPAYERS SHOULD HAVE TO PAY FOR PUNITIVE DAMAGES AGAINST THE SHERIFF'S DEPARTMENT SUPERVISORS
In Monday's editorial, the LA Times asks what a lot of people have been asking of late: Should Sheriff Baca and others in the department have to personally pay injured inmates?
It's a question that has two sides to it, as the Times points out.
The arguments on indemnification can cut both ways. On the one hand, if those held liable were just doing their jobs, or if they had no way of knowing they behaved wrongly or if they were following orders, perhaps they shouldn't have to pay. It doesn't make sense to punish a few rank-and-file deputies if the culture of the department is what's really to blame. Nor does it make sense to create a environment in which officers feel they must act with excessive caution….

On the other hand…..
Here's another snip from the end of the editorial:
….at the very least, we'd like to see the county Board of Supervisors hold a public discussion and a public vote on the subject. No doubt some on the board will argue that they need to make such decisions behind closed doors, because they will require confidential advice from their lawyers as they consider whether to pay the awards and whether to appeal the verdicts. But the truth is that the supervisors routinely get legal advice in closed session on matters such as whether to transfer inmates out of the county, and then go on to hold a robust public debate on the same subject.

The decision of whether to indemnify these defendants isn't merely a legal matter. It's a public policy issue that requires the supervisors to explain why taxpayers should continue to pay out millions of dollars for public officials who break the law. Perhaps declining to indemnify the deputies and the sheriff who leads the department would help reform this deeply troubled agency.
Oh, Board of Supes…? Are you listening…?
---
FORMER UNDERSHERIFF PAUL TANAKA ACCUSES SHERIFF LEE BACA OF SQUASHING A NARCOTICS INVESTIGATION AIMED AT BACA'S FRIEND BISHOP TURNER
On Thursday of last week, KABC-TV reported on LA County Sheriff Baca's senior civilian aide, Bishop Edward Turner—who was making $105,000, per year plus percs—but who had recently been relieved of duty by the sheriff in response to a series of decidedly curious issues that the ABC-TV folks uncovered in their reporting.
The most startling of those issues had to do with a mystery package addressed to Turner's church that was intercepted in 2005 by an LASD narcotics squad. After the squad's drug-and-money sniffing dog (whose name was Jake) did everything but point a paw at the package in question, investigators opened the thing and found, among other things, more than $84,000 in shrink wrapped cash inside. The narcotics squad believed the cash was part of a drug transaction.
An investigation ensued but went nowhere, according to Sheriff's spokesman Steve Whitmore.
Then on Friday, former undersheriff Paul Tanaka, put out a statement saying that back in 2005, while he had personally pressed for the Turner/cash incident to be vigorously investigated, the sheriff had ordered the probe to be squashed.
"In 2005, I was made aware that detectives from the Los Angeles County Sheriff's Department's Narcotics Bureau had intercepted a parcel package destined for Bishop Edward Turner's church. The package contained in excess of $80,000 in cash. The detectives believed that the money was a direct result of selling and distributing illegal narcotics," said former Undersheriff Paul Tanaka. "Although I did not have chain-of-command responsibility for Detective Division in 2005, I directed my aide to advise the detectives that they needed to conduct a full investigation, despite the fact that Bishop Turner was a Field Deputy to Sheriff Lee Baca. Subsequent to this direction, I was advised that Sheriff Baca had personally ordered the investigation terminated. This is appalling, unacceptable, and just another reason why the Sheriff's Department needs new leadership."
On Friday night, Tanaka appeared on KABC to reiterate these charges. However, Steve Whitmore—who was also interviewed—asked why Tanaka, as a law enforcement officer, had not made sure the investigation went forward anyway.
Reporter Marc Brown posed that very question to the former undersheriff—at which time Mr. Tanaka paused conspicuously, then phumphered something about how "you won't last long" if you go against the sheriff.
Meanwhile, knowledgeable sources inside the department told us that someone at the LASD squashed the investigation.
There is also much speculation among department members about who might have leaked the internal LASD documents showing the existence of the narcotics investigation against Turner, to KABC, and why? (The suggestion is that there may have been a political agenda behind the leak.)
With all this competitive finger-pointing going on, one cannot help but hope that some outside law enforcement agency—like, say, the FBI—has taken an interest in the case of Bishop Turner, the mystery box-of-cash, and the possibly-aborted narcotics investigation.
---
SPEAKING OF THE LASD & ELECTIONS….
We reported a few weeks ago on the battle for control of the board of one of the LASD unions, PPOA. On Friday, the ballots were counted and it appears that the slate of candidates rumored to be aligned with Paul Tanaka were defeated by the incumbent board members.
---
INSANE JUSTICE: DO WE REALLY WANT THESE PEOPLE TO BE SERVING LIFE SENTENCES?
As we noted last week, the ACLU has released a new and devastating report about Americans serving life sentences without the possible of parole for non-serious crimes, very often drug related, nearly all people with no violent crimes in their backgrounds.
Over the weekend the New York Times published an impassioned editorial that points out the utter madness of such sentencing.
Here are some clips:
If this were happening in any other country, Americans would be aghast. A sentence of life in prison, without the possibility of parole, for trying to sell $10 of marijuana to an undercover officer? For sharing LSD at a Grateful Dead concert? For siphoning gas from a truck? The punishment is so extreme, so irrational, so wildly disproportionate to the crime that it defies explanation.

And yet this is happening every day in federal and state courts across the United States. Judges, bound by mandatory sentencing laws that they openly denounce, are sending people away for the rest of their lives for committing nonviolent drug and property crimes. In nearly 20 percent of cases, it was the person's first offense.

As of 2012, there were 3,278 prisoners serving sentences of life without parole for such crimes, according to an extensive and astonishing report issued Wednesday by the American Civil Liberties Union. And that number is conservative. It doesn't include inmates serving sentences of, say, 350 years for a series of nonviolent drug sales. Nor does it include those in prison for crimes legally classified as "violent" even though they did not involve actual violence, like failing to report to a halfway house or trying to steal an unoccupied car.

The report relies on data from the federal prison system and nine states. Four out of five prisoners were sentenced for drug crimes like possessing a crack pipe or acting as a go-between in a street drug sale. Most of the rest were sentenced for property crimes like trying to cash a stolen check or shoplifting. In more than 83 percent of the cases, the judge had no choice: federal or state law mandated a sentence of life without parole, usually under a mandatory-minimum or habitual offender statute.

[SNIP]]

It is difficult to find anyone who defends such sentencing. Even Burl Cain, the longtime warden of the Louisiana State Penitentiary, which holds the most nonviolent lifers in the country, calls these sentences "ridiculous." "Everybody forgets what corrections means. It means to correct deviant behavior," Mr. Cain told the A.C.L.U. "If this person can go back and be a productive citizen and not commit crimes again," he asked, why spend the money to keep him in prison? "I need to keep predators in these big old prisons, not dying old men….."
There are two bills before congress that, if passed, would give judges a bit more discretion.
But as the NY Times notes, this gesture toward reform isn't close to enough—either on a federal or a state level.
Let us remember, we incarcerate more of our fellow Americans per capita than any other country in the world. No one else even comes close. These kind of sentencing policies are a large part of why.
---
THE U.S. CONSTITUTION, THE SUPREME COURT, & LOCKING UP THE INNOCENT
Michael Kirkland, UPI's Senior Legal Affairs Writer takes a look at the U.S. Supreme Court's complicated and often troubling relationship with the concept of innocence.
Here's how his report opens:
The case of Ryan Ferguson, the Missouri man freed after spending 10 years behind bars for a murder he says he didn't commit, shows the nation's justice system, one of the fairest in the world, occasionally convicts the innocent, puts them in prison and throws away the key.
Does the U.S. Supreme Court give a damn?

Ferguson improbably was convicted on the "repressed memories" of a friend for the 2001 killing of Columbia (Mo.) Daily Tribune Sports editor Kent Heitholt in the newspaper parking lot as Heitholt was leaving work early in the morning.

The friend recanted at trial and another witness putting Ferguson at the scene also recanted. He was not connected to fingerprints, bloody footprints and hair found at the crime scene.

Ferguson, now 29, was sentenced to 40 years. He was finally freed last week.
So far the Innocence Project has freed more than 300 people based on DNA evidence, Kirkland notes.
Still other people have been freed by the dogged work of attorneys who believed that an injustice had been done, and find the evidence to prove it.
But in some of those cases, even when new evidence surfaces that indicates those convicted are likely factually innocent, lower courts fail to act. At those times, SCOTUS is split about whether innocence is a legal reason for the high court to wade in.
Here's what Kirkland writes:
On one side, Roberts and his fellow conservatives warn at some point, judicial proceedings have to be final, and opening the floodgates of judicial review might return the justice system to the days when death row inmates and others delayed their sentences for decades with claim after claim, despite the overwhelming evidence that convicted them.

After all, Congress, fed up with endless federal appeals, enacted the Anti-terrorism and Effective Death Penalty Act in 1996 to limit habeas review.

On the other side, Stevens and his fellow liberals made the practical argument: If a DNA test or rape kit test can make a conviction even more certain, or expose a miscarriage of justice, why not do it?

Such divisions probably will continue. How do you effectively punish the great mass of the guilty without damning the innocent few?

And then Kirkland notes this statement from Antonin Scalia who said in his dissent in a 2009 case in which the majority of the Supremes granted a new evidence hearing for a Georgia death row inmate.
"This court has never held that the Constitution forbids the execution of a convicted defendant who has had a full and fair trial but is later able to convince a [constitutional] court that he is 'actually' innocent. Quite to the contrary, we have repeatedly left that question unresolved, while expressing considerable doubt that any claim based on alleged 'actual innocence' is constitutionally cognizable."
As is often the case, Scalia makes a distressing—but legally interesting—point.
---