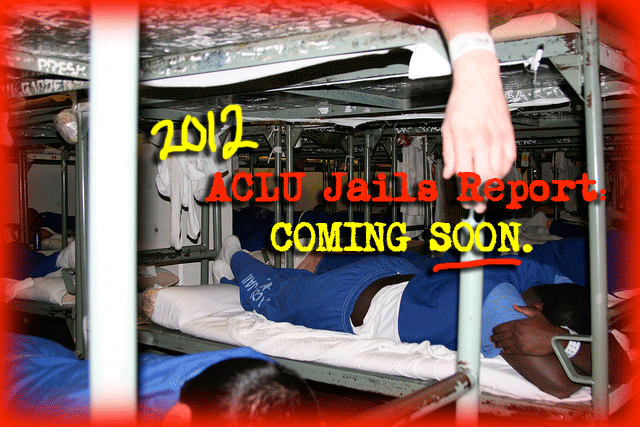 ACLU TO RELEASE CRITICAL JAILS REPORT LATER THIS MORNING—CHECK BACK SOON
Ahead of this Friday's final Jails Commission report, the ACLU of Southern CA will release a new, highly critical report of its own today, Wednesday, at 10a.m. during a press conference held at its downtown headquarters. (We'll have more on the report later this morning.)
Here's a clip from the ACLU's press release:
The report, says the ACLU's advisory, "…compiles some 64 sworn statements taken since 2009 describing attacks in which deputies targeted inmates' heads, as well as substantial corroborating documentation including photographs and medical records, and the opinion of a nationally recognized corrections expert on the impropriety of using head strikes, even where inmates are aggressive."
More in a while.
---
NINTH CIRCUIT COURT SAYS EXONERATED MAN CAN SUE LAPD FOR ALLEGED COERCED CONFESSION
A Ninth Circuit Court of Appeals ruled earlier this week that Harold Hall, a man falsely imprisoned for nineteen years, would be able to sue the LAPD for allegedly coercing his confession.
The LA Times' Maura Dolan has the story. Here's a clip:
Harold C. Hall should be permitted to amend his complaint against the city to allege coerced confession, which the court said was made as a result of "desperation, fear and fatigue," in possible violation of the Fifth Amendment.

The majority in the 2-1 decision said "the extraordinary circumstances" of Hall's conviction justified the court's unusual action as necessary "to prevent a woefully unjust result."

Hall's double-murder conviction in 1985 was based on "falsified" documents by a jailhouse informant and a confession Hall made when he was 18, the court said. He agreed to admit guilt only after several hours of interrogation in which he was handcuffed and denied food. He was never advised of his rights, the court said.

Hall's convictions eventually were overturned. He later sued the city, but failed to allege violation of the Fifth Amendment, which protects people from forced self-incrimination. A district judge dismissed the case after ruling Hall could not amend his suit to cite the proper provision of law.

The 9th Circuit majority said the "exceptional" nature of Hall's history warranted Monday's ruling that revived his suit. "Justice eluded Hall when he suffered a conviction based on that confession and the patently false inculpatory evidence created by a jailhouse informant," wrote Judge Dorothy W. Nelson, an appointee of former President Carter. "Justice eluded Hall when he served nineteen years in state prison for a crime he did not commit. And justice will elude Hall yet again without the opportunity to amend his complaint and let a jury decide whether he deserves monetary compensation for his unlawful incarceration."
---
ANOTHER LA MAN WAITS 19 YEARS FOR EXONERATION
LA man John Edward Smith was exonerated and freed on Monday. Smith sat in prison for nineteen years before wrongful convictions non-profit Innocence Matters took on his case and found issues with the testimony of the sole witness who says LAPD officers coerced his positive ID of Smith.
The LA Times' Harriet Ryan has the story. Here's a clip:
During 19 years behind bars, Smith, a 37-year-old former gang member, adamantly maintained his innocence in the drive-by shooting, insisting that he was miles away at his grandmother's house at the time of the crime.

His claims went unheard until three years ago, when a fledgling wrongful convictions group, Innocence Matters, took his case and identified problems with the testimony of the lone witness to identify him as the killer. The man subsequently recanted and at a brief and raucous hearing Monday afternoon, a Los Angeles County Superior Court judge vacated his conviction.

Smith's relatives and friends erupted in cheers as Judge Patricia Schnegg, the supervising criminal judge, said she was setting aside the 1995 verdict because Smith's conviction rested almost entirely on perjured testimony.

"Thank you for your enthusiasm," Schnegg told the audience as Smith, dressed in a blue jumpsuit, gave a slight smile.

Smith was released around 8:30 Monday evening from a jail in downtown L.A., and was greeted by a phalanx of camera crews and microphones.

The judge's ruling came after the district attorney's office completed its own yearlong investigation and determined that the witness, a high school student injured in the shooting, had lied on the stand.

That teenager, Landu Mvuemba, told Smith's lawyers that LAPD detectives had pressured him into the identification and that he had tried on a number of occasions over the years to alert authorities about his false statements.
Be sure to watch the embedded video above the story. KTLA captured some very touching moments from Smith's grandmother and the rest of his family.
---
HEATED WORDS FOR CARMEN TRUTANICH FROM LA CITY CONTROLLER LAURA CHICK
Laura Chick, former LA City Controller and current co-chair of Mike Feuer's campaign to unseat Carmen Trutanich as City Attorney, called out Trutanich in a sharply-worded letter to LA. The letter spared no effort to make her ill feelings about Trutanich very clear.
Here's a clip from Laura Chick's letter:
I remember April 15, 2009 like it was yesterday. That's when I stood in front of Los Angeles City Hall and lent my support to a man who called himself "The People's Attorney…dedicated to restoring honesty, integrity, accountability and transparency" to city government. I admit, I bought into the hype of this so-called "City Hall Outsider." I took him at his word when he promised he'd be a breath of fresh air, who would cleanse the musty halls of power, and who would continue my own work of restoring honesty and integrity to the people's business. When I said that day, "I think he'll make an outstanding City Attorney," I truly believed it.

But it didn't take long for me to realize I had made a terrible mistake. Shortly after taking office, Mr. Trutanich reneged on his pledge to support the City Controller's ability to conduct audits of multi-million dollar programs housed in elected officials office's, especially the City Attorney's office. With this one breathtaking reversal the so-called "People's Attorney" revealed himself to be a liar and demagogue, who would not only lie to me to gain my political support, but whose clear intention was to squash transparency and disallow the scrutiny of how taxpayers dollars are spent.

A simple Google search will yield dozens of news stories documenting Mr. Trutanich's sizable record of broken promises, shattered pledges and misleading tactics. From violating his pledge not to seek higher office, to reneging on his debt to LA's BEST, to his recent questionable actions in favor of campaign contributors, Mr. Trutanich has broken faith with the people of Los Angeles.
Kevin Roderick also has the letter and a response to Laura Chick from Trutanich's campaign spokesperson, John Schwada.
---
Photo Credit: ACLU