Tuesday afternoon, Los Angeles County District Attorney George Gascón announced the release from prison of Gerardo Cabanillas who, in April, 1996, was wrongfully convicted of robbery, kidnapping, and rape.
"Today, we acknowledge a grave injustice…" Gascón said.
"Upon thorough reexamination of the evidence and a comprehensive review of the case by my office's Conviction Integrity Unit," he wrote in an emailed statement, "it has become abundantly clear that a serious error was made. I extend my deepest apologies to Mr. Cabanillas for the miscarriage of justice and the failure of our criminal legal system."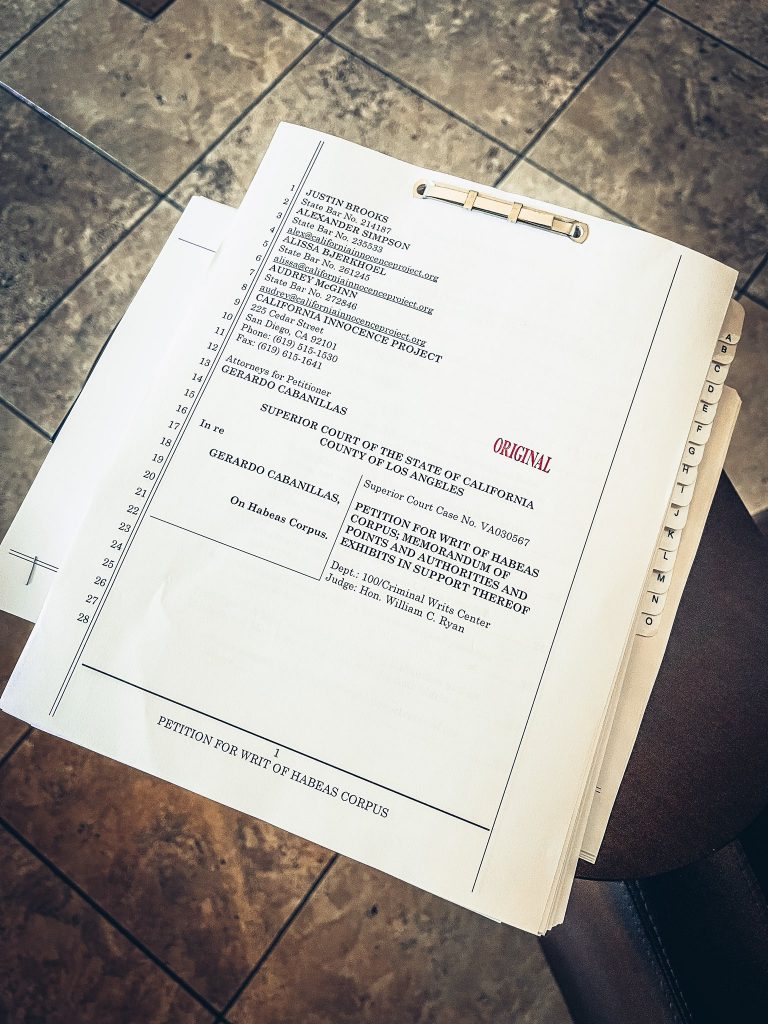 So how did this false conviction occur?
According to the California Innocence Project, the painful series of events began on January 16, 1995, in LA County, when two armed men robbed a man and a woman who are identified only as Raul F and Maria A.
The men stole Raul's car, and kidnapped his girlfriend, Maria A. The two men then drove her to an abandoned house where they both sexually assaulted her.
Two days later, on January 18, 1995, an armed man robbed two completely different people, identified Ricardo S and Maria L. The man also attempted to steal Ricardo's car, but was not successful.
A few days later still, South Gate police arrested eighteen-year-old Gerardo Cabanillas because he appeared to very generally to match a rough description of the perpetrator.
Leading up to the arrest, Cabanillas found himself sitting in an interrogation room with a seasoned South Gate detective named Jack Lee Alirez who, according to the California Innocence Project, had "built a reputation of eliciting confessions from suspects."
The detective accused Cabanillas of robbery, kidnapping, and rape, but reportedly promised the teenager that, if he confessed, he would get only probation and could go home.
(As WLA has reported on multiple occasions, a significant percentage of those who are falsely convicted—and later exonerated-–were convicted largely because they confessed to crimes they did not commit.)
It also turns out that kids are far more likely to falsely confess than adults, according to a national database of more than 1,100 exonerations.
In any case, after repeated denials, Cabanillas (who had no attorney) finally caved, and confessed.
Of course, he did not go home as promised. Instead, he was arrested and prosecutors subsequently charged him with fourteen felony counts including robbery, kidnapping, carjacking, rape, and sodomy.
Police failed to find any physical evidence tying Cabanillas to the crimes.
Thus, the prosecution's case against Cabanillas consisted of his confession and some decidedly shaky eyewitness identifications by the four victims.
According to California Innocence Project attorneys, Maria A. and Raul F. in particular had serious doubts about their individual identification of Cabanillas's photo from a six-pack lineup.
They committed to their identifications only after the South Gate Police detective told them that Cabanillas had confessed.
Maria L. said she would not be able to make an identification of the person at all, because she said she had not gotten a good look at him.
It took two separate jury trials before the prosecution secured a conviction on almost all the fourteen counts with which he was originally charged.
Cabanillas testified on his own behalf in both trials, repeatedly denouncing the veracity of his confession. He also presented alibi evidence, contending that he was at home with his family at the time of the crimes.
The primary victim, Maria A., failed to identify Cabanillas at either trial. Raul reportedly wavered on his identification. "I have seen cases like this that sometimes…they are not correct," he said presciently.
Cabanillas was sentenced to 15 years to life, which was to run consecutively to a term of 72 years and four months, in state prison. In other words, the combination basically amounted to a life sentence.
Nearly three decades after his initial arrest, it was DNA that changed everything.
At trial, Maria A. had testified her two attackers ejaculated in her.
Fortunately, Maria A's post sexual assault examination kit had been retained over the years (which is not always the case). This would eventually allow DNA testing to take place long after Cabanillas' manipulated conviction.
The DNA tests revealed that, as Maria A had said, two people had "contributed sperm" during the rape.
And neither of those contributors were Gerardo Cabanillas
In addition, according to the statement provided by the California Innocence Project, an expert on false confessions determined Cabanillas's confession had a "high probability" of being false.
The confession, said the expert, was inconsistent with the facts of the crimes, and was primarily the product of police feeding him information and Cabanillas merely confirming it.
"False confessions are one of the leading causes of wrongful convictions in the United States," said Alissa Bjerkhoel, Interim Director of the California Innocence Project at California Western School of Law.
"Police are permitted to lie to suspects, including promises of leniency if the person confesses. That is exactly what happened here and, if it was not for the DNA evidence, Gerardo would have spent the rest of his life in prison."
In December of 2022, the California Innocence Project—which co-counselled Gerardo Cabanillas's case with The Innocence Center—submitted a petition to the Superior Court for Cabanillas's release.
On Tuesday, September 26, DA Gascón explained how the prosecutors and investigators from his office's Conviction Integrity Unit re-evaluated the evidence in Cabanillas' case and then conducted an "exhaustive investigation" to get to the truth of the matter.
After the thorough review of both the evidence presented at trial and the new evidence, said Gascón, his investigators could no longer support Cabanillas' convictions.
So it was that last Thursday, Sept. 21, Los Angeles County Superior Court Judge William C. Ryan vacated the conviction and found Cabanillas factually innocent. And, so it was that, after 27 years of wrongful incarceration, he was released.
"Today, we recognize the justice he deserves," said Gascón.
In response, Michael Semanchik, Executive Director of The Innocence Center expressed gratitude to the LA DA's Office for agreeing to a factual finding of innocence for Gerardo Cabanillas.
"This case highlights the importance of collaboration by all in pursuit of truth and justice, including innocence attorneys, students, investigators, and the government."