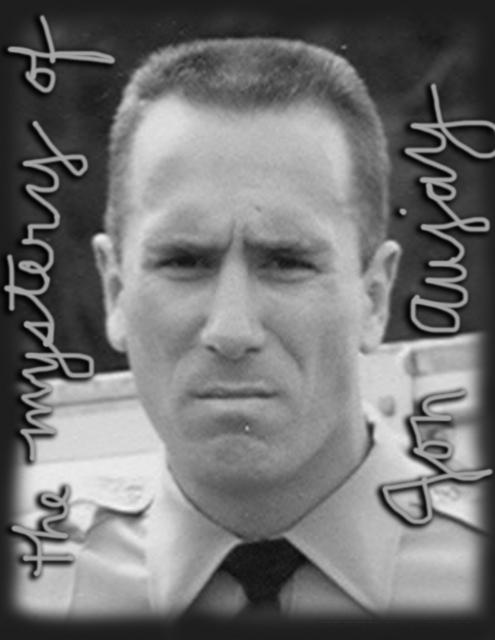 THE LOS ANGELES COUNTY SHERIFF'S DEPUTY WHO DISAPPEARED, & THE MEN WHO WOULDN'T GIVE UP ON HIS CASE
The LA Magazine story by Claire Martin about the disappearance of Los Angeles Sheriff's deputy Jonathan Aujay is now online.
The tale as Martin tells it is long, very deeply researched, fascinating, and disturbing. It is also a must read for those with any interest in the workings of the LA County Sheriff's Department.
Martin doesn't solve the mystery of what happened to Jon Aujay after he took off for an all-day desert run in the Devil's Punchbowl area of Antelope Valley on June 11, 1998, and never returned. Instead, she takes us through the investigations by the former department members who do not believe that Aujay killed himself as the LASD officially concluded. Nor do they believe he took off for Alaska, or rejoined the military as some other friends suggested. Instead, they believe he was murdered, and Martin delves into the reasons for their conviction.
One of those who became convinced Aujay met with foul play is Larry Brandenburg, a homicide detective who began investigating the case in early 2000. But when he wanted to search a fellow deputy's house, his superior reportedly became furious and shut the investigation down, threatening to fire Brandenberg. When Brandenburg then appealed to the chief of the detective division and a commander in the homicide bureau, another detective was sent to collect all of his files.
Next there is former Deputy Darren Hager who was part of an interagency task force called "Operation Silent Thunder," which was investigating the invasion of meth manufacturers and distributors in the Antelope Valley. In the course of delving into the drug action, Hager found what he believed were important leads into the Aujay case, and began digging. He came to believe a deputy named Richard Engels was involved and wanted to probe further. Instead, Hager was pulled off the case and ultimate terminated having to do with his investigating of Engels. Hager sued for wrongful termination and was award $8.5 million by a jury.
(It was when Martin attended Hager's case trial that she first became fascinated with the story of Aujay's disappearance. The trial, she wrote, "shed new light on the department's handling of Aujay's case as well as its approach to policing itself.)
Another haunted by Aujay's disappearance was his former partner when the deputy was on SWAT, David Rathbun, now a reserve deputy with LASD search and rescue teams. Rathbun looked for Aujay for months with other friends after the official search ended.
Still one more man who couldn't settle for the official story was Aujay's last boss, retired captain Mike Bauer who now lives in Idaho. Bauer has devoted much of the past decade to hunting down new leads in the Aujay mystery, and believes he likely knows who killed the former sharp shooter turned K-9 handler.
Anyway, there's much, much more to this well told Rashomon of a story.
To get you going, here's a clip from one of the sections on Bauer's ongoing investigation:
Last year Bauer wrote to John L. Scott, the interim sheriff, raising concerns about the department. When the captain of Internal Affairs called him, Bauer aired his theory; the captain vouched for the integrity of Bauer's main suspect, he says, accusing Bauer of jumping to conclusions and then only seeking facts to support them. Bauer is still outraged. He could understand some skepticism, but he expected the sheriff's department would take him seriously, given his background. This wasn't the first time he felt rebuffed by the department over Aujay. Three years ago he spent half a day going over his evidence with deputies. "I expected a phone call from the captain of homicide a week later saying, 'You know, we looked at your stuff and you might have something. Thanks for bringing this up. I'll keep you posted on what we find out,' " he tells me. He heard nothing, but it wasn't a total surprise. Bauer says he retired early, at 53, because of the corruption that flourished under Sheriff Baca, who wound up resigning in 2014 amid a barrage of federal indictments of staff who helped hide an informant from the FBI. That's what led to Bauer's second attempt, which wasn't any more satisfying. Scott wrote him back that Aujay's case "is disturbing to us all" and expressed confidence that the investigation had been thorough, noting that homicide detective Bob Kenney "continues to actively follow up on leads."

Bauer was perplexed: If the department was sticking with the suicide theory, why was there an open homicide case? And if it was vigorously investigating, why hadn't he heard about it from any of the dozens of people he has stayed in contact with in the course of his work? Debra, for one, says she has not been contacted by members of the sheriff's department since 2001, when she was interviewed by Joe Holmes. Now that many of the players involved in the original investigations are retired and a new sheriff, Jim McDonnell, is in charge, Bauer and several others who knew Aujay have raised the question of whether the department would or should reevaluate the case. Aujay is still classified as a missing person with a possible suicide, according to homicide detective Larry Brandenburg. When I called Kenney in September to inquire about the status of the Aujay investigation, he replied, "I have no comment about that case at all." Sheriff McDonnell also declined to be interviewed for this article.

The man serving as second in command to McDonnell is Neal Tyler, a 40-year department veteran and the former commander of the Antelope Valley region. Tyler was briefed on the Internal Affairs inquiry of Darren Hager, whose task force confidential informants had fingered Engels for murder, and he personally fired him….
Now read the rest for yourself.
---
HEROIN, PRESCRIPTION PAIN KILLERS…AND KIDS STREAMING INTO THE FOSTER CARE SYSTEM
A report issued this past summer by the U.S. Department of Health and Human Services showed that, after years of decline, the number of kids coming into and staying in foster care is on the rise. And one of the reasons for the increased numbers, according to some child welfare officials, is that an uptick in the use of heroin and abuse of prescription opiates, has rendered an increasing number of parents unable to care for their children.
According to a report from the Annie E. Casey Foundation released in May, thirty-four states saw an increase in the number of children in foster care, and California, Oklahoma, Indiana and Arizona were the states that saw the largest rise.
A new NPR story by Jake Harper takes a look at the phenomenon through the lens of foster care in Indiana.
Here's a clip:
Between September of 2013 and September of 2015, Indiana saw the number of "children in need of services" jump by 40 percent. In more than half of new cases in which children had to be removed from their homes, substance abuse was listed as a reason. As in other states (such as nearby Ohio), officials in Indiana blame heroin and prescription painkillers.

The increase is taxing the child welfare system, officials say. Children of addicts often need special care and counseling, and they often stay in the system longer because it can take months or years for their parents to get clean.

"We have more children than we've ever had in our system in Indiana," says Mary Beth Bonaventura, director of the state's Department of Child Services. "That puts a stress on the staff, a stress and strain on providers." And it's increasingly a challenge, she says, "to find and recruit and train qualified foster families."

If the Houglands hadn't provided a home for their foster son, he might have ended up at an emergency shelter like the Children's Bureau, a nonprofit in Indianapolis. The organization takes in kids from the Department of Child Services when a foster family can't be found quickly.

"Kids come in here 24/7," says Tina Cloer, who directs the Children's Bureau. "So we accept kids all day and all night, and we get calls all day and all night."

The shelter has been full more often this year, she says, as it has become harder to find kids foster homes. Last year, the average stay was just two days — now, it's 10. "We have kids that have been here as long as 2 [or] 2 1/2 months," Cloer says.
---
THE HIDDEN—AND IMPORTANT—NEED FOR CIVIL LEGAL AID
We know that Americans who are charged with a crime but who cannot afford to pay a lawyer have the right to legal representation paid for by the government. That right is enshrined in US law by the landmark Supreme Court ruling of Gideon v. Wainwright of 1963 that guaranteed everyone charged with a criminal act the right to counsel.
With civil procedures, there is no such guarantee. However, there is an increasing awareness of the need for some kind of system of civil legal aide. The need is particularly demonstrated among people being released from prison who, along with the many daunting challenges to reentry, often find there are lingering legal issues as well, most of them not criminal in nature.
For example, many returning men face debts in the tens of thousands of dollars in back child support that has been accumulating while they were in prison and had no ability to pay. Once out, even if they are able to get a job quickly, those positions are rarely high paying. Thus keeping up with current child support, while paying extra back payments is often completely defeating, and can lead to a return to prison. However, a civil attorney can help negotiate a payment system that both is practical for the recently incarcerated father, and fair to mother and children as well.
Civil attorneys can also assist in getting driver's licenses restored, which can be crucial to getting and keeping a job, or helping to clear a former inmate's criminal record, thus improving the likelihood of finding employment….and so on.
Writing for TalkPoverty.org Rebecca Vallas and Billy Corriher have more on the need for civil legal aide and what's in the works to fill that need.
Here's a clip:
Earlier this year, the Senate Judiciary Committee passed an appropriations bill that—while far from sufficient to meet demand—would boost legal services funding for FY 2016 by $10 million. Meanwhile, House appropriators have called for slashing legal services funding by $75 million—a staggering 20 percent below the current funding levels. While Congress has passed a stopgap measure to keep the government funded until mid-December, as it continues to debate the budget it should ensure that any proposal includes adequate funding for civil legal aid. Additionally, Congress should take swift action to reauthorize and boost funding for the bipartisan Second Chance Act. This legislation allows the Department of Justice to award federal grants to government agencies and nonprofit organizations—including civil legal aid programs—that provide services to support re-entry.

If the criminal justice reform legislation introduced this fall is enacted, many currently incarcerated individuals will have an opportunity to petition for reduced sentences or early release. Civil legal aid lawyers will be important partners in helping these individuals transition back into our communities and get back on their feet. Neglecting the back end of mass incarceration—including by failing to adequately invest in civil legal aid—is a recipe for ensuring that most people will end up behind bars again, and that many of the gains we see from criminal justice reform will be short-lived.
---
ANOTHER PROP 47 QUESTION: DO PROSECUTORS REALLY NEED THE "FELONY HAMMER" TO DEAL WITH DRUG OFFENDERS
Here's the next in the LA Times series discussing Prop. 47. In this essay, editorial board member Rob Greene looks at the "felony hammer" prosecutors say they need to get drug offenders into treatment, that Prop. 47 has taken away. Here's a clip:
In police and prosecutorial parlance, the hammer is the weapon of choice that gets drug defendants to go to treatment. The hammer is the felony charge, or in some cases, the "wobbler" that prosecutors could choose to charge as either a felony or a misdemeanor. With the hammer of a felony charge in hand, the prosecutor used to be able to tell the defendant that he was looking at three to five years in state prison on a drug possession charge. The defense lawyer might advise his client that his actual exposure was more like 18 months, but still — that's real time in prison. Plus a felony rap sheet, which forever after would affect the defendant's ability to get a job, get a professional license, go to school, get housing, adopt a child, become a foster parent, and interfere with numerous other aspects of daily life.

So the drug defendant could allow himself to get hit with that hammer.

Or, to avoid being hit, he could choose drug treatment. In some counties, even that meant pleading guilty to a felony, with the plea held by the judge but tossed out when the treatment program was completed, or reinstated when the defendant failed. Other counties had "pre-plea" programs, which allowed defendants to complete the program without first entering a guilty plea.
Yet defense attorneys and justice reformers say there's also another way of dealing with the problem that doesn't have to involve the felony hammer blow.
Read the rest here.