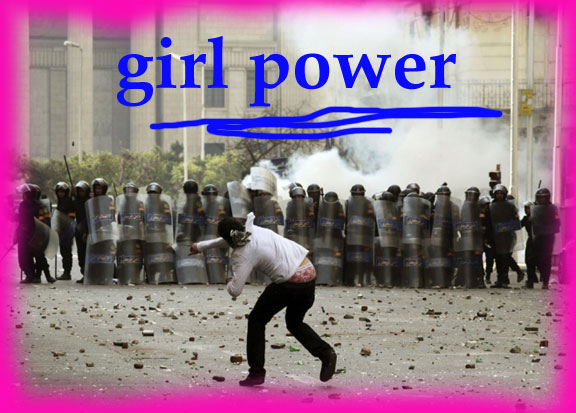 AN AMERICAN PROFESSOR IN CAIRO (AND LONGTIME MIDDLE EAST CORRESPONDENT) WEIGHS IN ABOUT HIS STUDENTS IN THE STREETS
Be sure to read American University prof Scott MacLeod's LA Times Op Ed. Here are some clips:
I'd been looking forward to greeting my Egyptian students Sunday, the first day of the spring semester at American University in Cairo. Instead, classes have been canceled and Egypt burns.

I am hunkered down in my apartment with the cat. Outside, gunshots ring out through the night. My local supermarket was looted and burned, and our landlord, Tareq, came by Saturday to say that he and other neighbors have barricaded our street and formed a private militia to protect us from the anarchy.

Yet I have never been more optimistic about Egypt's future.
Whatever happens next — and there is still plenty of time for the government to do something stupid — this youth-led revolt on the Nile will somehow prevail….

[SNIP]

This push to transform Egypt is coming from a broad nationalist movement. I know officials in the Mubarak regime whose sons are in the protests. My students have taken to the streets, as have the children of my friends. These are ordinary people, inspired by a simple desire for freedom. The best insurance of stability in relations between Egypt and the United States is a good relationship between our government and a democratic Egyptian government supported by the people….
---
A LOOK AT THE CRAZY LAWS THAT CRIMINALIZE AUDIO AND VIDEO RECORDING IN AMERICA
Lauren Kelley writing for Alternet looks at the absurd and scary laws that can get you a 15-year prison jolt for openly recording the police. Here's one example:
[Tiawanda] Moore, a 20-year-old Southside resident, did not know it was illegal to record a conversation she had with two police officers last August, and she too faces a prison sentence of up to 15 years for doing so. Moore's case is especially troubling because she was in the process of filing a complaint with the two officers about a third officer, who Moore alleges sexually harassed her in her home. She told the Times that she "was only trying to make sure no other women suffered at the hands of the officer" by making the recording. Presumably, she was also trying to protect herself in case she faced another lewd advance. Instead, the officers tried to talk her out of filing her complaint and then slapped her with eavesdropping charges when they found out her Blackberry was recording.
It gets worse from here, so read the rest.
---
FRED KOREMATSU GETS HIS DAY
In 1942, 23-year old Fred Korematsu refused to go to the US government's interment camps for Japanese Americans, and was arrested and convicted of defying the government's order. He appealed his case all the way to the Supreme Court, which ruled against him in 1944, arguing that the incarceration was justified due to military necessity. In 1983 a team of lawyers went to battle in Korematsu's and the decision was overturned, cementing his place in civil rights history.
Now Korematsu's accomplishment is being celebrated with a statewide holidayand the LA times has the a good column one story about it all.
---
60 MINUTES INTERVIEWS JULIAN ASSANGE OF WIKILEAKS
Steve Kroft interviews Julian Assange. Love Assange or hate him, be sure to listen here if you didn't see the interview Sunday night—both Part 1 and Part 2.
"We operated just like any U.S. publisher operates … and there has been no precedent that I'm aware of, in the past 50 years, of prosecuting a publisher for espionage," Assange said. "It is just not done."
---
RECENT SCOTUS DECISIONS SLAP THE 9TH CIRCUIT
Monday's Washington Post has the story. Here's a clip:
Sometimes the Supreme Court simply decides cases and sometimes it seems to have something bigger in mind. In the past two weeks, it has been in scold mode, and its target has been the U.S. Court of Appeals for the 9th Circuit.

In five straight cases, the court has rejected the work of the San Francisco-based court without a single affirmative vote from a justice.
Photo from AP