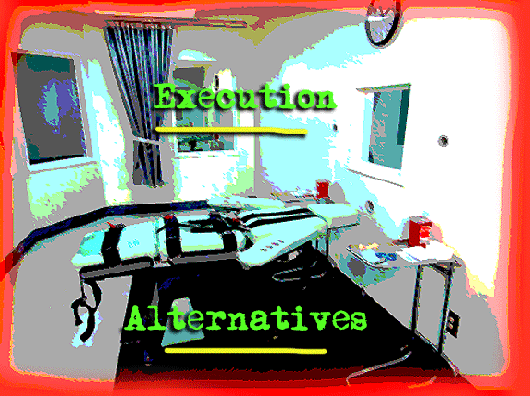 EDITOR'S NOTE: MORE ON THE JAILS COMMISSION TOMORROW, THURSDAY
---
ARE BROWN & HARRIS DAWDLING OVER CALIFORNIA EXECUTIONS?
San Francisco Chron columnist, Debra Saunders, thinks that Governor Jerry Brown and Attorney General Kamala Harris are deliberately playing for time with their resistance to allowing California to use a 1 drug injection for executions, instead of waiting for the 3-drug cocktail that is at present tied up in court.
It's a provocative read. Here's a clip:
California's death penalty has been in limbo since 2006, when a federal judge stayed the execution of Michael Morales, who was sentenced to death for the brutal 1981 murder and rape of 17-year-old Terri Winchell. The judge was fearful lest the state's three-drug lethal injection protocol would cause Morales undue pain. Since then, a number of states have switched to a one-drug protocol. Why hasn't California? The answer could be that Gov. Jerry Brown and Attorney General Kamala Harris don't want the death penalty to work.

Brown and Harris are personally opposed to the death penalty, but when they campaigned for office in 2010, both pledged to carry out the law. They're not exactly knocking themselves out to do so…
Now, however, a judge is considering whether the state should capitulate to LA District Attorney Steve Cooley's attempt at "a virtual end-run around the current logjam in the 9th Circuit Court of Appeal over the way executions are done," as a new article by the AP's Linda Deutsch puts it.
Deutsch also writes about the jittery presiding judge and the the decision facing him.
Here's a clip:
Superior Court Judge Larry Paul Fidler heard extensive arguments and ordered lawyers to return to court Sept. 10 for further proceedings.

"I do have concerns whether I have the authority to do what the district attorney wants me to do," the judge said. "If I have the authority to order a one-drug execution do I also have the authority to use the gas chamber or order a firing squad?"
A very good question. (How about a guillotine? No, probably not.)
---
SAN FRANCISCO D.A. GEORGE GASCON SAYS AZ'S IMMIGRATION LAW NOT GOOD FOR LAW ENFORCEMENT
SF District Attorney George Gascon writes an essay in The Crime Report about the "show me your papers" provision of the AZ immigration law, and its problems for law enforcement. (Since D.A. Gascon is the former San Francisco Chief of Police, and the former Chief of Police for Mesa, AZ, and the former Assistant Chief/Chief of Operators of the LAPD…one can assume he knows a one or two things about policing.)
Here's a clip:
The U.S. Supreme Court ruling on Arizona's SB 1070 statute directed a national spotlight on one of the most draconian anti-immigration laws of our times. The law virtually stripped an entire segment of our society of the most basic civil rights.

While the Court struck down most provisions of SB1070, it upheld the section that allows local police to act as an arm of Immigration, Customs and Enforcement (ICE), the principal investigative branch of the U.S. Department of Homeland Security

The "show me your papers" provision of the law is problematic for several reasons. It will result in increased racial profiling of Latinos. It will impact safety and increase crime as immigrant communities fearful of deportation refuse to cooperate with law enforcement, and as limited police resources are diverted from addressing crimes to handle immigration.

And, finally, it will subject police officers and their agencies to liability for alleged racial profiling.

[SNIP]

As the former Chief of Police in Mesa, AZ, I witnessed first-hand the racist, unconstitutional policing practices by the Maricopa County Sheriff's Office. The U.S. Department of Justice's recent decision to file a lawsuit against Sheriff Joe Arpaio and his office affirms what many of us knew were illegal tactics designed to demonize and intimidate the Latino community.

Sheriff Arpaio blames most crime in Maricopa County on the immigrant community. However, an informed analysis of crime patterns paints a very different picture. During my three-year tenure as police chief in that city, serious crime dropped by 30 percent.

In contrast, in areas policed by Arpaio, violent and other serious crime increased substantially.

The only difference between Mesa and the areas policed by Arpaio's deputies was our focus and style of policing. In Mesa we concentrated our efforts on building strong working relationships with all of our communities including the Latino immigrant community.

Consequently, our residents mostly trusted the police and felt comfortable reporting crimes and working with law enforcement to make our city safer. Immigrants did not have to fear the Mesa Police Department.

Arpaio, on the other hand, preferred to spend his time demonizing Latinos and rounding up immigrants, frequently detaining U.S.- born Latinos and authorized immigrants until they could prove their status in the country. Arpaio's approach not only created community mistrust; it also diverted limited police resources away from addressing violence and serious crime.
---
A FAREWELL TO GORE VIDAL, AN INCANDESCENTLY ELEGANT MASTER OF LANGUAGE & THOUGHT
Here's the opening to the LA Times obit by Elaine Woo.
Gore Vidal was impossible to categorize, which was exactly the way he liked it.

The reading public knew him as a literary juggernaut who wrote 25 novels —from the historical "Lincoln" to the satirical "Myra Breckinridge" — and volumes of essays critics consider among the most elegant in the English language. He also brought shrewd intelligence to writing Broadway hits, Hollywood screenplays, television dramas and a trio of mysteries still in print after 50 years.

When he wasn't writing, he was popping up in movies, playing himself in "Fellini's Roma," a sinister plotter in sci-fi thriller "Gattaca" and a U.S. senator in "Bob Roberts." The grandson of a U.S. senator, he also made two entertaining but unsuccessful forays into politics, running for the Senate from California and the House of Representatives from New York.

In other spare moments, he demolished intellectual rivals like Norman Mailer and William F. BuckleyJr. with acidic one-liners, establishing himself as a peerless master of talk-show punditry.

"Style," Vidal once said, "is knowing who you are, what you want to say, and not giving a damn." By that definition, he was an emperor of style, sophisticated and cantankerous in his prophesies of America's fate and refusal to let others define him.

Iconoclastic author, savvy analyst and glorious gadfly on the national conscience, Vidal died Tuesday at his home in the Hollywood Hills from complications of pneumonia, his nephew Burr Steers said. He was 86.
I met and chatted with Vidal only once a few years ago, at a PEN USA awards dinner. He was failing physically, but not mentally, in the least. (Nor, frankly, were his flirtation skills at all dampened.) I have been grateful ever after for those delight-filled moments.
---
Photo courtesy of the CDCR