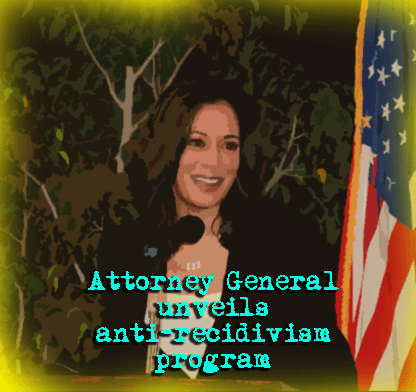 AG KAMALA HARRIS ANNOUNCES COMPREHENSIVE NEW LOS ANGELES PROGRAM TO LOWER RECIDIVISM
On Thursday, California Attorney General Kamala Harris announced a welcome new LA County recidivism-reduction pilot program called "Back on Track LA."
Participants will receive a case manager and 12-18 months of education and other crucial re-entry services while incarcerated, and 12 more months of services once they are released. Inmates eligible for participation will be non-violent non-sexual offenders between the ages of 18-30.
Here's a clip from AG Harris' website:
"We must reject the false choice of being 'tough' or 'soft' on crime," Attorney General Harris said. "It is time for smart on crime policies that keep our communities safe, hold offenders accountable, and reduce our prison population. Back on Track LA will work to reduce levels of recidivism by connecting offenders with the education and job opportunities that get their lives back on track."

The "Back on Track LA" pilot program will deliver critical education and comprehensive re-entry services before and after an individual is released from jail. The pilot program will build on LASD's "Education Based Incarceration Program," through a partnership with the Los Angeles Community College District – specifically, Los Angeles Mission College and Los Angeles Trade Tech College to provide higher education opportunities for incarcerated participants that include prerequisites to community college degrees, credentials and certificates. The program will focus on the critical time following an individual's release from jail, by providing the seamless re-entry services essential for success, including employment and life skill services.

"Back on Track LA" will emphasize accountability by assigning participants a case manager or coach to develop a plan that holds individuals accountable to their families, communities and victims.

Individuals will be enrolled in the pilot program for 24-30 months—divided into 12-18 months in-custody and 12 months out-of-custody. Participants will consist of non-serious, non-violent and non-sexual crime offenders between the ages of 18 to 30 years old who are incarcerated in the LASD jail system following the implementation of Public Safety Realignment.
---
HOW WILL LOS ANGELES PAY FOR ITS NEW JAIL?
Now that the Los Angeles County Supervisors have approved a plan for replacing the crumbling Men's Central Jail with a price tag nearing the $2 billion mark, county officials have to figure out how to fund such a costly undertaking. The county will likely have to issue bonds, which could require a tax increase, but there may be additional ways to pay for the new jail.
The LA Daily News' Christina Villacorte has the story. Here's a clip:
As with most big government projects, the funds are likely to come from borrowing through the issuance of bonds. But whether repaying those bonds will require a tax increase is yet to be determined.

"There's no other way to fund this than out of the general fund, so the county is going to have to borrow money," Supervisor Zev Yaroslavsky said in an interview.

He warned that servicing the debt, and paying the interest, would be "very expensive."

But Chief Executive Officer William Fujioka said the county seems to have the capacity to issue bonds for the jail plan, which includes tearing down Men's Central Jail in downtown Los Angeles and then building a Consolidated Correctional Treatment Facility in its place, as well as renovating Mira Loma Detention Center to accommodate female inmates.

"Right now, our level of debt is extremely low, very low," Fujioka said Tuesday in response to a question from Supervisor Michael Antonovich during a public hearing.

[SNIP]

Voter approval would be necessary if the county were to issue general obligation bonds, which would likely be repaid through a tax increase. But for previous infrastructure projects such as the Bob Hope Patriotic Hall and the acquisition of electronic health records systems, the county instead issued general indebtedness bonds, which do not have to be placed on the ballot for approval and don't require tax increases.

County Assistant CEO Ryan Alsop said another way to finance the jail plan is by asking the state of California to cover at least a portion of the bill. He pointed out AB 109, also known as Gov. Jerry Brown's prison realignment program, diverted thousands of inmates from state prisons to local jails.

"As a result of AB 109, Los Angeles County is now operating the population equivalent of two to three state prisons without the necessary infrastructure or adequate resources to do so," Alsop said. "Something must be done."

"The governor has proposed $500 million towards (jail funding) in his January budget, most of which we would like to see allocated to counties like Los Angeles, who have been hit the hardest by AB 109," he added.

[SNIP]

The board gave the CEO up to 60 days to come up with a plan for financing the infrastructure projects, but Yaroslavsky is worried that the $1.7 billion price tag may be understated.

He said Vanir Construction Management, which provided the estimate, said the numbers should change.

"They told the board that the (almost) $2 billion estimate of construction could go up by 30 percent, could go down by 30 percent," he said.
---
KPCC'S FRANK STOLTZE PROFILES TODD ROGERS
KPCC's Frank Stoltze interviews Assistant Sheriff Todd Rogers as part of Stoltze's ongoing series on the LASD Sheriff's candidates. (Stoltze also has profiles on James Hellmold, Bob Olmsted, Paul Tanaka, and Jim McDonnell that are worth reading, if you missed them.)
Here's a clip from the Rogers story:
Rogers, 52, is relatively new to the position of assistant sheriff. Only a handful of people hold that rank, which is just below the undersheriff — the number two person in the department.

Last year, then-Sheriff Lee Baca promoted Rogers to assistant cheriff from his rank as commander, leapfrogging the rank of chief. Some have accused Rogers of cutting a deal with Baca by promising not to run against him. Rogers had been weighing a challenge to the powerful sheriff for several years.

"I did not sell my soul," Rogers says. "I agreed to help him reform the Department."

When Baca abruptly resigned in January, he named Rogers as a "highly qualified" candidate, prompting some to suggest he is too close to the old regime to be a reformer.

Rogers says while he respected the sheriff for some of his policies, there clearly was a "catastrophic failure of leadership." He and Baca had "plenty of differences," especially over the sheriff's penchant for pet programs. One program involved assigning deputies to monitor social media.

"We had over 400 deputies on loan from street patrols to these unfunded programs," said Rogers, who oversees the department $2.8 billion budget.

Like his fellow candidates, Rogers doesn't have much name recognition with voters. But his campaign got some attention for a hilarious online ad featuring the cast of Comedy Central's former sitcom "Reno 911." Rogers knows the cast because the show was taped at the Carson station.

This isn't to suggest Rogers isn't a serious law enforcement executive. He's one of a growing number willing to look at crime as a health problem.

The 28-year veteran, who holds a master's degree in criminal justice from Cal State Dominguez Hills, described how he began a program where a deputy developed customized treatment plans for at-risk kids and young adults in collaboration with a panel of community-based experts in Carson.

"We can't have one cure for every disease," Rogers says. "We can't have one cure for every kid or young adult that shows an inclination to be a gang member."
---
R.I.P. FARLEY MOWAT
Farley Mowat, kilt-wearing Canadian author of 45 books, including Never Cry Wolf, has died at the age of 88.
Mowat's publisher and friend, Doug Gibson, fondly remembers the environmentalist author on NPR's All Things Considered. Take a listen.