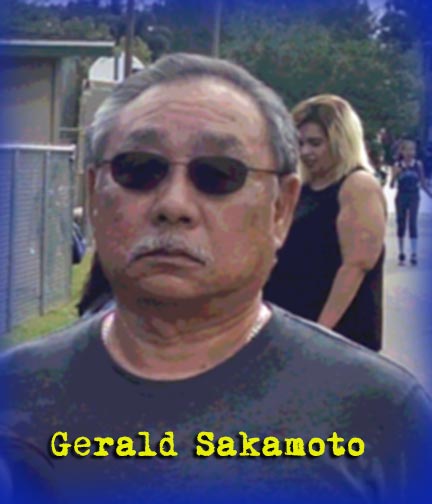 CALLING TO MIND THE MITRICE RICHARDSON CASE, A 71-YEAR-OLD WITH MENTAL HEALTH ISSUES IS FOUND DEAD THREE DAYS AFTER RELEASE FROM LASD CUSTODY
On Monday, the body of Gerald Sakamoto, a 71-year-old suffering from bipolar disorder and possible dementia, was found in a maintenance yard in downtown Los Angeles.
California Highway Patrol officers reportedly arrested Gerry Sakamotoin the wee hours of Friday morning on suspicion of driving under the influence. The septuagenarian had left his home late Thursday night, and likely had not taken his medication, his daughter, Mindy Brink, told ABC7. Family members had been searching for him when they received a call from the Los Angeles Sheriff's Department, notifying them of Sakamoto's arrest.
When Sakamoto's wife called the county jail, she was told to wait and call back six to eight hours later.
Despite reportedly being informed by Sakamoto's family about the state of his mental health, the aging man was released from the downtown Inmate Reception Center around 7:30p.m. on Friday evening without any money or a cell phone, according to City News Service.
Everyone who is released from LASD custody is "offered the opportunity to stay in custody up to 16 hours, or until daylight hours, to arrange transportation or to contact service providers," the sheriff's department said in a statement. But Sakamoto reportedly did not want to stay, and officers did not identify the man as needing any special assistance. Gerald Sakamoto's body was found three days later.
Some are comparing Sakamoto's story to that of 24-year-old Mitrice Richardson who disappeared in 2009 after she was released in the middle of the night from the Los Angeles County Sheriff's Department's Malibu/Lost Hill's station.
Richardson was released far from home, in an area unfamiliar to her, without her cell phone, her purse, her car or any other practical form of transportation. A year later, in 2010, the young woman's partially decomposed body (and pieces of her clothing 100 feet away) was discovered by park rangers in an out-of-the-way area of the Santa Monica Mountains known as Dark Canyon. In February, six years after Richardson's remains were found, the Office of California Attorney General Kamala Harris agreed to launch a formal investigation into the way the Los Angeles Sheriff's Department handled the case.
"That Gerald Sakamoto met the same fate as Mitrice Richardson is incomprehensible," said Ronda Hampton, a clinical psychologist and friend of the Richardson family, who has been calling for justice in Mitrice's death. "How many people who are suffering a mental health episode have to die before things are truly changed with regards to releasing inmates?"
ABC7's Eileen Frere and City News Service have more on the the story about Mr. Sakamoto's disappearance and death.
---
SAN FRANCISCO TESTING OUT RACE AND GENDER-NEUTRAL PRE-TRIAL RISK ASSESSMENT
Since May, San Francisco has been experimenting with pre-trial risk assessment tool developed by the Laura and John Arnold Foundation to helps judges determine how likely a person awaiting trial is to skip court or reoffend. Using factors such as a defendant's prior offenses, whether the defendant has been incarcerated before, the pending charge(s), and the defendant's record of showing up to court, the computer algorithm—called the Public Safety Assessment—produces a recommendation either for or against the individual's release. Then, judges have the option of following the recommendation or rejecting it.
The risk assessment tool that San Francisco is testing out—thanks largely to the efforts of SF District Attorney George Gascon—is unique in that it does not consider other, potentially discriminatory factors such as race, gender, education level, employment, and neighborhood, unlike many other risk assessment algorithms that are often used in sentencing and to determine eligibility for early release and rehabilitative programs.
San Francisco isn't the only jurisdiction using the Arnold Foundation's PSA model. More than 20 cities and states have adopted or are piloting the program, including Santa Cruz, CA.
The cash bail punishment-until-proven-innocent system has a disproportionately negative impact on poor and minority Americans, and contributes to overcrowding in jails. (John Oliver has an excellent segment on the horrors of the cash bail system, if you are unfamiliar.)
The SF Chronicle's Vivian Ho has the story. Here's a clip:
Basing bail decisions on a cold assessment of risk brings the system back to its original purpose, proponents say — keeping those who could be dangerous off the streets, regardless of their ability to post bail. Still, the rollout of the algorithm hasn't been without tension, and some are frustrated with what they are seeing in San Francisco.

Prosecutors and defense attorneys say they have encountered results from the assessment they do not agree with. Meanwhile, they say, some judges are often refusing to follow the release recommendations.

"I think it has the potential to be a move in the right direction, but when it is watered down or misunderstood or rejected unreasonably, then it's not clear what good it will do," said Deputy Public Defender Danielle Harris. "We were excited about having more research and more data being brought into decision-making, but we've been disappointed."

She said prosecutors sometimes ask for high bail or no release despite the tool's recommendations and District Attorney George Gascón's support of the algorithm.
---
SOCAL PARENTS PUSH FOR END TO GENERATIONAL VIOLENCE
Approximately 800 LA-area parents—mostly mothers—came together last weekend at the California Science Center as part of a parent-led campaign (in partnership with more than 30 organizations) to reduce gun violence by having important conversations with their children, by working to reduce domestic violence, and by promoting positive parenting, among other efforts.
KPCC's Dorian Merina has the story. Here's a clip:
By starting at the family level – and by focusing on the welfare of young children – participants hope to spur a change that can then expand to the neighborhood.

"With this program, with these workshops, with these trainings, [families are] starting those conversations that haven't been started in the past," said Bedolla.

Maribel Cepeda said she joined after her child's bout with chemotherapy treatments spurred her to find ways to support his recovery and find healthy alternatives for the youth in her neighborhood.

"Sometimes, when children go out from the house, there's so much violence," said Cepeda, 45, in Spanish. "That's what we're dealing with now."

At home, that can be complicated by a reluctance to talk openly about violence.

"A lot of times, we don't say anything, we remain quiet," she said. "Sometimes even in our own families, we endure it and we don't even realize it."

She soon became one of the parent leaders that met weekly at Richardson Park. Like most of the other participants, Cepeda is a Spanish-speaking mother with an immigrant background. Like others, she also lives in neighborhoods that, according to LAPD statistics, chart more violent crime than other areas of the city. She spoke on the sidelines of Saturday's event, which at one point, featured a scripted performance by parents that depicted a peaceful resolution to domestic violence and ended by girls walking into the crowd to hand out roses to the parents.