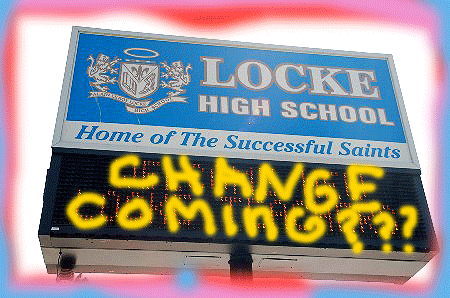 Well, they voted….and the Steve Barr/Green Dot/Locke charter contingent won, at least this round. But the lay of the land that was glimpsed today presages a win in the up-or-down vote that will take place at the LAUSD board meeting on September 11.
"I think Admiral Brewer realizes that," said Locke teacher/activist, Bruce Smith, "and that's one of the reason he's with us."
Put another way, the winds of history are at the backs of the charter folks, and the smart money says that anybody who obstructs this move will, when all is said and done, be blown to the sidelines.

"The thing is," said Steve Barr this afternoon, as he, Bruce Smith, and axed Locke principle, Frank Wells, were sharing a victory chat, "the Locke teachers initiated this. We didn't approach them."

Barr also says that he's specifically not making an effort to retrieve the rescinded signatures (although some have retracted their retractions anyway), "because I refused to validate the idea that the union can put all the teachers into lock down and keep them there until they've managed to intimidate the hell out of everyone and get people to rescind what were honest signatures gathered over a period of weeks.

"Look," he says, "if our petition gets challenged, we'd be happy to have a public hearing on the whole thing. We know that our signatures have been verified both by Greg McNair (LAUSD's director of charter schools) and by the LA Times. So, if we really delve into how [the district and the union] got the signatures rescinded, they might not like what we're going to find."

Barr has also, he says, had conversations with California Attorney General Jerry Brown, who is an old friend and political ally and has indicated he'll look positively on the Green Dot/Locke petition issue.

"But I think Duffy and I are 60 percent there," he says, and relates how a month or two ago, UTLA prez, A.J. Duffy had agreed to go out to Locke for a public one-on-one discussion with Barr at the invitation of sixty of Locke's teachers, but the Locke union chapter chair spiked the event, so it never took place.
Yet, the truth is, if the petition is approved, it won't really matter what A.J. Duffy thinks or does.
In the meantime, Barr and company are going ahead at Locke in anticipation of a positive outcome in September. "We have the beginning of a design team. We're acting as if it's going to happen because it is going to happen. And, I'm telling you, it's going to be great." As he says this last, Barr's voice drifts into a timbre that is part cheerleader, part head coach, part religion-hawking visionary. It is a tone that many—try as they might—find hard to resist.