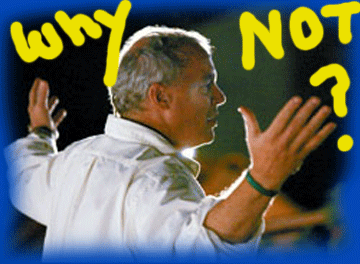 Tuesday (today, by the time most of you read this) is the day that the LAUSD board will decide whether or not it wants to jump into the drama that unfolded last spring around Locke High School. More specifically, the board will vote Tuesday morning on a resolution introduced last month by new board member Richard Vladovic, which would mandate an up-or-down vote by the board on the the Locke/Green Dot charter petition.
If that sounds overly complicated, let me refresh your memories: Last May, Green Dot and Locke's activist teachers formally submitted a petition asking for the low scoring high school to be converted to a charter school, with Green Dot the administrative entity. The petition was signed by approximately 60 percent of Locke's 73 tenured teachers. The Green Dot supporters only needed 51 percent, to legally trigger a charter conversion. So, bingo, the charter was all set to be mandated…..but…..
…. the Empire Struck Back. Furious union and district officials met with teachers, then bullied, hectored and scared the bejeezus out of them. The upshot was, seventeen of the teachers rescinded their signatures, thus dynamiting the charter majority. (Whether all this rescinding is legal or not, is up for debate, but in any case, there was now a cloud over the petition. )
While they were at it, district officials also fired Locke's principal, Dr. Frank Wells, for supporting the charter move, and demoted Bruce Smith, the senior teacher who was a leader in the charter fight. (He told me that, last week when he got his paycheck, instead of getting around $40 an hour he got $31.86, another questionably legal move on the part of district apparatchiks.)
Many disgruntled district watchers (myself included) then called on the newly reconstituted LAUSD board to prove their would-be-reformist mettle and thus step in and settle the issue. Whether or not they choose to be….as Mr. Bush might say….the deciders, is what is up for a vote today.
The drama was upped a few notches last Wednesday, when in a surprising turn of events, LAUSD Superintendent, Admiral Brewer, came over to Locke and, in a meeting with the faculty, publically supported the charter conversion. Since that time, six teachers have rescinded their rescinding—with another half-dozen still on vacation rumored to be planning to do the same.
So….this brings us to this morning's meeting. Eight union people will speak against the charter conversion, with four speaking for it. (Weirdly, there were only eight speaker spots and the union simply gobbled them all up. It was only after the Green Dot group launched a strong protest that four additional speakers spots were opened up. Gee. How debate friendly!)

But here's the thing: the stakes here are far greater than the fate of one inner city high school. The Santee teachers have told me they are watching Locke carefully to determine how they might fare with a similar movement. And if Locke and Santee both went Green Dot charter, what other high school dominos might then fall?
(It is telling that state senator Gloria Romero—who has recently let it be known that she plans to run for State Superintendent of Schools—made a point of meeting with some of Locke's charter-supporting teachers earlier this month.)
If I was in town, I'd be down at Beaudry Street watching the board vote. But I'm not, thus I'll rely on nefarious spies, education radicals and rogue informants.
So stay tuned.

(And, yes, that is Steve Barr in the photo.)