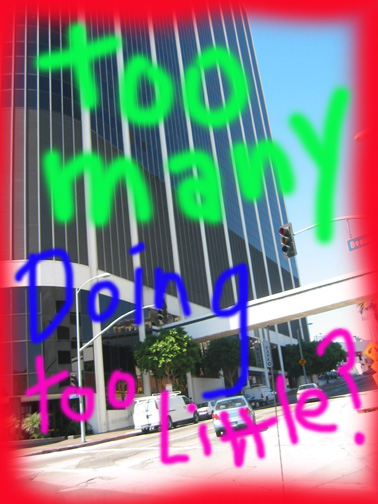 With all the drama yesterday around the Wall Street bailout (or lack thereof), I didn't post this story by the Daily News' Beth Barrett about LAUSD's 20 percent increase in its number of administrators between 2001 and 2007.
It's a relevant piece of journalism, but it contains a dicey editorial decision that has some people justifiably angry. However, we'll get to all that in a minute. First here are some clips from the story:
On the edge of downtown Los Angeles, overlooking the 110 Freeway, stands a 29-story office building that boasts many of the trappings of a modern corporate headquarters: a cafeteria with flat-screen TVs, a state-of-the-art media production center, an on-site dry-cleaning service.

The tower is the headquarters of the Los Angeles Unified School District – home to more than 3,400 employees. They are the core of a massive bureaucracy that has surged in recent years even as the number of students and teachers has dropped.

[SNIP]

Managing almost 900 schools and more than 650,000 students is a huge task. But a Daily News review of salaries and staffing shows LAUSD's bureaucracy ballooned by nearly 20 percent from 2001 to 2007. Over the same period, 500 teaching positions were cut and enrollment dropped by 6 percent.
In addition to the article that outlines the broad strokes of the LAUSD administrative over-bloat, Barrett and the Daily News also contend that administrators' salaries are high, and thus have provided a searchable database, so that we-the-readers may look for ourselves.
The database is, to say the least, a controversial move, as was the DWP salary database that the DN published earlier.
The teachers union (UTLA) is extremely upset at the teacher salary postings. .
Although I favored the DWP database at the time, as it revealed so much excess, I too find I am made very queasy by the DN's choice to put the names and salaries of school teachers online. It is legal? Yes. But is it right? I'm not so sure.
DN executive editor, Caroline Garcia, explains the paper's thinking here.
In the days prior to this story being published, we heard from many teachers who feel that their privacy is being violated, and who asked us to not publish their names and salaries. While we have enormous respect for teachers, and understand their concerns, we believe that we should treat every LAUSD employee equally. The Daily News did the same in previous examinations of other public employees, and this report is part of our continuing effort to provide the public with information about how its tax dollars are being spent.
The DN also has a related editorial that says the following:
It's not just its size that makes the LAUSD a bloated bureaucracy. It's the cost of that administrative bloat: $490 million. More than 3,500 of the district's employees earn more than $100,000 – and most are not teachers.

In fact, the LAUSD's teachers, who toil in some of the most dangerous classrooms in the country, have comparatively modest salaries – about 17 percent less than in nonteaching jobs. That doesn't signal the priority on education that the district needs. Worse still, the LAUSD's teachers on average earn less than their counterparts in other large cities such as San Francisco.

This information is particularly important given that Angelenos are about to decide whether to give $7 billion more of their money to the district to maintain and upgrade facilities. Voters ought to know how their money is being spent before deciding, in these precarious economic times, whether to shell out more.
Okay, fair enough, I guess. As we face cuts to education budgets on both a statewide and a national level, the fact that our school district still has an administration that seems to metastasize uncontrollably is information worth knowing before we choose to fork over more tax-payer bond money.
(Interesting factoid: Most of the 24 people who make between $175K and $200K at the district are LAUSD's lawyers.)
What the database does not include—and what I wish it included—is the enormous fees paid to outside consultants, who are not salaried employees.
And as a WLA commenter just noted, the Daily News simply puts the database out there without any attempt meaningfully analyze what's in it. So, is there really a point? Or is it merely discovery for discovery's sake?
It is heartening, I suppose that Barrett also reports that Ray Cortines is determined to cut through the bloat.
"I'm going to eliminate (administrative jobs), I'd say, by hundreds for next year out of necessity," said Cortines, "but also because I believe … they should be in the (schools) and local districts."
Let's hope he actually does it. And, granted, it often takes articles like Barretts' to spur bureaucracies into action.
But in order to report on the district's administrative intemperance, did the Daily News really need to invade the privacy of our hardworking, usually underpaid rank-and-file school teachers?
No. I don't think so.
*************************************************************************************************************
P.S.: Beth Barrett is a longtime investigative journalist who has been at the Daily News since 1986, and has broken a list of high profile stories in the years in between then and now—including the I.D. of Villaraigosa's mistress. She is leaving the paper shortly.