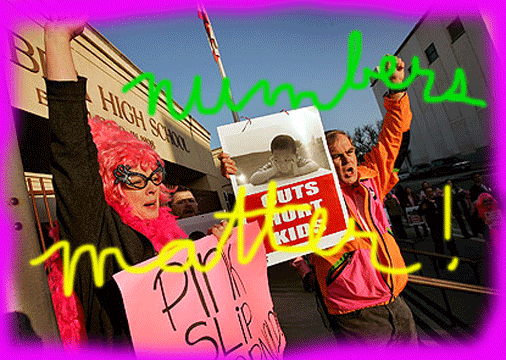 When I teach at either USC or UC Irvine, class size is a big deal. In the workshops I teach at Irvine, my class size varies between 15 and 20 students, depending upon how many other workshops are offered at any given time. (When there are more workshops, we can spread the students out.)

The difference between teaching 15 students in a workshop setting, and teaching 20 …. is huge. Fifteen is fine. Good actually. With just five more, I have to run every class with an egg timer right beside me, meaning each student gets a ridgedly controlled amount of time to get his project critiqued in class—even if he or she needs more. And I simply can't fit in many of the things that I am able to teach when the class is smaller.

Even the difference between 18 students and 20, is a big deal. It may sound crazy but, I know this from experience. We all agree that 12 is the ideal number of students in these workshops. But 15 is okay. Any more than that, and the students suffer measurably.

I bring up the issue because of the because of the news about the newest totals of teacher pink slips that came out of yesterday's meeting of the Los Angeles Unified School Board.
At the meeting, superintendent Ray Cortines laid out the cuts he proposes to make in the LAUSD budget—now that he's figured it what the district will get from the stimulous package. They include 8400 staff layoffs, 4700 of those layoffs are teachers.

According to Cortines and his office, the teacher layoffs will change student-to-teacher ratio in the classroom in the following way:

In elementary school, which will be hardest hit by the cutbacks, the ratio for kindergarten through third grade would go from 20 to 1 to 24 to 1.

In middle schools, the ratio would change from 36 to 1 to 38 to 1 in middle school. In some high schools, it will be a change from 40 to 1, to 42 to 1.
The class size reductions down to 20 students per teacher that were mandated for 9th grade math and English classes—the two subjects that students most need to master in order to graduate—will evaporate.

If adding five more students is such a big deal in my classes—and I teach college seniors—what kind of difference will it make for first graders? Or third graders?

Plus, I've observed that LAUSD doesn't keep to its stated numbers anyway. When the district says 40 in a classroom, the real number is often 45 or, as in the case of one ESL class I saw listed at Jefferson High School, a jaw-dropping 56. (That can't be legal, right?)

We all understand that the district must make draconian cuts given our present economic situation. But student teacher ratio must be last on the chopping block.
And when i say last, I mean, that we cannot let it happen.