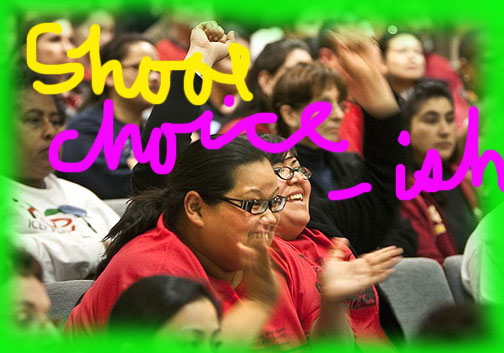 22 LAUSD SCHOOLS GIVEN TO LA TEACHERS TO RUN—HIGH PROFILE CHARTERS COME UP EMPTY
At LAUSD school board meeting Tuesday In a large win for UTLA, the teachers' union, 22 schools were handed off to the districts' teachers to reorganize. That was 22 out of the 30 that were that were up for grabs as part of the controversial school choice plan. Three of the 30 were given to the mayor's group to reorganize and another three were given to charters, with one last school given to some kind of partnership between teachers and charters and—I don't remember who else..
And a most perplexing decision, three charter school operators were yanked completely out of the mix: the Alliance for College-Ready Public Schools and ICEF Public School—and Green Dot (which only bid for one school). In other words, the charter companies that are best known for their success in running schools in Los Angeles County.
"We missed an opportunity to make bold change today," the Daily News reported that school board member Yolie Flores said grimly. Flores, who was the one who authored the district's School Choice plan, was not a happy camper. "Clearly, there is a line of board members that are still beholden to unions. I am beholden to children."
Howard Blume at the LA Times has the best account of what was evidently a very wild, very woolly day.
Hey, we all hope for the best.
---
Photo by Brian Vander Brug for the LA Times