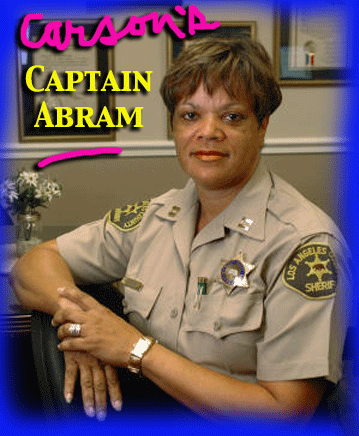 Bernice Abram, the personable captain of the Los Angeles Sheriff's Department station in Carson, was placed on administrative leave last April when FBI agents believed they may have heard Abram's voice on a wiretapped phone conversation involving Compton drug dealers. (Abram's niece, a sheriff's custody assistant named Chantell White, was placed on leave at the same time.)
Now the LA Times reports that a sheriff's deputy working in the department's Compton station has filed a complaint alleging that Abrams not only got in the way of his investigation of suspected narcotics ring leader, Dion Grim—with whom Abrams reportedly had some sort of ongoing friendship—but that the Carson captain actively plotted with Grim to drum up citizen complaints against the deputy in order to get him out of the area.
Here's a clip:
Although Abram denied knowing Grim in an interview with The Times last summer, Grim's attorney, Marilyn Bednarski, said her client did in fact know the captain. She said she knew of nothing to suggest the relationship was improper.

A top Sheriff's Department official said Abram brought Grim to department functions.

"I had no reason to suspect that anything was other than on the up and up," Assistant Sheriff Cecil Rhambo said. "She's in law enforcement. She's a friend. I still don't even know what's going on with this; of course I'm shocked."

But one sheriff's deputy is accusing Abram of conspiring with Grim to deflect law enforcement attention away from his alleged gang associates in Compton.

Deputy Michael Haggerty filed an administrative complaint against the county last year, alleging that he had been unfairly transferred from a coveted assignment because of Abram. In his sworn statement, Haggerty alleged that the FBI secretly recorded Abram talking to Grim and plotting to manufacture citizen complaints against him so he'd be transferred out of Compton. At the time, Haggerty said he had been aggressively investigating Grim and the Front Hood Crips.
Abram, if you'll remember, is one of those whom department sources told us was part of Undersheriff Paul Tanaka's inner circle.
To date, the department's internal investigation into the allegations against Abrams has been going on for nine months and the Carson station remains without an active captain.
---
NOTE: More about non-LASD news tomorrow, I promise. We actually do know there are other events going on the world.
For instance, it's REALLY important for us all to note that California's newly arrived, two-ish-year-old lone wolf—known as OR 7—has strayed still deeper into our fair state looking for love (the poor thing). Kevin Roderick has more at LA Observed.
By the way, OR 7 is reportedly a descendent of the Yellowstone Pack that was reintroduced into the greater Yellowstone area in 1995 after being hunted out of existence in the region in the 1930s.