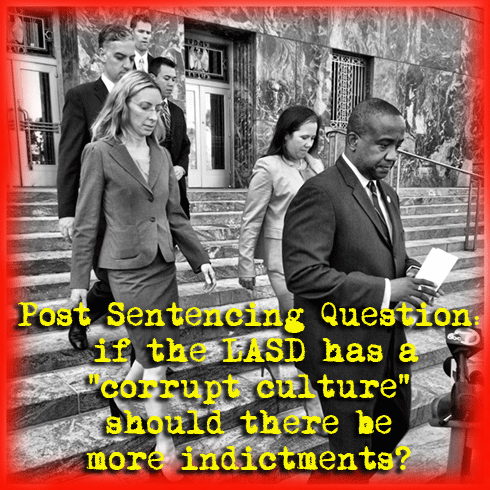 DO THE RECENT SENTENCES OF THE LASD SIX POINT TO A "TOXIC CULTURE" IN NEED OF REFORM OR A "FEW BAD ACTORS"…?
A new LA Times editorial rightly points out that— contrary to what Sheriff John Scott has apparently said—"the sentencing Tuesday and likely imprisonment of six sworn Los Angeles County sheriff's deputies, sergeants and lieutenants does not reflect merely the actions of a 'few' bad actors."
The Times' statement—which is really a rather sizable understatement—also applies to the rest of the 21 indicted department members, whose cases, which primarily involve brutality and corruption in the jails, will be coming to trial later this year and early next year. Those indictments do not represent "a few bad actors" either.
When the six, who were just sentenced this week, were convicted of obstruction of justice last July, then U.S. Attorney Andre Birotte talked about "criminal conduct and a toxic culture" inside the Los Angeles Sheriff's Department that the convictions represented.
"These defendants were supposed to keep the jails safe and to investigate criminal acts by deputies," said Birotte. Instead they "took measures to obstruct a federal investigation and tamper with witnesses…. While an overwhelming majority of law enforcement officials serve with honor and dignity, these defendants tarnished the badge by acting as if they were above the law."
Yet while all this tarnishing was going on, someone—or more accurately several someones—gave the various orders that resulted in hiding a federal informant, threatening an FBI agent, and intimidating witnesses in a federal investigation. Furthermore, it was a deeply-entrenched culture of arrogance, everyday corruption, and a venomous us-against-them contempt for anyone outside certain favored circles—a culture that had, for years, emanated from the LASD's highest levels—which made orders to obstruct justice seem perfectly natural to seasoned department members who should have known better.
It was that same psychological environment—which U.S. District Court Judge Percy Anderson labeled a "corrupt culture" on Tuesday as he handed out sentences—that allowed for the actions of those who have been indicted and will likely be convicted for allegedly blithely brutalizing jail inmates and visitors. After all, such behavior had long carried with it little threat of adverse consequences. In fact, some of those in charge even signaled tacit approval.
Here's more of what the Times wrote:
They earned their sentences; but as obstructors rather than defenders of justice, they were not self-taught. They operated within an ingrained culture of contempt, mismanagement, dishonesty and gratuitous violence. It is important to remember that they were trying to block a probe into the widespread use of excessive force, and that such force has been documented against visitors as well as inmates in Los Angeles County jails. It is important to keep in mind also that the department's Antelope Valley stations were found to have engaged in patterns and practices of racially based discrimination and unconstitutional stops, searches, seizures and detentions. Settlement talks are ongoing in a lawsuit alleging that top sheriff's officials condoned a pattern of violence against inmates. A court-appointed monitor is operating under a similar lawsuit alleging mistreatment of mentally ill inmates going back decades, and the U.S. Department of Justice advised the county earlier this year that it too would go to court over treatment of the mentally ill in the jails. Meanwhile, a Times investigation found fluctuating hiring standards that sometimes drop so low as to suggest the department will hire, at times, almost anyone.
In other words, despite the many decent men and women who daily do good, honest, tough-but-fair-minded work as members of the Los Angeles Sheriff's Department, this is an agency still in deep trouble, and reforming it in any meaningful way is going to be a challenging endeavor.
Which brings us back to the sentences handed out on Tuesday: at the risk of sounding like a broken record, we truly hope that this summer's convictions are simply the starting point, and that the government's prosecutors go on to indict some of those who gave the orders that have resulted in six department members losing their careers and—barring some kind of appellate intervention—heading for prison. (More accurately, make that seven department members, counting James Sexton, whose retrial and conviction is another topic altogether, which we'll discuss at a later time.) Such additional indictments would signal, with more than mere rhetoric, that it is the department's culture as a whole that needs fixing, not just the actions of 21 individuals.
---
LISTEN TO WHICH WAY LA? ON TUESDAY'S SENTENCING
Which Way LA? with Warren Olney did a show on Tuesday's sentencing of the six LASD department members that features Brian Moriguchi, president of Professional Peace Officers' Association (PPOA), and Peter Eliasberg, legal director for the Southern California ACLU. It's definitely worth a listen.
---
---
ERIC HOLDER RESIGNATION: WHO WILL COME AFTER AND WILL THEY PAY ATTENTION TO JUVENILE JUSTICE & SENTENCING REFORM?
Attorney General Eric Holder's surprise announcement Thursday of his resignation has many speculating who will replace him.
For justice activists Holder has been a mixed bag. They point to his unwillingness to prosecute "too big to jail" banks and others responsible for the 2008 financial crisis, and his support of government spying, and the like.
Yet in the last few years, Holder has become very active in the criminal justice reform arena, particularly when it comes to disparities in sentencing, and issues of juvenile justice.
So, as the speculation revs up about who will replace Holder, activists are preemptively worrying that many of the justice reforms Holder has recently supported, will not be a priority for his successor.
Interestingly, Yahoo News and CNN put Kamala Harris on their list of possibles, while the New York Times did not. (Thursday, Harris issued a statement saying she intends to stay in California.)
Here are the Wall Street Journal's picks, which also include Harris. And here's USA Today.
We will, of course, be keeping an eye on the matter of Holder's replacement—with justice issues in mind—as it unfolds.
---
A HEAD START & TRAUMA SMART PRESCHOOL PROGRAM HELPS KEEP STRUGGLING KIDS IN SCHOOL
Some kids are so adversely affected by trauma at an early age that when they show up at preschool they have trouble behaving appropriately. In the past, teachers tended to expel such acting out-prone children from preschool programs, not always out of lack of compassion, but because they simply didn't know what else to do.
Then in 2005, a study startled educators by showing that preschool kids were three times more far more likely to be suspended or expelled than those in any of the K-12 grades—numbers that have continued to worsen in the years since.
Recently, however, certain preschool programs around the country have begun experimenting with methods that address the causes of trauma-based behaviors in young children that, in the past, risked derailing a three or four-year-old's academic future before it ever started.
The PBS Newshour with host Judy Woodruff and correspondant Molly Knight-Raskin looked at one such program last July. And, as we were surveying this year's important stories on the issue of childhood trauma, we decided that this show was too important to miss.
Here are some clips:
Every year, thousands of children in this country are expelled from school before they reach kindergarten. In fact, studies show that preschool children are expelled at significantly rates than those in kindergarten through 12th grade.

Special correspondent Molly Knight Raskin reports on a program in Kansas City, Missouri, that's trying to stem this trend by looking beyond the classroom to the issues these kids face at home.

MOLLY KNIGHT RASKIN: In many ways, Desiree Kazee, is a typical 5-year-old girl. She's bubbly, bright and affectionate. Her favorite color is pink. And she enjoys drawing and dancing.

But, two years ago, when Desiree began preschool at a Head Start program near her home in Liberty, Missouri, she didn't seem to enjoy much of anything.

[SNIP]

MOLLY KNIGHT RASKIN: Janine Hron is the CEO of Crittenton Children's Center, a psychiatrist hospital in Kansas City. In 2008, Hron and her team developed Head Start Trauma Smart, an innovative program that evidence-based trauma therapy into Head Start classrooms.

The program was created in response to the pervasiveness of trauma in the Kansas City area. Of the 4,000 kids in Head Start, 50 percent have experienced more than three traumatic events.

JANINE HRON: This is not a one-and-done kind of a bad experience. This happens over and over and over, and it becomes rather a lifestyle of trauma.

MOLLY KNIGHT RASKIN: Studies show that one in four preschool-age children experience a traumatic event by the start of kindergarten. Because so many of these children respond to traumatic stress by acting out, they prove a challenge to teachers and caregivers, who find that traditional methods of, like scolding them or putting them in a time-out, don't work. In fact, these methods often makes things worse, leading to suspension or expulsion.

Avis Smith, a licensed social work at Crittenton, explains why.

AVIS SMITH, Crittenton Children's Center: Their behaviors are so extreme, that the adults don't know how to keep everybody safe….
---
HOW LONG BEACH POLICE CHIEF AND SHERIFF CANDIDATE MCDONNELL DEALT WITH OFFICER INVOLVED SHOOTINGS
In 2013, 15 people were shot—or shot—at by Long Beach Police officers, a rate that was about twice the average for the city. Community members were very upset. Long Beach Police Chief and candidate for LA County sheriff, Jim McDonnell, was front and center as the man held responsible.
KPCC's Rina Palta has the story. Here's a clip:
Nearly a year after her son was shot and killed by a Long Beach police officer, Shirley Lowery still keeps the urn holding his remains on a makeshift alter on a bar near the back door of her house.

"I was going to deposit his ashes," Lowery said, "but I just can't let him go."

She still can't sleep well either, her mind racing.

"The other night, I woke up at 3:15 and it was like a recording," she says. "When he was born, when he learned how to walk, the first time he went snowboarding, the first time he went surfing. It keeps flashing."

Her son, Johnny Del Real, was one of 15 people Long Beach police officers shot or shot at in 2013— about double the average in the city, records show.

The rash of shootings provoked protests, lawsuits (including Lowery's current $10 million claim against the city) and questions about the tactics used by the Long Beach Police Department.

At the center of those questions was Jim McDonnell, the current police chief and frontrunner to win the job of Los Angeles County sheriff in the November election.

Darick Simpson, head of the Long Beach Community Action Partnership, said one of the men shot last year was friendly with kids in one of his group's youth programs.

When Sokha Hor, 22, was critically wounded by police, at first his family was kept from seeing him in the hospital. Public outrage ensued and a lot of kids in Simpson's program participated in protests.

But McDonnell and his staff's willingness to share information – and desire to hear the kids' side of the story – helped mitigate the tension, Simpson said.

"You know there's three sides, right? Your side, my side, and the truth of any given story," he said. "We came to a greater understanding of a truth that diffused an issue that could have been blown up into bigger than what it needed to be."

McDonnell said he reacted to the spate of 2013 shootings by looking at the evidence in each case. Most involved people who were armed with real or replica weapons.

"To try and say why is one year higher than another year is difficult," he said. "We look at each officer-involved shooting based on the merits of that shooting. The circumstances that led up to it, the tactics the officers used, the use of force itself. And then what they did after the use of force."