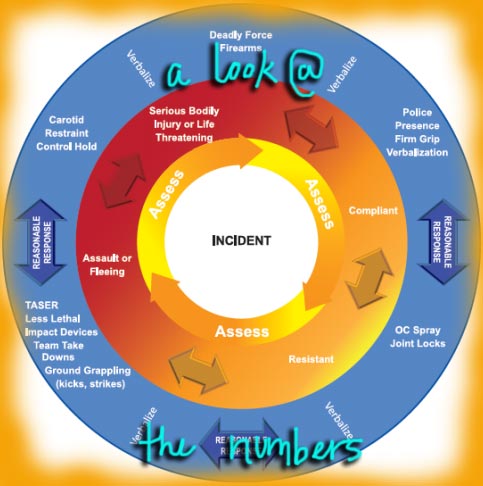 LAPD DELIVERS NEW FIVE-YEAR USE-OF-FORCE COMPARISON REPORT TO COMMISSION
In 2015, LAPD officers shot at 15 mentally ill people—a number triple that of the previous year, according to a yearly use-of-force report presented to the police commission on Tuesday.
The report compares five years of use of force data from 2011 to 2015, and "represents the LAPD's steadfast commitment to providing detailed information on the Department's uses of force," said LAPD Chief Charlie Beck. "This unprecedented analysis and amount of information will help the LAPD continuously improve our efforts to preserve life and protect the community."
Of the 1,503,758 times LAPD officers had contact with the public, .13% resulted in a use-of-force, and .003% led to an officer-involved shooting.
Out of the 48 total officer-involved shootings in 2015, 21 suspects (44%) were killed by the gunfire. (This rate is similar to that of the Los Angeles Sheriff's Department, which recorded 41% of officer-involved shootings as having resulted in the death of a suspect.) Twelve of the shootings were found to be suicide-by-cop situations. Of those shot at by law enforcement, 48% were Latino, 25% were black, 15% were white, and 4% were Asian/Pacific Islander.
Of the 38 times LAPD cops shot at suspects, 33 (or 87%) of those times, the individuals were armed. And 19 (58%) of those suspects were armed with a firearm. Three times, officers shot people they perceived to have a firearm, but were actually unarmed. The other two times cops shot unarmed suspects, the individuals had caused serious bodily injury to themselves or others.
LAPD use of tasers and beanbag guns increased 24% and 31%, respectively, over the 2014 rates. Officers' use of strikes, kicks, and punches, and baton strikes decreased 35% and 21% in 2015 in comparison to the period between 2011 and 2014.
---
THREE SAN FRANCISCO DEPUTIES INDICTED FOR ORGANIZED INMATE FIGHTS
San Francisco District Attorney George Gascón announced charges against three San Francisco deputies accused of forcing jail inmates to brawl in gladiator-style fights.
The alleged ringleader, 42-year-old former Deputy Scott Neu also reportedly made inmates gamble for food, clean clothes, and bedding. One of the brawling inmates said Neu also forced him to do 200 push-ups in an hour.
Neu was charged with 17 counts carrying up to 10 years total in state prison: four felony counts of assault under the color of authority, four felony counts of making threats, five misdemeanor counts of inflicting cruel and unusual punishment, and four misdemeanor counts of inhumanity to a prisoner.
The two other deputies involved in the inmate fight club are still employed by the SF Sheriff's Dept., and have been reassigned to positions with no inmate contact. Deputy Eugene Jones, 45, faces five criminal counts, and Deputy Clifford Chiba—who is accused of witnessing Neu and Jones forcing inmates to fight, and not making any attempt to stop them—faces three.
"Subjecting inmates who are in our care and custody to degrading and inhumane treatment makes a mockery of our criminal justice system and undermines any efforts toward rehabilitation," Gascón said at a press conference.
San Francisco Deputy Sheriffs' Association President Eugene Cerbone accused Gascón of "disrupting people's lives on the words of criminals. You're disrupting people's lives, people with families, because a drug dealer said he had to do push-ups."
The San Francisco Chronicle's Vivian Ho has the story. Here's a clip:
Gascón and Public Defender Jeff Adachi, who brought the allegations to light in March 2015, said they believed the jail fights exposed a culture in the Sheriff's Department in which bad actors were protected out of a sense of loyalty.

The deputies' conduct had been under investigation by local and federal authorities since two inmates, Ricardo Palikiko Garcia and Stanley Harris, came forward to say deputies — Neu in particular — had threatened them with violence or withheld food in order to force them to engage in fights for deputies to bet on.

Garcia and Harris said the deputies had told them that "anything goes" in the fights, but instructed them not to leave marks on the face. If they required medical attention, they were to lie and say they fell off a bunk, the inmates said.

Prosecutors charged Neu, Jones and Chiba for their alleged roles in two staged fights between the two inmates that took place on March 5 and 6 in County Jail No. 4 at 850 Bryant St., according to court documents. Neu allegedly told the inmates that he would transfer them to another jail with fewer privileges if they didn't fight each other.

Garcia, who was in custody on drug and gun possession charges but has since been released, is significantly smaller than Harris. He said the first fight had resulted in injuries to his ribs that were so painful he could not sleep on his side. Chiba was at this fight, court documents state.

Jones and Neu allegedly forced Garcia and Harris to fight again the next day, and Neu egged them on, according to court documents. The inmates said they were afraid Neu would hurt them if they refused.

"They were friends," Adachi said Tuesday. "They did not want to fight each other, but were being forced to do this and threatened that if they did not fight and did not exhibit a real fight, there would be real consequences. These two individuals were terrified when they came to us."
---
NEW FEDERAL GUIDELINES FOR TRAUMA-INFORMED JUVENILE JUSTICE FOR NATIVE AMERICANS
Tribal courts should utilize treatment, foster care, and counseling, rather than fines and incarceration for Native American kids, according to draft federal guidelines released Monday.
The new guidelines replace a 30-year-old, outdated juvenile code. The updated code would considerably limit the incarceration of Native American kids, favoring of tribal community alternatives, and emphasize kids' right to representation at all stages of juvenile court proceedings, among other changes.
Children growing up in tribal communities experience violence at a rate higher than any other race, according to a 2014 Justice Department report. Native American kids are also five times more likely than the general population to have four or more Adverse Childhood Experiences (ACEs). (Kids with four ACEs have a much higher likelihood of having emotional and physical health issues, among other serious negative outcomes.) Native American youth also face disparities in probation, detention, and residential facilities.
The draft guidelines were announced by the head of the Justice Department's Office of Juvenile Justice and Delinquency Prevention (OJJDP), Robert Listenbee, Assistant Secretary of the Dept. of the Interior's Indian Affairs, Lawrence S. Roberts, and the and the head of the Dept. of Health and Human Services' Substance Abuse and Mental Health Services Administration, Kana Enomoto.
"OJJDP and the Bureau of Indian Affairs share a commitment to work with tribal communities as they reform their juvenile justice systems," said Listenbee. "We support a developmental and trauma-informed approach to reform that better meets the needs of tribal youth at risk or involved in the juvenile justice system. The updated Code reflects such an approach."