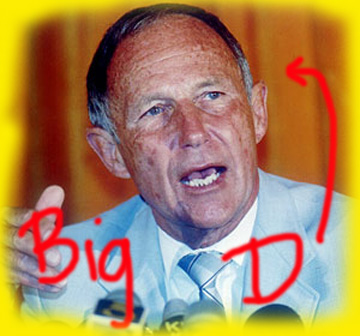 The City Council's Public Safety Committee, which can be head-bangingly irritating even on a good day—did not have a good day yesterday when it, once-again, discussed the wearying issue of Jamiel's Law and Special Order 40.
A string of LAPD types—including former LAPD Chief Daryl F. Gates—-showed up at City Hall to try to explain to the Council that, when it came to catching criminals—undocumented and otherwise—the city was much better off keeping Special Order 40 in place, rather than passing some damn fool statute like Jamiel's Law. (Except that, to my knowledge, they didn't say "damn fool." But that's clearly what they meant.)
(It should be remembered that Gates, generally considered to the be the most rank-and-file beloved of all the former chiefs, helped craft the 30-year-old order.)
Here's some of what various cops said as reported by the LA Times:
"Built into [the] special order is a part that, if somebody violates the law and the officer brings them in, the first thing they're supposed to do is notify immigration if they believe they're undocumented," Gates said. "That's in Special Order 40. But somewhere it was lost. Never, ever, ever was Special Order 40 designed, written to keep law enforcement from enforcing the law against a criminal."

[SNIP]

Police Commissioner Andrea Ordin was the first of several LAPD officials to address the council's Public Safety Committee, all of whom tried to persuade its members not to amend Special Order 40.

"We urge this board to again recognize that the current policy of the Los Angeles Police Department is the right one," she said.

Deputy Chief Sergio Diaz concurred with Ordin, saying the current rules give residents in immigrant communities confidence that they can cooperate with police on cases without fear of being asked about their immigration status. A change to the policy would in effect "be empowering criminals . . . essentially putting criminals out of our reach."

Diaz emphasized that contrary to claims made by opponents, LAPD officers do cooperate with federal immigration agents. "There is nothing in the current order that should be seen as limiting" the department.

LAPD Deputy Chief Sandy Jo MacArthur told the committee that the LAPD had already embarked on a department-wide training program to clear up misconceptions about Special Order 40. The training, she said, would be conducted every 12 to 18 months.
So did the good Council members listen to the actual law enforcement professionals who have to deal daily with the various orders and laws—proposed or already in place?
Judging by the reports, the Council chambers remained a logic-free zone—at least on the subject of Special Order 40.
By the way, both the LA Times and the Daily News reported on yesterday's Council melee—which evidently featured lots of shouting demonstrators and advocates for both sides (including the family members of murdered high school football star Jamiel Shaw who, in their bereavement, seemed to have abandoned any pretext of common sense in this matter).
In the reporting sweepstakes, while the Times' Andrew Blankstein and David Zahniser wrote an informative and readable piece on the meeting, Brandon Lowrey of the Daily News made no discernable effort to sort anything out, but merely tossed observations and quotes at the unsuspecting reader in a most unhelpful fashion. (If he was in my reporting class, I'd give him a C for crummy organization.)
FYI: There is to be at least one more meeting before the Council votes on the issue.
************************************************************************************************************
PS: A belated Chapeau Tip to commenter WBC who alerted me to the meeting and made some some smart comments on all of the above in an earlier thread.