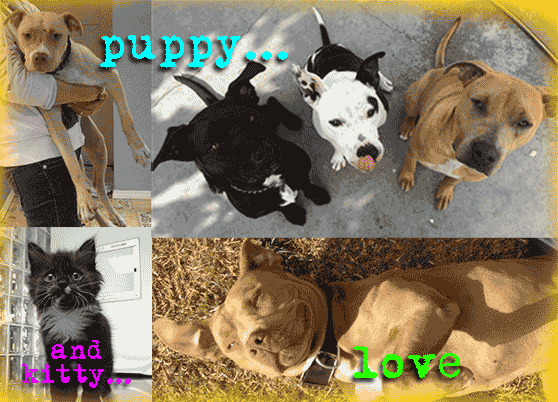 LASD PARKS DEPUTY GOES ABOVE AND BEYOND, MOONLIGHTS AS ANIMAL RESCUER
Los Angeles Sheriff's Deputy Brittany Fraser rescues animals—lots of them. Off and on duty patrolling LA County parks, Fraser picks up stray dogs, cats, and other animals in need. Other deputies now also bring found animals to Fraser instead of leaving their fate in the hands of animal control. If Fraser can't find the animal's human family, she bathes and vaccinates them and cares for them until they are adopted through her Brick Animal Rescue. Thus far, Fraser has saved more than 100 homeless animals.
The Daily Breeze's Carley Dryden has the story. Here's a clip:
"As much as I want to help people, it's the same for animals," Fraser said. "When people need help, they can ask for it. But dogs can't. They don't have a voice. You have to be paying attention."

Sgt. Craig Berger recalled the night he came across two pit bulls eating trash on the on-ramp to the 110-105 freeway interchange. One was clearly young and starving, its ribs sticking out.

"Pre-Brittany Fraser, I probably would have had no choice but to take them to animal control, and that would have been a death sentence," he said. "But I was able to call her from the freeway, tell her what happened and drive them to her house. She took care of them and took them to the vet."

Berger, Fraser's former supervisor, said Fraser has changed the mind-set of deputies when they see or approach stray animals.

"Before, they would just ignore the problem, or maybe occasionally, if they had time, they might call animal control," he said. "Eventually, the culture was created to call Deputy Fraser."

[SNIP]

"She is the animal whisperer," said her husband, Nick Resendez, who met his wife when they were partners at the Lomita sheriff's station…

Resendez acknowledged that he didn't have pets growing up, so having a dog in his bed at night now has been quite the adjustment.

"She'll come home, and I'll say, 'What do you have under your coat jacket?' She'll smile and reveal a Chihuahua or a cat," he said. "One time she came home with a raccoon and I said, 'Are you kidding me?' But this is the woman I married. She is compassionate and loving. To know that she has the ability to put those feelings into animals is amazing."
---
SF DISTRICT ATTORNEY LAUNCHES TASK FORCE TO LOOK INTO WAVE OF SHERIFF'S DEPT. AND POLICE MISCONDUCT ALLEGATIONS
Moving quickly, San Francisco District Attorney George Gascon announced Tuesday the launch of a new three-team task force to investigate three separate allegations of law enforcement misconduct.
On Monday, San Francisco Public Defender Jeff Adachi announced that at least four deputies allegedly forced inmates to brawl in gladiator-style fights and placed bets on them. (We linked to that story here.) There have also been allegations of racist text messages between veteran police officers. DA Gascon says there has also been a breach of protocol in the DNA labs, affecting 1,400 cases.
CBS has more on the new task force. Here are some clips:
[SF District Attorney George Gascon] said that during his more than 30 years in law enforcement, he has seen a great deal of misconduct and scandals involving law enforcement officials, but that the frequency and magnitude of these recent allegations are "unusual" and "repulsive," as well as some of the worst allegations he's heard.

Gascon said he is concerned that if these allegations are determined to be true, there could be serious potential repercussions for criminal cases, including some which were possibly prosecuted years ago.

Gascon said that these alleged incidents are concerning not only because of "the level of hate that is reflected" but because of "the impact they may have on the criminal justice system."

He said his office, as well as the San Francisco Public Defender's Office, will be taking a second look at cases from the past 10 years involving officers and deputies named in recent allegations.

[SNIP]

Regarding the gladiator-style fights reported this month at the San Francisco County Jail on the seventh floor of the Hall of Justice, Gascon said that it is unlikely only four deputies knew about the alleged abuse and misconduct…

Gascon said he wants to know who else knew about the alleged fights, when they knew and if there have been similar cases of misconduct at the sheriff's department.

Regarding racist and homophobic text messages from police officers that were recently released in federal court documents, Gascon said he wants to know if other people were involved and to see if any prosecutions could be impacted.
---
FBI INFORMANT ANTHONY BROWN SUES LA COUNTY, SHERIFF'S OFFICIALS, AND 7 DEPUTIES CONVICTED FOR HIDING BROWN WITHIN JAIL SYSTEM
FBI informant Anthony Brown is suing LA County, former sheriff Lee Baca, former undersheriff Paul Tanaka, former captain Tom Carey and the seven deputies convicted last year of obstruction of justice for hiding Brown from his federal handlers. (More about that here.)
Brown is alleging cruel and unusual punishment, as well as retaliation, conspiracy, failure to provide medical care, and municipal and supervisory liability.
ABC7′s Lisa Bartley has the story. Here's a clip:
Brown was moved around the jail system, his name was changed multiple times and computer records were falsified to make it appear that Brown had been released from LASD custody.

"I was kidnapped, my name was changed," said Brown. "They put me in cars late at night and took me places. I think I had more than a dozen guards on me 24/7."

The lawsuit seeks punitive damages for cruel and unusual punishment, municipal and supervisory liability, failure to provide adequate medical care, retaliation and civil conspiracy.

"As soon as defendants became aware of plaintiff's cooperation with the FBI's investigation, they conspired to retaliate against plaintiff for his participation as an informant and obstruct that investigation intentionally… hiding and/or kidnapping plaintiff in the jail system under fictitious identities, covertly moving him about and throughout LASD's jail system, and unreasonably kept him in isolation without cause," the lawsuit states.

Brown says he was in "dire fear for his life that defendants would carry out a threat on his life or order/allow other jail inmates/gangs to kill plaintiff because defendants told him, 'No witness, no conviction.'"
---
WHY HAVE HOMICIDE SOLVE RATES DECLINED BY 26% SINCE THE 1960'S?
In the 1960's law enforcement officers solved homicides at a rate of about 90%, fifty years later (and despite the advent and development of DNA testing), the national clearance rate is just 64%.
NPR's Martin Kaste has more on the numbers and what factors may be adversely affecting murder case clearance. Here are some clips:
…that's worse than it sounds, because "clearance" doesn't equal conviction: It's just the term that police use to describe cases that end with an arrest, or in which a culprit is otherwise identified without the possibility of arrest — if the suspect has died, for example.

[SNIP]

Vernon Geberth, a retired, self-described NYPD "murder cop" who wrote the definitive manual on solving homicides, says standards for charging someone are higher now — too high, in his opinion. He thinks prosecutors nowadays demand that police deliver "open-and-shut cases" that will lead to quick plea bargains.

He says new tools such as DNA analysis have helped, but that's been offset by worsening relationships between police and the public…

Since at least the 1980s, police have complained about a growing "no snitch" culture, especially in minority communities. They say the reluctance of potential witnesses makes it hard to identify suspects.

But some experts say that explanation may be too pat. University of Maryland criminologist Charles Wellford points out that police are still very effective at clearing certain kinds of murders.

"Take, for example, homicides of police officers in the course of their duty," he says. On paper, they're the kind of homicide that's hardest to solve — "they're frequently done in communities that generally have low clearance rates. … They're stranger-to-stranger homicides; they [have] high potential of retaliation [for] witnesses." And yet, Wellford says, they're almost always cleared.