LA Sheriff's Department Probes Report of Deputy Sex With Teen Explorer…& Other Issues
A Los Angeles County Sheriff's deputy is reportedly being investigated for having improper sexual relations with an underage Deputy Explorer cadet—and more.
According to a department source, the deputy, who has not been officially named, admitted to having sex with a female from the department's Carson Station Deputy Explorer program while she was under 18.
Sources also told WitnessLA that the deputy under investigation is being looked at—reportedly along with two other department members from the Carson station—for selling contraband fireworks to civilians, after arrests in which Illegal fireworks were confiscated from residents.
The existence of the alleged contraband fireworks sales—in which some of the fireworks seized would be booked into evidence, while the bulk would be kept to sell—was reportedly uncovered via a text thread found on the cell phone of the deputy begins investigated for misconduct with the cadet.
---
Relationship Discovered When LAPD Cadet Scandal Triggered Probe of LASD Explorer Program
The sheriff's department discovered the report of the deputy's "alarming and disturbing" misconduct during a countywide review of the Explorer program, which was triggered by the Los Angeles Police Department's recent cadet scandal that featured the theft of three patrol cars, and a 31-year-old LAPD police officer who allegedly had sex with a 15-year-old cadet, and may have helped the cadets steal cars as well as Tasers, a bulletproof vest, and other department items.
Los Angeles Police Chief Charlie Beck personally arrested the officer, Robert Cain, who has been charged with sexually assaulting the 15-year-old girl.
Beck has ordered a top-to-bottom review of the cadet program
The LAPD's review of its own cadet program, in turn, suggested to the sheriff's department that a review of their Explorer program would be wise.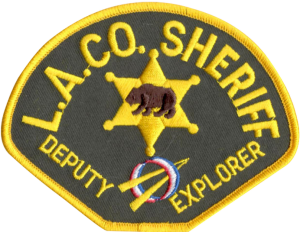 After the discovery of the Carson deputy's alleged misconduct, the LASD has launched "a full and immediate investigation into the matter," the department said in a statement. The statement went on to explain that "While the alleged involved employee was not directly assigned to the oversight or management of the Explorer program, any proven criminal or other acts of misconduct that violate public trust, and that of our Explorer program…will NOT be tolerated."
The department also stated that investigators are "not aware of any other alleged misconduct involving any other stations involved with the Explorer program."
Deputy Explorers are youth volunteers between the ages of 14 and 21 who go through a training program to assist the sheriff's department by performing nonhazardous duties such as "report writing, public fingerprinting, anti-crime campaigns, search missions, statistical computations and crowd assistance at parades and civil events".
The Explorer program is generally considered to be a very valuable experience for the youth involved. The Los Angeles Police Department's cadet program is also viewed generally as excellent for the kids who are accepted.
To qualify to be a Deputy Explorer, a teenager must have at least a "C" average in high school, undergo a background check. and pass an oral interview.
Once accepted by a station, initial training for new Deputy Explorers takes place at one of four Sheriff's Explorer Academies: Whittier, Valencia, Antelope Valley, and South Los Angeles. The Explorer training is held every Saturday for 18 weeks, and full participation is mandatory.
After graduation, Deputy Explorers assist regular Deputy Sheriff's with a wide variety of tasks, and have the opportunity to attend different tactical competitions with Explorers from all over the United States.
"Explorers do a lot ride-alongs and support of station social functions….Christmas parties, parades, academy graduations….." said a former department member. "They interact a lot with the station personnel and know everything." The program is considered to be a good preparation for those who want to go into law enforcement.