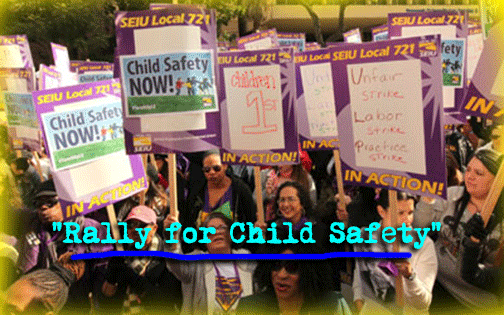 (NOTE: Today's posting is a joint project by Walker Taylor & Celeste Fremon)
---
---
LOS ANGELES COUNTY SOCIAL WORKERS RALLY AGAINST COLOSSAL CASELOADS
Striking social workers rallied in front of the Los Angeles County Department of Children and Family Services headquarters on Friday (the second day of the strike) demanding smaller, more manageable caseloads and the hiring of more social workers. High caseloads are a crucial issue for department reform, because they impede DCFS workers' ability to competently do their job—to make sure every kid they are assigned to is safe.
The strike was set into motion after contract negotiations between the public service workers union, SEIU 721, and DCFS came to an impasse. (KPCC's Rina Palta has the backstory here.)
According to SEIU 721's website, DCFS strikers will move their picket lines to the LA County Board of Supervisors' field offices today, where thousands of workers from the Department of Public Social Services will join the strike.
The LA Times' Seema Mehta and Abby Sewell have the story. Here are some clips:
About two-thirds of social workers and their supervisors did not show up for work Friday, similar to Thursday's numbers. During a raucous rally in front of the county Department of Children and Family Services building, the head of the agency made a surprise appearance.

"I support social workers, but I want you to come back to work," said Philip Browning, prompting sustained boos from the crowd of several hundred employees.

[SNIP]

Speaker after speaker railed against county leaders for failing to help overburdened social workers or punishing them when things went wrong — the agency has mishandled several cases of child neglect and abuse, a few leading to deaths. The real culprit, speakers said, was a refusal by county officials to see how the caseloads were harming children.

The current contract sets the maximum caseload for most social workers at 31. Union representatives argue that is too high and also say that 680 social workers have caseloads above the maximum.

[SNIP]

In a brief interview, [head of DCFS Philip] Browning said he agreed that caseloads were too high and he outlined steps that county officials were taking to reduce them, notably the hiring of 300 to 400 new social workers, which would result in lowering caseloads by 30% within a year.

"I'm confident we're on our way. I know the board [of supervisors] and the CEO want this strike to be over and everyone to come back to work," he said.

When asked about the union's proposal that officials pledge to hire 35 new workers per month for 17 months, Browning demurred, saying it was a budgetary issue, before heading inside the building.
---
"A DAY IN THE LIFE" OF AN OVERWORKED JUVENILE PUBLIC DEFENDER
Speaking of overly large caseloads, juvenile public defenders—often the last line of defense for indigent kids facing time in the system—across the nation are critically overworked, making it difficult to adequately serve the kids that need them most.
As part of the Juvenile Justice Information Exchange's "Juvenile Indigent Defense" series, Katy McCarthy has written an excellent piece about what an ordinary work day for a juvenile public defender looks like (both good and bad), through the eyes of Dominique Pinkney, an Alameda County assistant public defender. Here are some clips:
The main job of juvenile public defenders is to act as the voice of children in the juvenile justice system. Public defenders for juveniles are required to understand not just the law — but the circumstances of their young clients and how to connect them with the most appropriate services. To the general public, even those involved in the juvenile court system in some way, the area of juvenile defense can seem shadowy and hidden. To provide insight into this world JJIE spent a day trailing juvenile public defender Pinkney at the Alameda County Juvenile Justice Center, atop a hill in this city in the East Bay, just south of Oakland.

Assistant public defender Dominique Pinkney arrives in the hallway outside the courtrooms every morning at 8:30 a.m. sharp, to meet with any clients who happen to come in early…

On this day, no one is around early. So Pinkney has a few moments to review his cases for the day. Sitting quietly at a table in a sparse interview room adjoining the court, he opens the red and green files of his clients and nods to himself as he pores over drug test results, completed community service reports and school records. Over the course of the morning, he and nine young clients will go in front of the judge…

The first client of the morning is sitting on the bench with his mom, dressed in a crisp green button-down shirt.

This is the first time the teen has been in trouble and he has unpaid restitution fees.

"It can be really hard for these poorer families to pay," explains Pinkney…

Pinkney glances over his list of charges and intake report. Apparently, the teen was at a demonstration in downtown Oakland, when he and a group of other kids broke off from the group and started vandalizing cars.

Pinkney is hoping he will get informal supervision for six months, a more casual version of probation. Afterwards, his case would be dismissed. That is, however, if he pays restitution. If, after six months, he hasn't paid, his supervision will be extended for another six months.

After the second extension, if he still hasn't paid, the kid will go on standard probation.

In the 1967 ruling In re Gault, the United States Supreme Court ruled that youth had a constitutional right to counsel in delinquency proceedings — essentially guaranteeing them many of the same due process rights as adults in criminal trials.

However, for this right to be relevant, young people need access to skilled representation.

According to the National Juvenile Defender Center (NJDC) in its National Juvenile Defense Standards that means creating, "an environment in which defenders have access to sufficient resources, including investigative and expert assistance, as well as specialized training, adequate and equitable compensation, and manageable caseloads."

The reality for many juvenile indigent defense practitioners is that this is easier said than done.

Many young accused are not getting timely access to attorneys — and when they do, the level of counsel they receive is frequently inadequate. A report by the NJDC raised serious concerns that "the interests of many young people in juvenile court are significantly compromised, and that many children are literally left defenseless."

Pinkney, who spends many weekends in the office, is highly qualified and dedicated to the young people he represents. Multiple parents spoke highly of Pinkney. Several people called him "the best." One mother stated that "he really fights for his clients."

This is, however, not always the case with public defenders.

In many instances this is because of impossible workloads. The NJDC report found high caseloads to be "the single most important barrier to effective representation." And that the ultimate impact of this on youth involved in the court was "devastating."
(We urge you to go read the rest of this lengthy, but entirely worthwhile, article.)
---
TRAUMATIZED KIDS, AND AN INSTRUCTIVE STORY OF REDEMPTION
This week's This American Life focuses on unconditional love and, while the whole show is definitely worth listening to, it is the second segment titled "Love is a Battlefield" that is utterly essential.
It is about a couple who adopt a 7-year old Romanian boy named Daniel, who was raised under awful circumstances in an emotionally bleak orphanage where he didn't interact with any of the adults caring for him intimately enough to know their names.
The couple—Heidi and Rick Solomon—assumed that with enough love, they could break through to their son whom they learned was suffering from "attachment disorder. Instead Daniel became increasingly unmanageable to the point of being genuinely dangerous.
What happened next is both humbling and instructive. It provides a frightening snapshot of the kind of horrific damage that trauma and neglect can wreak on a child. The story is also a reminder that one is unwise ever to give up on any kid—a concept that was central to our juvenile justice system when it was formed more than a century ago. Yet it is an outlook that seems too often in the last two decades to have slipped out of our focus.
In any case, listen. It really is an amazing story. (And you can also read the transcript of the segment here.)
---
S.F. DISTRICT ATTORNEY AND AN INNOVATIVE PSYCHOLOGIST UNITE IN BAYVIEW, CA, TO LOOK AT THE EFFECT OF "TOXIC STRESS" ON KIDS' BEHAVIOR
With the above TAL story in mind, it is heartening to hear that San Francisco District Attorney George Gascon is helping put into place a program that tests the theory that many future crimes can be prevented by making available help to kids—and other community members—who have been exposed to the kinds of trauma that is now being called "toxic stress,"
Max Aldax of the San Francisco Examiner has the story.

Here's a clip:
Police in the Bayview district are getting crime-fighting help from an unlikely source: A pediatrician.

Founded by innovative pediatrician Dr. Nadine Burke Harris, the Center for Youth Wellness on Third Street has been a pioneer in the treatment of "toxic stress" in children who are exposed to violence, neglect and other trauma, and who lack a support system.

The federal government plans to pump money locally following studies showing there are biological reasons for why a child who suffers chronic adversity might engage in high-risk behaviors as an adult.

In September, District Attorney George Gascón lobbied in Washington, D.C., and received help from House Minority Leader Nancy Pelosi, D-San Francisco, to secure $1 million to evaluate victimized children in the Bayview. In the eastern section of that neighborhood, Gascón says, 70 percent of black youths are referred to the juvenile justice system by age 17.
---
DOES THE MOST COMMONLY USED INTERROGATION TECHNIQUE IN THE U.S. TEND TO PRODUCED FALSE CONFESSIONS?
We linked last week to the fascinating New Yorker article by Douglas Starr about police interrogations, and the problems with the Reid technique, which is the style of interrogation most widely used by law enforcement forces in the U.S., yet—according to Starr's research—it is also a strategy that has a propensity to produce false confessions.
Unfortunately, however, for those of you who don't subscribe to the New Yorker, the story was unavailable due to the magazine's paywall. (I think it may be available now.)
The good news is that NPR's Terry Gross also liked Starr's report and brought him on her show to talk about the flaws in the Reid technique, and about an alternate technique, "PEACE" (Preparation and Planning, Engage and Explain, Account, Closure and Evaluate), used in England, Newfoundland, Wales, Denmark and New Zealand with great success.
Anyway, listen to the story. We think you'll find it extremely interesting.
In the meantime, here's a clip from the online story on the story:
As part of his research, Starr took a training course in the Reid technique. "It has the appearance of being very scientific," he says. But a growing number of scientists and legal scholars say this approach is based on outdated science and psychology — and can sometimes produce false confessions.

"There doesn't seem to be a national conversation [about interrogator tactics] of any sort," Starr says, "and that's unfortunate because for every innocent person that's put away, the person who really committed the crime is still on the streets."

[SNIP]

"One of the problems of the technique is that it's based on some science that's no longer current. When John Reid was doing this in the 1950s, people thought you could see anxiety in people's body language. If they folded their arms, or hunched over, or looked away, they were being anxious, and also that anxiety was a hallmark of lying. But unfortunately, 40 years of extensive psychological research has shown both of those premises to be untrue. Anxiety has nothing to do with lying."
---
The above photo came from the SEIU 721 website.