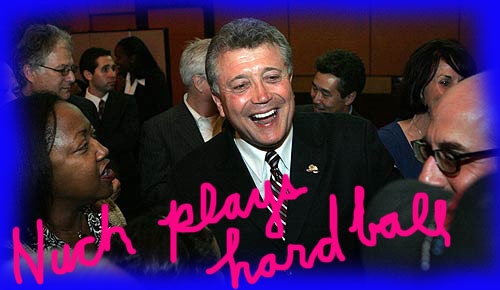 In LA's most recent round of budget cuts last week, the mayor's office, the city council and the office of city attorney Carmen Trutanich, all had another $1 million cut from their respective bottom lines.
As one might imagine, no one is very happy about this newest bout of fiscal slashing.
However, Mr. Trutanich has responded to the cut with a move that critics say is designed to throw a retaliatory punch at the mayor and the city council at the expense of the needs of the city and its police force.
Specifically, Trutanich has abruptly shut down all the CA's branch offices citywide—most notably in Van Nuys, Hollywood and San Pedro. This means that LAPD detectives from, say, the department's various Valley and Harbor divisions, who would normally file misdemeanor criminal cases at those city attorney satellites with comparative efficiency, will have to spend hours driving to and from downtown instead— longer in rush hour traffic. To make matters worse, the detectives worry, the downtown offices will likely be plagued by a processing pile up due to the sudden centralization. Thus cops will have to add waiting time to their new extra driving time.
City Attorney Trutanich told Eric Leonard of KFI radio on Monday that, indeed, "downtown is now where all filing takes place.
"Somebody has to say – you know what – we've cut enough out of public safety," Trutanich added. "It makes no sense to have 10,000 police officers and not be able to complete a prosecution."
But many of the detectives who will be the most affected by Monday's district office shuttering strategy believe that other less harmful cuts could be made and worry that Trutanich is simply using the move to play hard ball with the city council—at the expense of public safety.
While the city attorney makes his political point, they say, a large swath of LA's already overstretched police force is going to have to spend precious hours driving and waiting, waiting and driving—when that same time could and should be spent….you know… policing.
There are assuredly more rounds to go in this fight. So stay tuned.
---
NOTE #1: I began reporting this story late in the day, thus by the time I tried to call the city attorney's office for comment, it was exactly 6:01 pm. I knew I would likely not find Mr. Trutanich's public information officer still at work, but I assumed that—as is the policy with most other PIOs for public figures and government agencies—the city attorney's guy would have a cell-phone number or some other after hours form of contact to accommodate reporters on deadline. Alas, he did not.
---
NOTE #2: LOOKING FOR AN ANTIDOTE TO THE CABLE TV TALKING HEADS WHEN YOU WATCH TONIGHT'S STATE OF THE UNION MESSAGE?
Try KCET's SoCal Connected, which goes live at 6 pm.
The show's anchor Val Zavala will be joined by panelists Larry Elder, Patt Morrison, and SoCal Connected correspondent Brian Rooney—a good line up.
The live broadcast will also stream in real-time at www.kcet.org/socalconnected. Viewers are invited to offer feedback online during the broadcast at KCET's FaceBook page, plus Twitter posts will air throughout the coverage.
Sounds good to me.