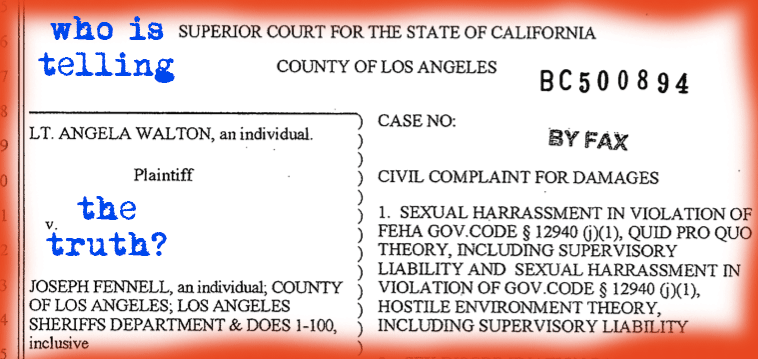 In the sexual harassment trial regarding the case brought by Lt. Angela Walton of the Los Angeles Sheriff's Department against Cmdr. Joseph Fennell, also of the LASD, after a comparatively short deliberation, the jury found—in a vote of 9-3—that there had been no sexual harassment. (Unlike in a criminal trial, the jury does not have to reach a unanimous verdict.)
In an interview following the trial, the three female jurors who voted that Walton had been sexually harassed said that the nine who voted against the harassment charge spoke mostly about certain allegations by the plaintiff's attorney and witnesses brought by plaintiff Fennell, having to do with some of Walton's behavior that the jurors felt was not rejecting of Fennell, and also the accusation that Walton had dressed provocatively at work.
Nohemi Gutierrez Ferguson, Fennell's attorney, put a strong focus on what she contended was Walton's style of dressing during her tenure in the LASD's personnel unit when she was working on a recruitment team and represented the department at events and in photos on billboards, that she had worn tight skirts and form-fitted tops. "She dressed to impress," said Ferguson in closing arguments.
Ferguson also criticized Walton's more conservative style of dress in the courtroom. (Think Michelle Obama in cardigan sweaters and JCrew skirts.) "Has she ever worn her hair down [during the trial]?" the attorney asked. "She's manipulating you."
(Ferguson was also the attorney representing the County of Los Angeles, which was a co-defendant in the trial.)
More details on the case tonight.