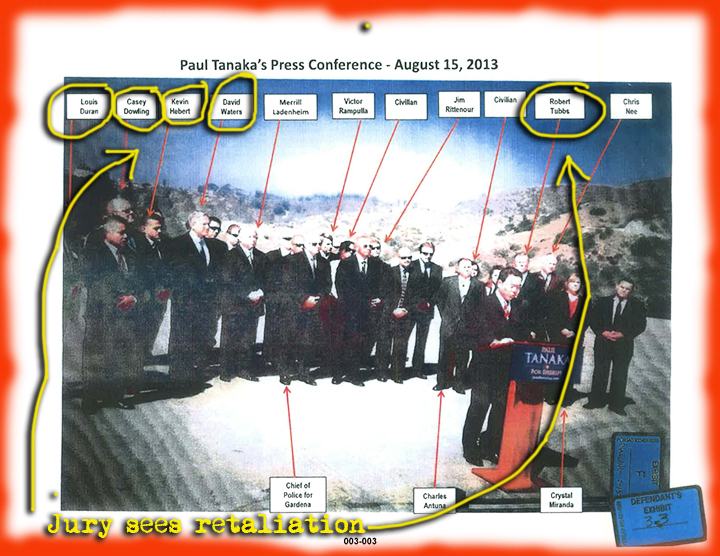 $360,000 IN PUNITIVE DAMAGES AGAINST BACA PERSONALLY
Just before 3 pm on Monday, December 15, a federal jury found in favor of the plaintiffs in a civil case that featured eight working members of the Los Angeles Sheriff's Department who sued the County of Los Angeles in general, and former sheriff Lee Baca in particular, for career-damaging retaliation they say occurred after the eight plaintiffs publically endorsed former undersheriff Paul Tanaka in his 2013-2014 run for sheriff.
Those who brought the lawsuit are: Capt. Charles Antuna, Sgt. Casey Dowling, Cpt. Louis Duran, Cmdr. Kevin Hebert, Cpt. Robert Tubbs, Cmdr. David Waters, Lt. Robert Wheat, and Custody Assistant Rocio Martinez,
According to the plaintiffs lawyer Brad Gage, after Tanaka announced his candidacy for sheriff on August 15, 2013, a furious Lee Baca subjected the seven men and one woman to retaliatory actions such as frivolous investigations by the department's internal affairs bureau, an unwarranted freeze on their promotions, sudden transfers to inferior assignments, and/or "freeway therapy," which is the term used to describe a punitive transfer to a county post that is faraway from one's home. And in the case of three of the eight plaintiffs— namely Durant, Wheat and Dowling—they were relieved of duty, altogether, and forced to stay home (while still retaining their full pay, one should note), while the department allegedly dragged its feet on an investigation into as yet unproven wrongdoing.
In the course of the trial, which lasted nearly a month, Gage used a PowerPoint which featured timelines for each one of his clients, as he sought to illustrate how events in the early Tanaka campaign, with which the plaintiffs were very publicly involved, seemed to correlate with "adverse actions" that occurred in each of their individual careers.
"This is a case about eight employees who expected that the sheriff would follow the law," said Gage. "He didn't. And they have all been harmed and damaged by malicious actions."
The county's legal team, which was headed by George E. Peterson, along with Avi Burkwitz, rebutted Gage's contentions in detail. Their primary defense theory may be summed up as follows: "When eight people felt they didn't get things they felt they should get" they filed a lawsuit. "This is not about justice, it is about money."
The jury, however, disagreed. And while the entire monetary award for all eight reportedly amounts to under $800,000, a big part of that amount includes $45,000 in punitive damages for every plaintiff levied directly against Lee Baca, for a total of a $360,000 hit against the former sheriff.
Plaintiff's attorney Gage said he was "pleased to see that my clients were vindicated. The jury clearly found evidence that Baca had acted maliciously."
Gage also noted that the jury determined that all eight were "victims of 1st Amendment retaliation."
He was disappointed, he said, that the dollar amounts weren't higher, but Gage also thought it significant that the jury chose to reach into the former sheriff's pocket to pluck out $350 thousand. "The plaintiffs were all grateful," he added. "They felt validated."
As to what specific elements were the most and least persuasive, on the part of the plaintiffs and the defense, in helping the jury reach its verdict and its awards, that remains, for the moment, unknown since they jurors declined to speak to either set of attorneys because, they said, they wanted to go Christmas shopping.
More on the case and the verdict, so stay tuned.