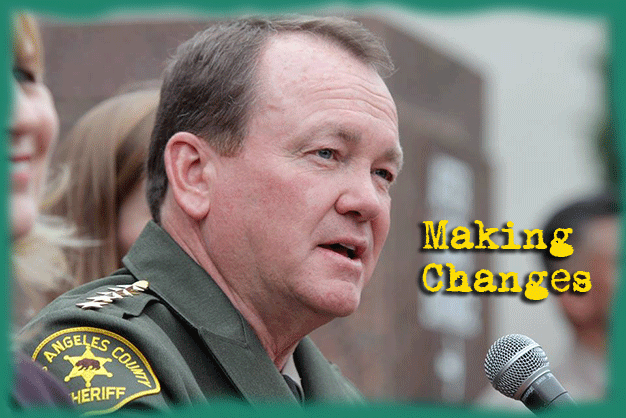 EDITOR'S FRIDAY UPDATE:
We often hear through the grapevine about personnel changes at the sheriff's department. Some of what we hear turns out to be merely gossip. But in the cases outlined below, we were able to confirm the changes involving two captains and one acting captain. Moreover, refreshingly, when we contacted LASD spokespeople to ask about the personnel movements in question, although Undersheriff Neal Tyler could not talk directly about any of the cases, he confirmed what he could clearly and forthrightly—without any of the dodging we have sometimes experienced in past years.
Since this story was first posted, we have heard about possible additional changes. We will keep you up to date, as are able to verify the information we have received.

---
---
CHANGES & INVESTIGATIONS
In the past week, two captains and one acting captain of the Los Angeles Sheriff's Department were variously transferred pending an investigation, relieved of duty pending an investigation, or simply demoted and moved to another assignment—an unusual number of LASD management figures to be subject to such changes all at once.
Here are some of the details:
Captain Robert Tubbs was relieved of duty last Thursday pending an internal administrative investigation, the department's second in command, acting undersheriff Neal Tyler, confirmed to us on Monday. The investigation reportedly involves a potential policy violation.
Up until last week, Tubbs was the captain of the department's Court Services Transportation Division, which is responsible for busing prisoners as needed from jails to over 50 LA County courts.
The second captain to be moved is Anselmo Gonzalez, who was the head of the North County Correctional Facility (NCCF), one of LA county's northern jail facilities, located in Castaic, near Magic Mountain. Tyler confirmed that Gonzalez and four others under his command, have been transferred to assignments where they have no contact with inmates, pending an internal criminal investigation. "Those people have been reassigned to non-inmate contact jobs while investigators review evidence and conduct interviews," Tyler said.
As to what kind of criminal investigation had triggered the moves, Tyler said it had to do with "inmate treatment and safety." The actions being investigated were different from classic inmate abuse, he said. "It has to with our concern that inmates are treated humanely and safely, and their physical and other kinds of welfare are not jeopardized."
The third supervisor to be moved was acting Captain Chris Brackpool, who was demoted to lieutenant and removed as head of Operation Safe Streets (OSS), the department's gang unit. In the case of Brackpool, Tyler verified the demotion but he would not specify the reason. Yet, those familiar with the matter reported that Brackpool's demotion had to do with uniforms.
---
THE UNIFORM ISSUE
This requires a little backstory.
Unlike the LAPD where there has long been a strong focus on appearance, in the last few years some parts of the sheriff's department had gotten a little less—well—uniform, about uniforms. The patrol deputies still wore their regular tan and green class A uniforms (with shirts that come in long or short sleeves). The detectives still had the tradition of wearing suits or sport coats. But some of the specialized divisions were reportedly allowed—even encouraged—to have their own way of dressing. In the case of OSS, the variations evolved until most team members were wearing jeans- (of various shades and washes of denim), with t-shirts, tennis shoes, and green raid jackets, the latter the only nod to any kind of official garment.
When McDonnell was sworn in, he took over a department that was riven by factions, plagued by diving morale, and still reeling from years of negative publicity. One of the symbolic changes he made, as he had when he became chief of the Long Beach Police Department, was to institute a more consistent policy of dress for everyone—the OSS guys included. In other words, they were asked to start wearing uniforms.
In response to the new directive, Captain Brackpool reportedly sent out a memo to his OSS people that they didn't need to worry about the sheriff's new thingy about uniforms. They could carry on with their jeans and raid jackets—or a message reportedly to that effect.
Undersheriff Tyler confirmed the part about McDonnell desiring more formality of dress. "He came in here with extremely high standards of professionalism," Tyler said, "demonstrated by how we talk to people and how we look in the field. He told me one time that he's kind of a stickler for spit and polish."
Some people have been more resistant than others to the new dictates, Tyler admitted. As a consequence, "the sheriff will have to make changes with people who are in key jobs that require more than grudging support—or grudging non-support."
Whether that is indeed what happened with Brackpool, Tyler wouldn't say.
---
THE TANAKA FACTOR
According to those close to the department, two of the three captains—namely Brackpool and Tubbs—- have had the reputation for being very strong Tanaka supporters. They'd both given to Tanaka's past political campaigns for mayor of Gardena. And Tubbs was one of those department members who physically stood behind Mr. Tanaka when the former undersheriff announced his candidacy for sheriff at a press conference in August 2013.
Tubbs was also one of eight LASD supervisors who filed suit against former Sheriff Lee Baca in January 2014 alleging that each had been moved away from their desirable assignments to less desirable positions as a retaliation for supporting Tanaka. ((Tubbs had been moved into his recent Court Transportation post from a previous plum position as the head of Community Oriented Policing Services—–or COPS—a program over which Tanaka at one time reportedly exercised a great deal of control.
According to Tyler and others who work with McDonnell, the matter of who may or may not have prior loyalties to whom does not play a part in the new sheriff's actions.
Yet it appears sure that there will be further alterations in personnel.
"He's taking his time to really look at our department, how we have it organized—both personnel and systems—and thinking clearly and analytically about where changes ought to be made," said Tyler of McDonnell. "This means there will be job swaps and promotions, and potentially demotions. There will be some hard decisions to make. "