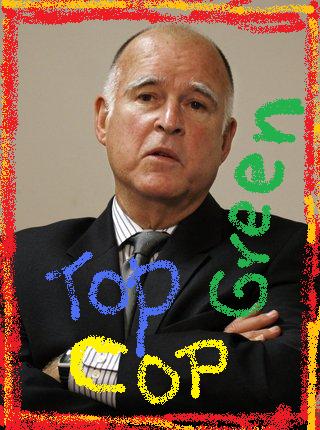 When it comes to conspicuous oil consumption and an underregulated greenhouse gas policy, Jerry Brown says he's really, really over it.
He is also totally over it with our commuter culture—-and with people who don't get that there's a problem with all the above.
To make the point, he's been filing lawsuits.
For instance, last spring he sued San Bernardino County to force that county's planners to include global-warming counter-measures as a part of the county's growth blueprint (the General Plan). Some people claimed Brown was grandstanding. (Which he probably was, at least in part..) But in the end, SB settled and now is one of the state's leaders on the issue.
This morning, Attorney General Brown, (who is also 2010-candidate-for-Governor Brown) is holding an 11:30 a.m. press conference at the Port of Long Beach to announce that he is slapping a lawsuit on the Environmental Protection Agency for failing to regulate greenhouse gas pollution from ships, aircraft, and construction and agricultural equipment.
"Ships, aircraft and industrial equipment burn huge quantities of fossil fuel and cause massive greenhouse gas pollution," growled Brown in his official statement. "Yet President Bush stalls with one bureaucratic dodge after another. Because Bush's Environmental Protection Agency continues to wantonly ignore its duty to regulate pollution, California is forced to seek judicial action."
Cool.
Not everyone has been pleased with the nature of Jerry's proactive responses to global warming.
A few weeks ago, Joel Kotkin, an author/pundit/think tank-ish type specializing in public policy and business trends, grumpily slammed Brown in a Wall Street Journal Op Ed accusing the AG of "waging war on the very communities his father helped make possible."
Kotkin even trotted out the old, extremely tired, pathetically-dog-eared Governor Moonbeam trope.
"[Brown] sees suburban houses as inefficient users of energy," snarked Kotkin. "He sees suburban commuters clogging the roads as wasting precious fossil fuel. And, mostly, he sees wisdom in an intricately thought-out plan to compel residents to move to city centers or, at least, to high-density developments clustered near mass transit lines…"
A very irritated Brown fired back in a letter that was published in yesterday's WSJ.
With gasoline at $4 a gallon, the dollar plunging, and foreign oil producers taking trillions from hard pressed Americans, one would think that cutting dangerous oil dependency was a no-brainer. Apparently not for Joel Kotkin, whose "Jerry Brown's War on California Suburbs" complains about my efforts to ensure that California cities and counties comply with our first-in-the-nation energy and greenhouse gas laws. Mr. Kotkin mischaracterizes my efforts as a war on suburbs and paints an oddly cheerful picture of freeway living, including an assertion that our highways are not clogged by long commutes. Mr. Kotkin's vision of unending sprawl is better suited to the 1950s, when gasoline was 20 cents per gallon and California had 11 million, not 37 million residents.

[SNIP]

No thoughtful person can really question the fact that we must grow smarter, with more efficient and less polluting transportation. Nor, in a time of escalating food prices, can we afford to wantonly plow over irreplaceable farmland. That is why I make no apologies for promoting efficient building standards, renewable energy, and communities that work for people and businesses, not just oil companies.
I talked with Jerry yesterday about the Kotkin piece and a few other issues. Here's some of what he said:

WLA: You sure had a strong reaction to Joel Kotkin's column….

Edmund G. Brown Jr.: Yeah. I thought Kotkin was a pretty progressive guy. But that was Neanderthalic. (pause) Is Neanderthalic a word?

WLA: If it isn't, I'm sure it should be.

EGB: I like it. Neanderthalic.
Anyway, my thing on greenhouse gasses is efficiency with building, efficiency with appliances, and the design of community so it's on a more human scale.
What we have now, in a lot of ways, is a system where we build "garages" for people 30 or 40 miles from job centers. So people are required to make a 60 or 80 mile commute every day. And you incentivize it because the land is cheap away from the job centers. And the land is cheap because you kick the cows off it. Once you kick the cows off it, you put these little "garages" in there, these "storage centers," then we pack them full of people. They don't have schools near them. They don't have stores near them. So to get out of that pattern of driving everywhere you need some evolutionary planning. And most city planners agree with that.

WLA: Okay, but we've been encouraging people to move to the suburbs for sixty-plus years. How do you propose to make a change in that pattern?

EGB: First we need better designed houses so they're not leaking energy. And you require that. Then we need housing and shopping and jobs in close alignment. We tell [developers] you can't build 5000 houses ten miles from any store, unless you want to pay higher fees.

WLA: You really think that'll make any kind of measureable dent?

EGB: It's not easy. A lot of people can't afford to live where they work. So, this is extremely difficult. And each community is different. That's why we're holding workshops all over the state and talking to city planners. We're engaging in a dialogue and asking: How do we live together better? And how do we plan for that? We're trying to make these changes in a very gentle, evolutionary way. But we've got to make the community more complete, with schools, stores, and jobs. It's a more of a human scale.
Look, we're killing ourselves with oil imports, climate change, pollution and so many hours invested in inefficient travel.
How're you going to build more freeways? Look at Santa Monica. What're you going to do? Double-deck the Santa Monica Freeway? We've already got a lot of freeways, so that's not the way.
We've got to do something.
Otherwise billions of dollars of our money will keep going to buy oil. And that's not good. So we're starting the dialogue.